A smoother transition for Mark Turgeon
May, 18, 2011
05/18/11
7:37
PM ET
COLLEGE PARK, Md. -- The pained expression Mark Turgeon sometimes had during his first two years at Texas A&M wasn't just related to a tight game, a bad call or some anxious moment en route to the NCAA tournament.
Turgeon wasn't at peace in College Station.
He arrived from Wichita State to replace Billy Gillispie, and for the first time in 10 years he was back at a major-conference school after playing at Kansas and coaching at KU and Oregon as an assistant.
Turgeon didn't handle the transition well.
"I was miserable the first two years," Turgeon said.
He arrived from the Missouri Valley knowing that if he was going to keep heralded star recruit DeAndre Jordan, he had to retain his one-time AAU coach Byron Smith on the A&M staff. He did, but reluctantly. There were apparently other situations that Turgeon was never comfortable with as well.
[+] Enlarge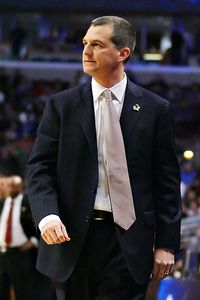 Dennis Wierzbicki/US PresswireMark Turgeon never won fewer than 24 games in any of his four seasons at Texas A&M.
"The most important person is me and I've got to be happy and I tried to make everybody happy when I took the job," Turgeon said. "The fan support was great. The administration was great. The young men coaching for the most part were great. But there were a lot of agendas that I inherited."
A number of college coaches that have ties to the state of Texas told ESPN.com that high school and AAU coaches in the Lone Star State are famously provincial. If the staff isn't Texas-based, if there isn't a tendency to really cultivate the in-state coaches, there can be a backlash.
Turgeon, a Kansas native, still coached the Aggies to four straight NCAA tournament appearances despite not feeling totally at home. Things had gotten better the last couple of years and he wasn't considering leaving College Station when the season ended.
But then a call came in from a source close to Maryland athletic director Kevin Anderson, two days before longtime Terps coach Gary Williams was set to announce his retirement.
"I got the phone call and the person said Gary was going to retire and that your name is on the list," Turgeon said. "The person asked if I were interested. I said I would be. I had been offered a few jobs in the last four years but never told my wife. But I told her that this is one we have to think about it. I said, 'Maryland might open and we might have a shot."'
But when Turgeon left on May 6 for a family camping trip in Pennsylvania, he was convinced Arizona coach Sean Miller would take the job. Turgeon's cell phone went dead in the mountains.
"I told her don't worry about it, Sean's an East Coast guy and he'll go," Turgeon said. Miller did meet with Anderson in Las Vegas the next day, but later that night Arizona announced he had agreed to an extension. By Sunday, when Turgeon regained cell service, his phone was filled with messages.
"That's when I knew I was probably their guy," Turgeon said. "I don't care what choice I am. I just know that I'm the coach at Maryland right now and it's a great opportunity for me. Roy Williams wasn't the first choice at Kansas. I'm not saying I'm Roy, but that didn't bother him and he's done pretty well."
Judging by how he handled his first week in College Park, Turgeon isn't doing so bad himself.
His first two assistant coaching moves were to keep Maryland assistant Orlando "Bino" Ranson and then reach out to Kansas State assistant Dalonte Hill, who was once the head coach of AAU powerhouse DC Assault and created a pipeline to K-State with Michael Beasley, Rodney McGruder and Wally Judge, who recently transferred to Rutgers.
Hill, who at KSU was one of the highest-paid assistants in the country at $420,000, is expected to take a pay cut in his return to the Beltway. Turgeon made it official Tuesday when he said Hill had accepted the job with the details to come on the agreement. Landing Hill and keeping Ranson was key in establishing firm recruiting roots in the D.C.-Baltimore area -- fertile ground for recruiting and a sticking point for Gary Williams in the past, when elite players like Beasley, Kevin Durant, Rudy Gay and Carmelo Anthony departed.
Turgeon firmed up the staff when he brought with him Scott Spinelli from Texas A&M after Spinelli lost out to Murray State's Billy Kennedy for the Aggies' head-coaching job. The Massachusetts native has strong ties in the East and has been a longtime assistant to Turgeon at Texas A&M and Wichita State. Spinelli had been recruiting Virginia-area guard Seth Allen for the Aggies and ended up locking him up as Turgeon's first Terrapins recruit.
Turgeon also brought along Dustin Clark from College Station and was going to bring Bill Walker too, but the salary structure didn't work out. So Walker will stay in College Station to finish out his one year remaining on his contract as an assistant coach.
"I've learned a lot from the Texas A&M situation," Turgeon said. "I was out of the BCS for a long time. Everything had changed tremendously. I'm going to be a much better person this time around. I'm hiring the right staff and I'm going to be a much better communicator. I know in this area you have to be to be successful. Everyone here in the area has welcomed me with open arms -- every prominent high school, AAU coach, everyone."
[+] Enlarge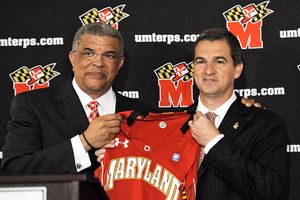 AP Photo/Nick WassWhile it's clear Mark Turgeon wasn't the first choice of Maryland AD Kevin Anderson, that doesn't seem to matter much now.
Soon after his retirement, Gary Williams told ESPN.com that Turgeon was a name on the list and that he was a quality coach. Having Williams' blessing is and will be key in this process. The 66-year-old Williams didn't have a succession plan upon his sudden announcement to move on with his life, so Turgeon will need the support of Williams, who does plan on being around the program as a special assistant to Anderson.
"Gary is supportive and that's a must," Turgeon said.
And like Williams, the new Maryland coach still will seek out the hard-nosed, defensive-minded players. Turgeon will covet the elite players to compete with Duke and North Carolina, but he has had a history of going after the undervalued recruit who emerges as a star, the latest being Khris Middleton at Texas A&M.
"We're going to get the player that really wants to be here," he said.
Leaving a power-six school for a power-six school is becoming increasingly rare. Salaries are higher across the board and coaches don't want to leave Top 25 teams for rebuilding projects.
Well, Texas A&M is poised to be a Big 12 title contender. The Aggies should be in the thick of the race with Baylor, Missouri and Kansas.
As for the Terps, they should be somewhere near the bottom of the ACC with limited bodies and no star power after sophomore forward Jordan Williams declared for the NBA draft. But long-term, the comparison between the two jobs isn't close.
"Sunday [May 8] was one of the best days we had at Texas A&M in my four years," Turgeon said. "All three Texas kids went pro [Jordan Hamilton, Cory Joseph and Tristan Thompson], David Loubeau returned from the draft to us, Kansas lost a lot of guys, too. And then the next day I take the Maryland job.
"I don't want to put a lot of pressure on the next coach [Billy Kennedy], but I know what we had there and we were confident we were going to win," Turgeon said. "We'll have nine bodies here. But you can turn it around quickly. We're not panicking."
Turgeon walked through the concourse of the Comcast Center on Monday, acknowledging the history and marveling at the potential of his new program.
Turgeon agreed to a seven-year contract and said he might get another year added on soon after a couple of signed players decommitted from Maryland. (Although Ranson and the Terps were able to retain Baltimore guard Nick Faust after he flirted with leaving.)
"I'm not about one year," Turgeon said. "It's what we're going to do 15 to 20 years. We're going to do this the right way. We have a lot of work to do, but we're going to win. We're going to win a lot of games. I have more energy now than I've had in a long time. I haven't felt this passionate about something in a long time. My energy level is at an all-time high. Everyone here made me feel like I'm their guy from day one and that meant a lot to me."
Turgeon is well aware Maryland fans expect the Terps to be in the mix with Duke and North Carolina, and ahead of every other ACC program.
Williams, who led the program to its only national championship (2002), is beloved here. The students wanted him to speak at graduation Thursday, so he will. And don't be surprised if they end up naming the Comcast floor for him. University president Dr. Wallace D. Loh already got the ball rolling by saying he will work with the athletic department to make it happen.
"Gary had a great run and I expect to have a great run, too," Turgeon said. "This is a destination. I'd be divorced if I had to do this again."
Turgeon's one-time dream job was Kansas, his home state and alma mater. But Bill Self isn't going anywhere, and if he did, Turgeon swears it wouldn't matter.
"This is the destination for me now," Turgeon said. "I want them to be talking about naming the floor after me in 20 years, too."