John Calipari explains Dominican decision
May, 19, 2011
05/19/11
6:43
PM ET
John Calipari's decision to coach the Dominican Republic national team came down to whether or not he could help the island nation improve its international profile on his increasingly crowded Kentucky schedule.
He was told he could.
And now Lexington, Ky., will become an affiliate Dominican home in August.
Calipari returned late Wednesday night from a three-day trip to the Caribbean, where he accepted the post as head coach of the national team, met the local media and Dominican president Leonel Fernandez, and then continued on to a humanitarian mission in neighboring Haiti, which is still reeling from last year's earthquake.
Calipari's initial goal is to help the Dominican Republic qualify for the 2012 Olympics by finishing in the top two in the FIBA Americas Championship held Aug. 30 to Sept. 11 in Mar del Plata, Argentina.
[+] Enlarge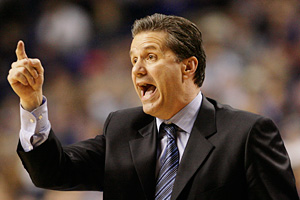 Mark Zerof/US PresswireKentucky coach John Calipari will be bringing a Dominican flavor to Big Blue hoops.
Of course, that is no small task considering the teams in play are host Argentina, Brazil, Uruguay, Puerto Rico and Canada. Venezuela, Paraguay and Cuba are also in the field. The good news for the Dominican is that it was put in Group A, away from the host Argentines. But it is joined by Brazil.
A finish in the top four will at least put the Dominican in a pool for another qualifying tournament in advance of the London games.
Calipari said Dominican NBA players Al Horford (Atlanta), Francisco Garcia (Sacramento) and Charlie Villanueva (Detroit) all pushed him to be the head coach, but he's not 100 percent certain all three have committed to playing yet.
The team will train at Kentucky in early August and if there is an NBA lockout, Calipari is hoping to have former UK players now in the NBA play an exhibition game against the Dominicans at Rupp Arena. Calipari will also coach the Dominicans in a pre-tournament in Brazil prior to the Olympic qualifier in Argentina.
But there is a larger goal here for Calipari and the Dominican Federation, one that he said he is committed to making: improve the grassroots program for the sport in a nation dominated by baseball.
"They want to recharge basketball in their country and use this as a start to build the basketball," Calipari said. "The NBA guys wanted me to do this. We can train here. Our [Kentucky] guys will be home at that time. But the third thing for me is it isn't just coaching the national team. I don't need another job. I'm fine with the one I have. But like I did with China in helping with their basketball, they want me to help teach their coaches. And that appeals to me. This isn't just about five weeks of work."
Calipari said his work with the Chinese basketball federation while at Memphis and then at Kentucky was a lure for the Dominican federation. Calipari conducted clinics in China and then had a Chinese coach with his team throughout his final year in Memphis.
"They want to help build the foundation in the country and educate the coaches on basketball," Calipari said. "They want me to do what I did with the Chinese and bring in 20 coaches here every year [for practices]."
Calipari finished off his trip with a visit to Haiti, where he visited the region with a doctor from Lexington.
"It was awful and depressing," Calipari said. "There is still devastation with no electricity, no water. It's basically the poorest country in this hemisphere. We're still trying to help with a school down there."
Calipari returned home and will be honored at Dick Vitale's Gala on Friday night in Sarasota, Fla.
Kentucky is expected to be a top-three team in the preseason with the top recruiting class in the country and the return of wing Terrence Jones and senior Darius Miller, despite losing junior DeAndre Liggins and freshman Brandon Knight.
A few other news and notes:
• Wisconsin coach Bo Ryan said it was a thrill for the Badgers to get Duke at home in the ACC-Big Ten Challenge two years ago. The Badgers won the game in a raucous environment and it clinched the Big Ten's first victory in the event. But Ryan has never coached at North Carolina. And if there was one game he wanted to have on this year's slate, it was going to Chapel Hill.
He got it when the pairings were announced earlier this week. The Badgers will play the expected preseason No. 1 Tar Heels on Nov. 30.
"I really respect the Carolina program and needless to say a chance to play one of the top programs in the country, heck yeah, I wanted to do it," said Ryan, whose Badgers should be picked second in the Big Ten behind Ohio State with the return of guard Jordan Taylor. "There a lot of good teams in the ACC and we've played a lot of them, but we had not played Carolina. And they'll probably be No. 1 when we play them."
• The Big Ten concluded its annual spring meetings Wednesday in Chicago and Ryan said the league coaches discussed moving conference games into early December to give the teams a longer Christmas break and avoid jamming in so many games from Christmas into the early part of January.
The ACC and a few others conferences have done that by sprinkling in a few league games in the first or second weekend of December.
The final Big Ten schedule of 18 games hasn't been released yet. The new format with the addition of Nebraska calls for seven home-and-home games and four single games (two home and two away). Ryan said he wasn't sure on the final mockup, but did say that Wisconsin and Ohio State would play twice next season. There aren't geographic pairings in the basketball schedule, so having the projected top two teams play twice is good for the league.
• Ryan said the coaches also talked about endorsing some sort of legislation that would prevent players from transferring -- even after graduating -- without suffering any kind of penalty. A number of players have used the loophole rule of transferring to a school's graduate program for a fourth year of eligibility if they've graduated at the previous school. Michigan State is adding Brandon Wood of Valparaiso for next season. Assuming Wood gets the waiver, he would be eligible right away and doesn't have to sit.
"There should always be a ramification for transferring," Ryan said. "If not, then people will figure out a way. Tom [Izzo of Michigan State] wasn't for it, either."