Brigham Young prepares for its transition
May, 23, 2011
05/23/11
9:52
PM ET
CHICAGO -- Brigham Young coach Dave Rose watched consensus national player of the year
Jimmer Fredette
go through drills at the combine here, observing him one last time in a competitive format before he officially becomes a professional in next month's NBA draft.
Rose answered questions about Jimmer when asked. He promoted Jimmer as much as he could. But as he exited the Attack Athletics gym on the West Side of Chicago on Friday, he was reminded that Jimmer isn't coming back with him to the Marriott Center.
The first-name-only phenom is done at BYU and Rose is left to rebuild his perennial NCAA tournament team in a way he hasn't had to do since he took over in 2005. The Cougars had won Mountain West titles before, but never had they relied so much on one player as they did the past two seasons.
Fredette dominated the ball and with good reason. He was instant offense. He was the face of the program -- and this past year, of the entire BYU athletic department and university as a whole.
Rose was courted by a few Big 12 schools during the coaching carousel but chose to stay put. And now with the Cougars headed to the West Coast Conference, he is faced with his toughest job yet.
Fredette isn't the only player he has to replace. Gone as well is Fredette's backcourt mate Jackson Emery.
"We had a really good backcourt," Rose said.
Whether or not the Cougars stay in contention with Gonzaga for the WCC regular-season title may rest on the decision by the university on whether or not to readmit forward Brandon Davies.
[+] Enlarge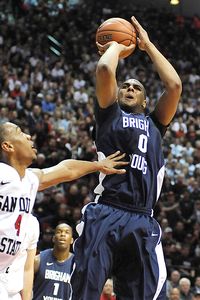 Christopher Hanewinckel/US PresswireA new-look BYU team could certainly use familiar face Brandon Davies in its transition.
Davies was dismissed from the team in February after an honor code violation, which was reportedly for pre-marital sex. But the school allowed him to be a part of the team (sitting on the bench, cutting down the nets, etc.) throughout the rest of the regular season and in the postseason.
Davies, though, had to withdraw from school and will now re-apply for admission. But Rose said Davies won't know the answer until September. He plans to stay in his hometown of Provo, also the home of BYU, throughout the summer.
The 6-foot-9 forward has the potential to be a double-figure scorer, giving the Cougars a rising power in the post and an athleticism defensively they clearly lacked in March.
"Hopefully Brandon can get back in school and if that happens then we'll rely on our front line a lot," Rose said.
That front line took a hit when senior James Anderson decided against playing his senior season, but the Cougars still bring back Noah Hartsock inside, and if he can be more assertive in the post that will certainly make the Cougars more formidable.
Elsewhere, Charles Abouo will be counted on to be more of a scorer from the wing. But someone will have to set everyone up the way Fredette did.
Who will that be?
Rose said he'll lean on UCLA transfer Matt Carlino (eligible in mid-December), redshirt freshman Anson Winder and rising junior Brock Zylstra -- not exactly household names outside Provo.
And that's why the sleeper in the group who may come in and star is freshman DeMarcus Harrison out of Greenwood, S.C.
"We've got a group of guys coming in that will get opportunities, especially DeMarcus," Rose said. "He's got a chance to play major minutes at guard."
The Cougars will take a trip to Greece in August that should help them form a new identity. Davis can't go on the trip, though, since Rose won't know if he'll be on the team until the fall.
"That trip will be good for us since we'll learn who can play the major minutes without Jimmer," Rose said. "We're also adding a new coach [Mark Pope replaces new UNLV head coach Dave Rice]. We'll practice for 10 days, go on the road together and be ready for October. If Brandon is back, then our front line will score a lot of points for us. This will be a transition year for us."
A couple of other notes from the coaching world:
• New Texas A&M coach Billy Kennedy said the previous staff did a tremendous job of keeping everyone eligible and on board. He said it was the smoothest transition he's ever had. The Aggies should be a top-25 team and a Big 12 contender next season. Kennedy made a solid hire in adding Memphis assistant Glynn Cyprien to his staff. Kennedy and Cyprien came into the business together and the new assistant is well-connected all over the country, but especially in the Southeast.
• Memphis coach Josh Pastner now has two openings on his staff after Willis Wilson left for the head-coaching job at Texas A&M-Corpus Christi. Pastner has talked to Memphis Grizzlies assistant coach Damon Stoudamire, who was in Chicago last week for the NBA draft combine. Stoudamire would be a home run hire. He has recruiting connections and would be a terrific model for players to learn from and earn their way to an NBA spot. He would help toughen up the players on the court while new strength and conditioning coach Frank Matrisciano would handle them off the court. It will be tough to pry Stoudamire from the NBA, but it would be quite a get for the Tigers if Pastner is able to pull it off.