Local coach discusses Joplin disaster
May, 25, 2011
05/25/11
11:12
AM ET
Robert Corn couldn't talk Tuesday night. As soon as he picked up the phone, tornado warning sirens went off again in Joplin, Mo.
"They're going off right now," Corn said. "A storm was spotted. It's crazy. I've got to get my son downstairs."
An hour later, Corn called back.
"The storm was downgraded to a thunderstorm," Corn said of the storm, which did produce a tornado that went through Denning, roughly 160 miles south of Joplin early Wednesday.
[+] Enlarge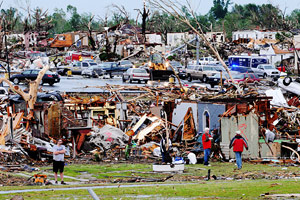 AP Photo/Mike GullettThe destruction in Joplin is almost unimaginable.
The people of Joplin had finally received a brief reprieve.
Sunday was hell. Three days later, the death toll from a historic tornado is up to 124 and will likely climb as the search and rescue continues. Corn, the men's basketball coach for the past 22 years at regional Division II power Missouri Southern, has spent the last few days doing everything he can to help out at the same court and arena where he coaches every day during the season.
Cots have been set up. Meals are being served. Donations organized. Missouri Southern has become a shelter for those in Joplin who lost everything except their lives.
Corn was at home Sunday preparing for a cookout at his house on the north side of Joplin with his wife Cindy and sons Rob (25) and Scott (18). Corn said he saw the storm clouds. And then the sirens went off.
"We ran into my son's bedroom and huddled in his closet," Corn said. "We don't have a basement."
The heavy winds came. Significant hail started to pound the house. And rain, a lot of rain, came pouring down.
Cable went out. An eerie calm settled over the family. They assumed the storm had passed through Joplin without a major interruption.
"I didn't see the funnel clouds," Corn said. "I texted a friend of mine and asked if he was OK. He said he was, but his house was gone."
Like the University of Alabama during the massive Tuscaloosa tornadoes, the Missouri Southern campus had been spared, which was especially fortunate since the Red Cross and the school had an agreement in place for the campus to be set up as a shelter in case of a natural disaster.
Joplin High School was out as an option. It was gone. All of it. The high school graduation, which occurred earlier on Sunday, was held at Missouri Southern.
One of Corn's players and a couple of football coaches who lived in apartments survived. But their apartments are gone. Two of the women's basketball players were staying in the empty home of Corn's manager, Curtis Williams, who was out of town. Jasmine Lovejoy and Lindsey Rujawitz huddled in the bathtub with a mattress on top of them. They survived. The house did not.
Corn's assistant Jeff Boschee, the former Kansas Jayhawk who played on the 2003 national title runner-up, was in Kansas with his family so he escaped unharmed.
"Where we live, you wouldn't know anything happened," Corn said. "But go a couple of miles and it's complete destruction."
Corn and his son Scott hopped in the car Sunday night to head to his friend's house. They couldn't get close. The roads were either blocked or closed. So they headed to Missouri Southern.
"We were setting up cots, hauling in water," Corn said. "The reaction from everyone was tremendous. It was amazing how quickly everyone was getting things done. We stayed there until 1:30 a.m. The next morning we were there helping with donated clothes and food."
Corn said he's seen plenty of tornadoes come through Joplin in the past 30 years. Corn graduated from the university in 1978. He is Missouri Southern. His former assistants have gone on to do quite well for themselves, with Paul Lusk now the head coach at Missouri State and Chris Lowery the head coach at Southern Illinois. Both were on his staff in 2000.
"I've spent half my life in Joplin," Corn said. "It's going to be a major rebuilding project. Joplin is a blue-collar town and things will be tough, but we'll roll up our sleeves and get things back in order. There has been an unbelievable amount of support."
But the community is hardly over the initial shock. There are still bodies to find. There will be funerals. There will be immense grief, anger and despair before the survivors transition into recovery. If it sounds familiar, it should. This is the same thing that survivors are going through in the tornado-torn town of Tuscaloosa, Ala.
"I think everyone around here is numb and is just going on adrenaline," Corn said. "At some point everyone is going to hit the wall and reality is going to hit them. I just heard that a boy that my son went to middle school with, he and his mom and his dad were all killed. When they release the names, there will be several more that we know of. We're just not aware yet."
Corn drove his oldest son Rob, who has Down syndrome, to his job at a fast-food restaurant on the outskirts of town late Tuesday.
"Trees were uprooted, everything was just balled up," Corn said. "It's mind-boggling. It's hard to put in perspective. So many people we know have been affected. So many friends have lost everything."
Missouri Southern went 26-5 last season, advancing to the semifinals of the D-II South Central Regional. Now the court where the Lions practice and win so frequently is being used as the only source of shelter for those in need.
Donations are coming in. President Obama is due to visit the area Sunday upon returning from Europe. Lusk and Missouri State want to help as much as they can. Missouri coach Frank Haith will be in Joplin on Thursday to do what he can, likely helping serve food in the shelter and gathering/organizing donations. Haith would also like to have an exhibition game against Missouri Southern in Joplin in the fall, with the proceeds going to the relief and recovery effort.
The physical rebuilding will take months. The high school is gone. The middle school roof was torn off. An elementary school is no more.
"You're not going to rebuild all of that in three months," Corn said. "There are some major, major questions to be answered. There is going to be a long grieving period. The big thing is to keep living life. And when somebody is hurting, we have to help. But everyone just has to keep praying for us."