Perry Jones honest with himself in return
May, 26, 2011
05/26/11
9:49
PM ET
Perry Jones III
would've been a top-five pick in next month's NBA draft.
Instead, the Baylor freshman out of Duncanville, Texas, did something refreshing: He was honest with himself.
"I'm not ready to be on my own,'' said the 6-foot-11 Jones, who averaged 13.9 points and 7.2 rebounds for the Bears this past season. "I'm not ready to move onto that next level yet and to have that lifestyle. I'm 19. I know I could be a top-five pick. I know I could make a lot of money. If I'm not ready next year either, then I'm not ready next year.''
Jones was one of six underclassmen who would have changed the NBA draft and as a result of the decision will alter the top 25 in college basketball. Each one of the underclassmen -- North Carolina's trio of Harrison Barnes, John Henson and Tyler Zeller, Ohio State's Jared Sullinger and Kentucky's Terrence Jones are the others -- have various reasons as to why they returned. All of them would have been in the first round of the draft, most in the lottery, some in the top five.
"Perry is unbelievably genuine and very honest and he isn't scared to tell you what he really thinks,'' Baylor coach Scott Drew said. "I think he likes being close to home. He's not ready to jump into the adult world. There is a lot of similarity in the upbringing and character to Perry, as Harrison Barnes and Jared Sullinger.''
[+] Enlarge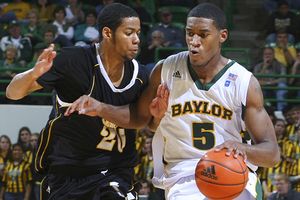 AP Photo/Jerry LarsonJones returns to Baylor after spurning the NBA.
Jones is one of the only players to come out publicly and say that he's not mature enough nor ready for the fast-track lifestyle in the NBA. Going into the real world at 19 isn't the norm, outside of the military. Underclassmen who go directly to the NBA after one season go into a business world, whether or not they're ready to handle the pressures.
Jones wasn't.
And Baylor is the beneficiary.
"There were a lot of people that were pressuring me, saying that I was making a mistake because I was going to go in the top five,'' Jones said. "A lot of it was on Twitter, a lot of people I didn't know. If people didn't go to Baylor, they weren't happy for me.''
Jones said he heard from middle men tied to agents and that the consensus among that group was that he had made a bad decision.
"A dumb decision,'' Jones said. "Everyone said I can make so much money.''
Attempts to reach Jones' mother, Terri, were unsuccessful, but Drew said Perry's mom never pressured her son to make money for her sake.
"You know there are a lot of parents who want their kid to turn pro so they can make money,'' Drew said. "They wanted his decision to be based on his own interest.''
Jones said the potential for an NBA lockout this summer when the collective bargaining agreement expires on June 30 had nothing to do with his decision.
"A lockout wouldn't mean anything because I know I can still be a top-five pick,'' he said.
Adding even more to Jones' unique decision was his upcoming suspension to start next season. Jones has to sit the first five games of the 2011-12 season for impermissible benefits prior to arriving at Baylor. He was ordered by the NCAA to repay $700 for a trip to California from his Texas home for a preseason NFL game.
Jones sat the first of what was an original six-game suspension when he was ruled ineligible by Baylor for the Big 12 tournament game against Oklahoma in March. The news came down the day before the game and Baylor lost to the bottom-dwelling Sooners.
Baylor wasn't invited to the NIT or the CBI, despite finishing with an 18-13 record, 7-9 in the Big 12.
"It will be tough sitting those games knowing I should be playing, but that didn't factor into my decision either,'' Jones said. "When I did find out I wasn't playing in the [Big 12 tourney] and then we didn't make the postseason, I felt like it did make me want to come back even more. But it wasn't the reason I came back.''
Jones instantly makes Baylor a Big 12 title contender alongside Texas A&M and Missouri, with headline teams Kansas and Texas certainly in the mix but taking severe hits and having to rely heavily on youthful talent.
Jones will team up with Quincy Acy and Anthony Jones up front (with J'mison Morgan and Cory Jefferson back, too). And while the backcourt is inexperienced, it has plenty of talent. Cal transfer Gary Franklin and Boston College transfer Brady Heslip will be eligible -- the latter in December and the former ready to go at the beginning of the season. The newcomers, led by forwards Quincy Miller (No. 3 power forward on ESPNU's top 100) and Deuce Bello (No. 17 small forward), make the frontcourt even deeper and more formidable.
"I think our front line will be one of the best in the nation,'' Drew said. "The backcourt has a lot of unanswered questions.''
Drew is anticipating Jones could make a freshman-to-sophomore leap like Blake Griffin did at Oklahoma. If that occurs, who knows, maybe Jones will go even higher in the 2012 draft than he would've in 2011.
For what it's worth, Jones said he wants to go No. 1.
"All the potential is there,'' Drew said. "He has to work on being aggressive and consistent. Some people think he takes a back seat or coasts. He has to keep his motor at a high level. I know his perimeter game will keep improving like Derrick Williams' did [at Arizona].''
As for Jones, he will be in the gym most of the summer.
"Somebody tweeted me that I could be top eight in the draft,'' he said. "I tweeted back, 'I want to be No. 1.' That's where the hard work and dedication come in.''