Hofstra home now for Patrick Sellers
June, 6, 2011
06/06/11
2:31
PM ET
On Feb. 22, former Connecticut assistant Patrick Sellers found himself in China, where he had gone to keep his coaching career alive after being let go by the Huskies. Upon waking up that morning, he checked his email and couldn't contain his emotion.
An email from his attorney had popped into his inbox overnight. Sellers had been exonerated by the NCAA and wouldn't face any sanctions when the Committee on Infractions released its report on UConn. That was four months after he had gone in front of the COI in Indianapolis, pleading his case that he had done nothing wrong but did what he has done for years: talk to agents on the phone about prospective recruits.
"I went to practice that day and was dunking and shooting so well," said the 42-year-old Sellers, who spent last season as an assistant with the Shanxi Dragons. "It felt so good."
In May 2010, as one of two assistant coaches (Beau Archibald was the other) cited for misleading investigators during the investigation into the recruitment of former player Nate Miles, Sellers saw his UConn coaching stint end when the school didn't renew his contract.
[+] Enlarge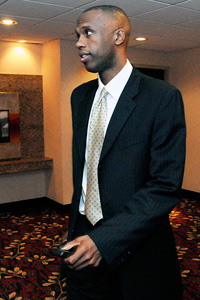 AP Photo/Tom StricklandSellers, seen here at last year's COI hearing, is back in Division I.
It was a trying time to say the least.
"I was embarrassed," Sellers said. "When this came out, it put me in a bad light. I've never been in a bad light. I think I've only had about three speeding tickets in my life. I was sad. I was down. I've always tried to do things the right way. Coaches would ask me for advice coming up. I was always trying to help people and then this happens and you're just so embarrassed. I felt like I didn't do anything and I couldn't believe my name was in it."
Sellers returned to the United States on March 21, just in time to witness the UConn players he helped recruit go on a magnificent run toward the national championship. He was there in Houston at the Final Four, sitting in the stands for the two wins at Reliant Stadium -- feeling as if he had a part in the development of the program but still far removed from a second chance. He spent countless hours trying to get the word out that he was fair game for an assistant-coaching job, making it clear to everyone he knew in Houston that he was hirable.
In its reporting on the Connecticut violations, Yahoo! Sports detailed Sellers' 223 calls or text messages to the agent/manager in question (Josh Nochimson), as well as six hours of conversation with Nochimson from his office phone.
Sellers said he believes he was initially tagged with the misleading tag by the NCAA because he challenged the notion that he had done something wrong. He said he was told by his attorney that he was a bad witness.
"I told the NCAA that I call agents all the time, I talk to a lot of agents," Sellers said. "It also probably didn't help that the day I was interviewed I had food poisoning like a lot of the players that day. We had just played Michigan and none of us were feeling well that next day. It was something that we all ate. I was a bad witness. I didn't know how to react."
Sellers said when he went in front of the COI last October he told the committee there was a miscommunication from his first interview with the enforcement staff.
"I didn't lie to them," Sellers said. "I wasn't trying to mislead anyone. I was just trying to answer a question. I just told them the truth."
And the COI sided with Sellers because they didn't tag him with a show-cause or any penalty that would inhibit his ability to get another job.
Sellers interviewed with Louisville earlier this spring but didn't get the job. Then he heard his friend, Mo Cassara, had an opening at Hofstra after Allen Griffin left the staff to go to Dayton. Cassara had been the coach at Worcester (Mass.) Academy when Sellers worked at Central Connecticut.
"There was so much publicity when I left but nothing when I got cleared," Sellers said. "It's great to be with Mo now."
Cassara didn't hesitate with Sellers. He has known Sellers for a while, and his entire staff is about second chances.
Cassara was fired from Boston College with the rest of Al Skinner's staff. Steve DeMeo was fired at Providence. Wayne Morgan was fired as head coach at Iowa State.
Cassara got the gig when Tim Welsh got a DUI a few weeks into his job. A year later, Cassara is on stable ground with a new five-year contract after leading the Pride to 21 wins and 14 in the Colonial Athletic Association (tying for second with Old Dominion) in his first season as a Division I head coach.
Sellers fit the profile for Cassara -- a Northeast coach who had strong recruiting ties. There was the personal relationship, yes. But there was also the idea of giving a nod to someone who needed a boost.
"If anybody appreciates giving a chance, it's me," Cassara said. "Look at where we were a few years ago and where we are now. Things have really spun around. I'm thrilled to have him on the staff."
Sellers said he knew there would be thorough checks. Cassara said calls were made to the UConn compliance office, athletic director Jeff Hathaway and of course the NCAA.
"We did our homework and everyone was positive," Cassara said. "We've got three younger, single guys on the staff who are all close in age and Wayne obviously also has a lot of experience."
The New York-area/Big East ties are already in play. Former Arizona guard Lamont Jones will visit later this week in an effort to move closer to his Harlem home. Former UConn wing Jamal Coombs-McDaniel is also coming in.
"I'm such a better coach now than when I was before all of this happened because of the coaching in China," said Sellers, who was both an associate head coach and interim head coach with the Dragons. "I just wanted another chance to jump back in there. I just want to coach."
Now he has a chance, which didn't seem possible when the initial notice of allegations was reported and Sellers' appearance in front of the COI was documented.
Now, eight months later, Sellers is in a good place: "I'm a happy-go-lucky guy again."