Former Vols coaches prepare for hearing
June, 8, 2011
06/08/11
11:05
AM ET
On Saturday, the former men's basketball coaches at Tennessee will go in front of the Committee on Infractions in Indianapolis with the intention of challenging at least one of the three major violations that were thrown at the staff.
According to multiple sources with knowledge of the situation, the "bump" that former coach Bruce Pearl and associate head coach Tony Jones had with Oak Hill Academy (Va.) 2012 recruit Jordan Adams on Sept. 14, 2010, will be refuted by the two coaches during their testimony.
The bump happened just four days after a news conference in which Pearl tearfully apologized for initially misleading investigators. Pearl and Jones will say that the contact with Adams was inadvertent, not intentional, and lasted only a few moments.
According to one source with knowledge of the situation, the violation shouldn't be considered major and was only termed that way because of the timing.
The alleged bump is one of three major issues that will be on the table during the COI hearing. Tennessee will state its case Saturday, a day after Boise State's football hearing. NCAA hearings aren't open to the public.
Former coaches Pearl, Jones, Steve Forbes and Jason Shay will be in attendance, as well as former athletic director Mike Hamilton and new men's basketball coach Cuonzo Martin. There are football issues too, which means former UT coach Lane Kiffin will be there as well as USC AD Pat Haden, current UT football coach Derek Dooley and attorneys for all of the coaches who are dealing with potential violations.
[+] Enlarge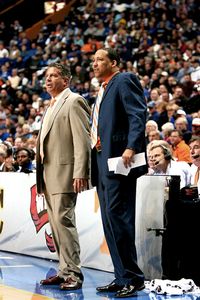 Danny Murphy/Icon SMIBruce Pearl and Tony Jones will be part of the Tennessee contingent in Indianapolis this weekend.
Pearl and Jones can't and won't dispute one of the three charges -- the extra phone calls. According to a source, Forbes has been relieved of any phone call charges. Forbes is now the head coach at Northwest Florida State College, a Division I junior college in Niceville, Fla.
According to a source, Jones will acknowledge that he made too many calls. Jones, who was the interim coach during Pearl's SEC-mandated eight-game suspension last season, told ESPN.com during last month's NBA draft combine that he was looking at coaching in South Korea while awaiting his NCAA fate. The COI will take at least six weeks to render a decision in the case.
The incident that sparked the major investigation was a barbecue at Pearl's house on Sept. 20, 2008, when rising Ohio State sophomore point guard Aaron Craft, among others, was in attendance. Craft was a junior in high school and on an unofficial visit. Unofficial visits are supposed to take place on campus, not at a coach's home.
At issue was a photo from the cookout that Pearl was initially questioned about by an NCAA official. Pearl didn't correctly identify the photo as taken at his house, even though Shay's wife was in the photo.
Pearl called the NCAA after the initial interview to clarify his statements and acknowledge that the cookout was at his house.
According to a source, the assistant coaches are going to state they didn't say anything about the cookout because it was at their head coach's house and weren't about to contradict their head coach. This will play into the charge of unethical conduct and failing to create an atmosphere of compliance in the program.
Pearl, who will be at the center of the investigation for hosting the cookout and initially misleading investigators, will almost certainly argue that he has already paid a stiff price.
He was suspended for eight conferences games, lost his job, lost $1.5 million in salary, lost the benefits of a six-year contract and lost a lot of credibility nationally.
Pearl's likely best-case scenario, according to multiple sources, is to be given a retroactive show-cause penalty that would be one to two years and include this coming season. The worst-case scenario obviously would be much longer.
Pearl, who is still living in Knoxville, is not planning on coaching professionally in the D-League (a recent report said one franchise was pursuing him) and he's not actively seeking any opportunities in the NBA or overseas. Pearl's next move might be in broadcasting, regardless of the outcome of the COI hearing, although that won't likely occur until there is a final decision.
According to sources, Tennessee initially kept Pearl (while docking his pay, terminating his contract and taking him off the road) because he admitted that he made a mistake. But the "bump" being billed as a major violation and coming so soon after the first news conference and just 10 days before his one-year off-campus recruiting ban was set to begin, set in motion his dismissal.
As for Jones, he will have to work somewhere for now and hope that he is spared the dreaded show-cause penalty. Both he and Pearl will tread lightly in how strong they challenge the charges. The bump will be the one they argue the most vociferously.
If the COI buys the reasons for the bump or the minor nature of it, that might help a little bit. But the committee won't take kindly to the initial lying from Pearl. Ultimately, that's the main reason we might not see him back on a college court for quite some time.