Unfinished business for Jared Sullinger
June, 9, 2011
06/09/11
1:06
PM ET
The two missed free throws stick with
Jared Sullinger
.
In a two-point loss to Kentucky in this past season's Sweet 16, the Ohio State freshman finished with 21 points and 16 rebounds and made all but two of his nine free throws. But those two misses came on separate trips to the line in the second half of a tight game in Newark -- a game eventually won by UK on a Brandon Knight jumper with nine seconds remaining.
Two days later, the Wildcats beat North Carolina and moved on to the Final Four in Houston. All Sullinger and the Buckeyes could do was watch.
[+] Enlarge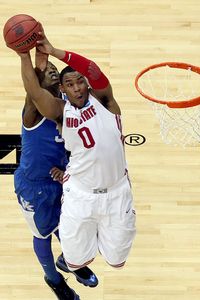 Nick Laham/Getty ImagesJared Sullinger was a beast against UK, but the Buckeyes weren't able to pull off the win.
"My coach [Thad Matta] always said I should have made those, and I know I should have gone 9-for-9. If that happens, we tie Kentucky instead of Kentucky winning by two," said Sullinger by phone from Columbus. "It bothers me. That team was something special, not just on but off the court. It ended so shortly. It was tough to see [seniors] David Lighty, who played for a national championship, never win one, or Jon Diebler, who had a hard time starting out as a freshman elevating to what he did, and even Dallas [Lauderdale] accepting his role … and it just ends like that."
The star freshman who made the big shot, Knight, declared for the NBA draft. The star freshman who came up short, Sullinger, did not. He chose to stay in his native Columbus instead of almost certainly being selected in the top five of the draft.
His only regret? Those two missed free throws. As for the pros, Sullinger swears he never gave declaring a second thought.
He's not wired that way. Never has been. May not be for quite some time.
"Jared has a mother, a father and two older brothers -- all college graduates -- and no one is looking at him as a meal ticket," said Jared's father, Satch Sullinger, who just concluded a 32-year career as a high school coach, including the last 10 at Northland High in Columbus.
"Jared enjoys college. I told him you have a lifetime to be an adult and go to the next level. You're not going to have the teammates you have now that bleed scarlet and gray. You'll have guys whose contracts are coming up and need this and that. They'll have attitude. Are you ready for that?"
Sullinger was even more direct when critiquing the parts of his son's game that have to improve.
"I told him you're going to be a 4-man at the next level and you've got to prove that," Sullinger said. "He told me he loves this team and he wants to win a national championship. That's why he stayed. I taught my boys that if you chase the money you'll always be unhappy. He's 19. He's got a lifetime."
Sullinger's attitude is in line, it appears, with that of North Carolina's Harrison Barnes. The two freshmen aren't being pulled by the money or the draft position. They want to win. And there's a good chance they'll be competing throughout the season for national player of the year honors.
For that to happen, Sullinger and the Buckeyes will have to keep up with the loaded Tar Heels (and Kentucky) in the national title chase. Sullinger's supporting cast might not be as deep or heralded as those other two powerhouses, but having shooting guard William Buford, point guard Aaron Craft and wing Deshaun Thomas in a much more contributing role makes the Bucks the overwhelming Big Ten favorites and a lock to be in the top five nationally in the preseason polls.
Having former Boston College forward Evan Ravenel eligible and the addition of McDonald's All-American center Amir Williams means Sullinger will be used more facing the basket.
The 6-foot-9 sophomore-to-be said he'll have some surprises in the fall, making reference to his face-up game. OSU assistant coach Jeff Boals said the Buckeyes will use Sullinger a little differently at times next season with the additions up front. His body is starting to trim down to a leaner 275 with 13 percent body fat, according to Boals. Satch Sullinger had Jared's weight at 262. Whatever the case, clearly Sullinger is working on cutting down his weight.
"His body is getting right," Jared's father said. "He turned down playing for USA Basketball this summer because he wants to be the leader for the freshmen coming into school. And he wants to work on his body. It's not the same body. He's cut. He's thick. He's got six-pack abs."
While Sullinger wants to be more of a versatile big man in the pros, his strength in college basketball is his base, a wide area that in the post can make it difficult to move.
"My mom says my butt makes me effective," Sullinger said. "It's made me the player I am because I can knock people off. But I've got to be more athletic. I've got to be quicker. I want to do things I didn't get a chance to do last year."
Sullinger is wired to handle the pressure of leading Ohio State and being a national player of the year contender with Barnes. He was in the race last season before BYU's Jimmer Fredette and Connecticut's Kemba Walker pushed ahead of the field. Fredette ended up sweeping the awards.
[+] Enlarge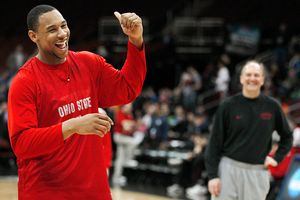 AP Photo/Julio CortezThe football program is rife with controversy, but it's all smiles in the world of Buckeyes basketball.
Sullinger averaged 17.2 points and 10.1 rebounds as a freshman. He racked up 18 double-doubles and Ohio State won the Big Ten by two games (16-2), finishing 34-3 overall.
But the attention focused on Sullinger nationally doesn't compare to what is on him locally as a hometown hero. Yet there seems to be no fear that he would be involved in the sort of controversy that has embroiled the football program and former quarterback Terrelle Pryor, who was suspended for five games by the NCAA for extra benefits and is now being accused of making thousands of dollars from signing gear. Pryor has since said he won't return to school.
"Ohio State's name is being thrown around a lot, so we've got to stay on our toes," Sullinger said. "You're in the spotlight. It's not just our program, but every program has to be careful."
Sullinger dismissed the notion that any OSU basketball player would be caught trying to earn money off gear or an autograph.
"Honestly, with this basketball team, all our families -- pretty much we have enough family financial support. We're not going to have a problem with that," Sullinger said. "We know what's at stake, and with everything going on with the football team, we know what we can and can't do. So it's easy to say no."
Sullinger said he hasn't been approached by middlemen or entrepreneurs looking for a sale. His father concurred.
"Anybody who ever comes to him, he has told them they have to see me or Coach Matta," Satch Sullinger said. "If you want an autograph, it has to go through compliance."
Having multiple vehicles is also an issue for Pryor. Not so for the Sullinger family.
"I bought him a car and I submitted the paperwork," Satch Sullinger said. "It was the seventh car I've bought from that dealership, long before he got to Ohio State. I've bought four brand-new cars from that dealership. We're all aboveboard. We take pride in being aboveboard."
Satch said his son fully understands that he's not bigger than the game.
"He's going to do everything the right way. That's how I raise my sons."
And that's why those missed free throws bothered him so much. And why doing whatever it takes to get the Bucks back in a position to win a title is more important to Sullinger than wondering where he might have landed in this month's NBA draft.
"I stay in the moment," he said. "I'm focusing on the next game. Now it's the next workout. I'm about winning, not about where I'm projected in the NBA draft."