At CWS, it's family first for Kevin Stallings
June, 14, 2011
06/14/11
10:06
AM ET
In the summer, July is generally considered the busy travel month for college basketball coaches. Try telling that to Kevin Stallings.
On Friday, the Vanderbilt coach couldn't get to North Carolina's first super regional game with Stanford. His son Jacob is the starting catcher for the Tar Heels, but his 10-year-old daughter, Jordyn, had a dance recital in Nashville.
So Stallings waited and flew over to Carolina on Saturday and ultimately saw the Heels clinch a bid to the College World Series, where their first opponent will be -- of all schools -- Vanderbilt. Stallings, of course, will be there.
"It doesn't seem like balance to me," he said. "Balance is trying to give equal time. I just want to always have the right priorities. I'm doing what I like to enjoy.
"I love the sport and I enjoy watching it. But my favorite thing is watching my children. I love and enjoy that more than anything."
Stallings will never be mistaken for an absent father, a problem for some 24/7 college basketball coaches. Nearly a decade ago, he was tossing early-morning batting practice for Jacob, with his two daughters in tow, while his wife, Lisa, was out of town. Jacob experienced a rough day playing baseball the day before, striking out nearly every time at the plate. He had a doubleheader that next day, so Kevin was working with him in the morning. Later that day, Jacob hit a home run.
[+] Enlarge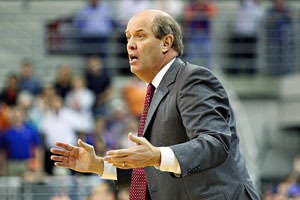 Douglas Jones/US PresswireKevin Stallings will put basketball aside for at least a few days as his son plays in the College World Series.
Stallings still remembers that moment.
"It's great when you see the hard work pay off," he said. "Those are such gratifying lessons. It's been a wonderful experience."
These are good times for the Stallings family.
Stallings is enjoying life like most fathers, watching his children succeed in the sport or activity they enjoy. Oh, and the Commodores basketball team are a trendy pick to challenge Kentucky for the SEC title. Vandy escaped the early-entry draft itch as John Jenkins, Jeffery Taylor and Festus Ezeli all said no.
The Dores essentially return their entire team, one that had its moments a year ago -- such as knocking off North Carolina in Puerto Rico; taking down Kentucky at home; sweeping Georgia; beating Marquette and Saint Mary's; and earning a 5-seed in the NCAA tournament.
That was the good news. The bad is that Vanderbilt still can't quite get it done in the postseason. After losing to Florida by double-digits in the SEC tournament, the Commodores made yet another first-game exit -- this time to 12-seed Richmond. In its previous two NCAA appearances, Vandy lost twice in the first round as a 4-seed (to Murray State in 2010 and Siena in 2008). The program hasn't won a tourney game since losing a heartbreaker to Georgetown in the 2007 Sweet 16.
"We've got that little chain around our neck on those first-round departures, first-round losses," Stallings said. "Hopefully we'll get rid of that and have a good year."
There are plenty of reasons to believe that will happen -- starting with the return of those three key players. But there are also the little things, such as Jenkins and incoming freshman forward Shelby Moats being spotted by a Vandy staffer playing hoops at 12:30 a.m. after the Vandy baseball team had defeated Oregon State to clinch its bid to Omaha.
"We've got a lot of low-maintenance guys," Stallings said. "John, Jeffery and Festus all handled [their draft decisions] well. They didn't let their egos get involved. It just didn't make sense doing it. We've got an awesome group."
That group now includes a pair of ESPNU 100 recruits -- shooting guard Dai-Jon Parker and point guard Kedren Johnson -- in addition to Moats and returnees Lance Goulbourne, Steve Tchiengang, Rod Odom and Brad Tinsley
So the talent is in place. But one of the issues last season was closing. The team lost in overtime at Missouri, at South Carolina and at Kentucky and had a few unexpected no-shows at home late against Arkansas, Tennessee and Florida. The Commodores simply have to make better decisions late in games.
Still, based on experience and talent, Vandy should be in step with Kentucky and other SEC contenders such as Florida and Alabama. The Commodores will play a marquee matchup at Louisville in the SEC/Big East Invitational, travel to Marquette for the return game, host Xavier and play at the Legends Classic in New Jersey.
This team will be tested.
"I'm really high on this group, really like them, they are great workers and good kids," Stallings said. "They're all fun to be around and get what we're doing. We'll be there [with Kentucky]. If we hadn't fizzled out [in March], then we would have drawn more attention to ourselves. We'll be better."
Meanwhile, Stallings can take a break from the Commodores. His team is secure and solid. His son has a chance to win the College World Series. The same son that has hit a home run and driven in seven runs in five tournament games so far.
As for Saturday's game against Vanderbilt, Stallings admits it'll be a little strange.
"I'm close with the baseball coaches and the players," he said. "Jacob has grown up with these kids. It will be awkward."
But don't be mistaken: There is clearly no conflict for the father here. He will be rooting hard for North Carolina.
"I love Vanderbilt," Stallings said, "but not like I love my son."
Jacob wants his dad to wear a Carolina blue shirt. Stallings' mentor and good friend, Roy Williams, will surely be in Carolina blue if he shows up in Omaha. But the Vandy coach won't go that far.
"I won't wear the Carolina gear," Stallings said. "My paycheck is signed by Vanderbilt."