Andrew Steele, family battle hardships
June, 17, 2011
06/17/11
2:10
PM ET
Andrew Steele
was working out two weeks ago, running outside in Alabama's June heat, when he stopped because of a headache.
"I had to go lay down," Steele said. "I didn't feel well. My stomach felt funny. So over the next few days I talked to the trainer."
The word was that he was still suffering from the lingering effects of a concussion. Steele's fourth concussion -- the first one occurred while playing football in high school while the other three were basketball related -- happened on March 12 in the SEC tournament against Kentucky. He didn't finish the game or play in the NIT run to New York.
Alabama coach Anthony Grant had prepared Steele for the likely end of his college career if symptoms persisted. They did, and his Crimson Tide playing days were over.
[+] Enlarge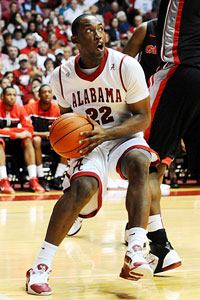 Kelly Lambert/US PresswireAndrew Steele averaged four points per game in his final season at Alabama.
"I looked at the situation and remembered how [former Alabama player] Mikhail Torrance had a heart thing and he kept going and he almost lost his life over it," Steele said. "I kept thinking about as much as I like basketball, with concussions, you can't predict which one is going to do the worst to you."
Steele has a sickle cell trait, which he said had nothing to do with the concussions, but does mean it takes a bit longer to get back to normal after recovering from illness. Steele had only played the first six games of the 2009-10 season before a stress fracture in his left leg sidelined him for the season. Steele missed the first 13 games for the 2010-11 season with soreness in his knees then the five NIT games because of the concussion.
All of that factored into his decision to stop playing basketball, graduate in December, stay on scholarship and possibly pursue a master's degree at Alabama.
"I know the risks," Steele said. "This was a good decision to make."
Steele played in 54 games in three years at Alabama from 2008-11, averaging 3.6 points and 2.3 rebounds while dishing out 44 assists and committing 39 turnovers. The story -- a player that had decent hype out of high school but just couldn't stay healthy -- could end there.
But it doesn't.
Steele is the second member of his family who was unable to finish his college career because of injury. Steele's brother, Ron Steele Jr., who played in Israel last season and is hoping to work his way into an NBA camp in the fall, dealt with a number of knee injuries during his career at Alabama. Ron missed seven games in 2006-07 then all of the 2007-08 season after surgery on both knees on April 3, 2007. He left the team on Jan. 21, 2009, after missing a pair of games because of plantar fasciitis.
"It's been a difficult process," their father, Ron Steele Sr., said "But Andrew is going to graduate and Ron graduated. Basketball ends at one point in your life and you have to go forward. Ron should have been in the NBA but he had to go overseas. He may still have a chance to make it. But we're OK. We're happy as long as they're happy."
Ron Jr. played in 104 games over a four-year period. He declared for the NBA draft after his redshirt junior season, only to come back to play in just 15 games as a senior in 2008-09. But that season was Andrew's first with the team, and former coach Mark Gottfried's last as head coach.
"I'm pretty sure it's a rare case for a family to have two sons that got hurt like this," Andrew said. "But my parents have been making sure we're always OK. They don't push us. They just wanted to make sure we were healthy first. But it actually was a blessing in disguise that my brother got hurt because we had a chance to play together for my freshman year. I needed him for that adjustment from high school to college."
Gottfried said that learning about Andrew's sudden career-ending decision made him sad.
"I feel bad for them, they have such a great family," said Gottfried, now the head coach at NC State. "I really believe that Ron would have been as good as anybody in the country but he never was able to stay healthy."
Gottfried said that Ron Jr. was never able to fully practice on a consistent basis while dealing with the knee injuries.
"I didn't get a chance to coach Ron but he has always come back and worked our camps and I saw that this is such a great family," Grant said. "We've had a lot of conversations about his health. But his attitude has always been good. He always understood the big picture. They all understand that playing athletics is an opportunity that they've been able to enjoy, but it's not the be-all, end-all. It was important for them to get an education."
The perspective that Ron Sr. has is quite obvious when you discover what other curveball he's been dealing with lately.
Ron and Linda Steele were in their home on April 27. They heard the wind. They sought cover in their home. The devastating and deadly tornado that ripped through Tuscaloosa also hit their area of Birmingham. Ron Sr. said two homes survived on his block. He and his wife were in one of them.
But the damage was severe. They have spent the past five weeks in a hotel, only returning to their home this week.
"All the other homes were blown away," Ron Sr. said. "We had a tree fall on the right side of our house. A piece of plywood came through the bathroom and ripped the shower. The backdoor was ripped off. We just ran downstairs, hid in the closet and prayed. The wind was blowing, glass was breaking and we thought we were going to leave here. In about 45 seconds to a minute, it was over, but there was a large tree blocking the front door [area]. It was a mess. There were deaths in our neighborhood."
Andrew said his apartment in Tuscaloosa was spared. He assumed his parents' home was fine, too.
"I thought the one place that I could go to and be safe was home but they took a direct hit so I couldn't avoid it," Andrew said. "But my parents are extremely strong. They told me there are so many things you can't control, but what you can control is how you react. I'm thankful that they were OK. There were people who lost everything."