Rotnei Clarke saga ends with transfer
June, 21, 2011
06/21/11
8:15
PM ET
Rotnei Clarke
has admittedly been indecisive about his playing career at Arkansas and his on-again/off-again desire to transfer, but all too often voices other than his own have been speaking on his behalf about his plans.
In an interview with ESPN.com on Tuesday, Clarke said he plans on sifting through the possible destinations over the next two days in order to make an informed decision about his next two seasons -- a redshirt year sitting out and his final season as a senior.
Once he transfers to a new locale outside of Arkansas and the SEC, Clarke is banking on being out of the spotlight, improving his overall game and coming back onto the scene in 2012-13 without the drama that surrounded his exit from Fayetteville.
Clarke received his release from Arkansas on Monday, after some initial resistance from Mike Anderson. It's a saga that became unnecessarily muddied and one in which everyone involved shares some of the blame.
First, some background. Clarke led Arkansas in scoring this past season with 15.2 points per game, making a team-high 43.8 percent of his 3-pointers. He was the team's instant offense, going off for 36 points (including six 3s) in an 11-point win at Vanderbilt. But the 6-foot, 184-pound guard out of Verdigris, Okla., couldn't do enough for the Razorbacks to escape a 7-9 SEC finish (18-13 overall) that left Arkansas without a postseason berth and ultimately coach John Pelphrey without a job.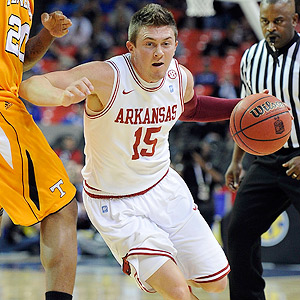 Paul Abell/US PresswireHaving decided to transfer from Arkansas, Rotnei Clarke will take his time before deciding his new home.
But Clarke was never completely satisfied as a Hog. Multiple sources said he had gone to the previous coaching staff after his sophomore season and asked for a release, only to later decide that he wanted to stay for his junior season. Sources also said that Clarke's uncle, Kelly Clarke (who was his high school coach) was making multiple calls to Gonzaga during Clarke's career to see if there was interest in him transferring.
Rotnei confirmed that he did consider leaving after his sophomore season. He said he later found out that his uncle was speaking on his behalf. His father Conley, Kelly's brother, said he was also unaware that his brother was making exploratory calls. Both Rotnei and his dad said Kelley wasn't authorized to speak on his son's behalf.
Nevertheless, Kelley made an attempt to see whether Nebraska was interested in Clarke transferring last January when he called his former boss, Doc Sadler. Kelly and Sadler had worked together at Westark JC in Arkansas. Sadler had recruited Rotnei to the Cornhuskers and once he wasn't going to get Rotnei, a source close to Sadler said he steered him toward Arkansas.
Rotnei Clarke said he was aware that calls were made in January and he quickly quashed the transfer talk. Conley Clarke said there had been a difference of opinion on how Rotnei's situation should be handled within the family.
Ultimately, Rotnei stayed with the Hogs. He finished his season and he was on a tear by the end, scoring 21, 26, 17, 24, 26 and 18 points in the final six games.
Once Pelphrey was fired in mid-March, Clarke considered transferring. But he was advised by athletic director Jeff Long and assistant athletic director Jon Fagg to wait to see who the next coach would be at Arkansas. So he did. Anderson, who was Nolan Richardson's assistant in the 1990s and a one-time interim coach when Richardson was fired, left Missouri to take the gig. Clarke said he initially told Anderson that he would stay.
"I didn't think it was fair to my teammates to leave,'' Clarke said.
Meanwhile, Anderson granted releases to junior Jeff Peterson and sophomore Glenn Bryant, two players who played 29 and 31 games respectively last season. Bryant has already transferred to Eastern Michigan. Peterson has graduated, but could still play next season with one season of eligibility.
As for Clarke, he went through initial workouts and then decided he needed a fresh start.
"It wasn't just the workouts,'' Clarke said. "I just felt like it wasn't the right situation for me. It wasn't just the style of play.''
Clarke sought out Anderson and told him wanted to transfer. According to multiple sources, Anderson initially said no because of Clarke's ability to make shots and be an impact player for the Razorbacks, saying he was too good to leave. But he also wanted Clarke to talk to Long and Fagg, who weren't in town at the time.
Clarke balked at the initial reaction from Anderson and told Jeff Goodman of CBSSports.com last week that he was refused a release.
Clarke ultimately received the release a few days later after talking to Long and Fagg. On Monday, Anderson said to ESPN.com: "I want guys who want to be here. Nothing has ever changed with that.''
Anderson, through the help of former assistant coach Rob Evans' work on keeping the recruits together, was able to keep Pelphrey's highly touted recruiting class. The group has two top-10 players at their position in point guard B.J. Young and power forward Hunter Mickelson, as well as top-12 shooting guard Ky Madden. Forwards Aaron Ross and Devonte Abron round out a class that was ranked ninth overall by ESPN. Madden, Mickelson and Ross are from Arkansas. Ross is the only one of the five who is unlikely to be eligible due to academics, according to a source with direct knowledge of the situation.
Anderson is trying to instill the "fastest 40 minutes of basketball" that he started at UAB, where he led the Blazers to the Sweet 16, and continued at Missouri, where he led the Tigers to the Elite Eight.
"I like the versatility of the class, guys that fit the uptempo style,'' Anderson said. "I like their instincts. More than anything they want to be here, get better and they've all been here this summer, doing involuntarily weightlifting and spending time with their teammates. I'm excited about these freshmen. I want guys to come in here and do things the right way.''
At least one upper administration source said Anderson has come into Arkansas with a hard line. He wants accountability, players going to class, showing up for workouts and won't budge on his demands. The administration so far has been very pleased with the direction Anderson is taking.
That said, he clearly could have handled the Clarke situation better, issuing him a release immediately instead of making the situation more difficult than it should have been.
Clarke is a talent and now the suitors are lining up. The problem is that a school needs to have a scholarship available in July for Clarke for next season and then in 2012-13. Gonzaga is not an option. The Zags don't have a scholarship and aren't interested in pursuing Clarke after the overtures from his uncle the past year. Nebraska doesn't have a scholarship either.
Oklahoma could be an option under new coach Lon Kruger, but Clarke said he doesn't necessarily need to return to his homestate. Clarke isn't allowed to transfer within the SEC, but he said he wouldn't want to do that anyway with the chance that he would be an even bigger distraction.
Clarke said he asked Arkansas officials on Tuesday for the names of all of the programs who contacted the school about him and will now go through the process of contacting the schools where he fits best.
His family moved to nearby Springdale, Ark., when Clarke decided on the Razorbacks and his father said there are no plans for the family to uproot and move again next season. He said his wife has signed a contract to teach next school year, but he wouldn't rule out moving for Clarke's final season of playing.
At the end of the day, the right thing was done at the conclusion of this mini-drama. But not before a controversial week locally and to a certain extent nationally. Clarke, for one, regrets how it all went down and wishes it had not become such a big deal in the first place.
"It's not what I intended,'' Clarke said. "I didn't want coach Anderson and the staff to look bad. I believe that they will turn this program around. I know they want to win and I'm confident that they will.''