UW's Romar regrets not knowing full story
June, 22, 2011
06/22/11
2:58
PM ET
It's safe to say Washington's Lorenzo Romar can't offer any crisis management tips for coaching colleagues after the
Venoy Overton
case.
He said he was blindsided by the recent second-degree charges against Overton of promoting prostitution, in this case involving an 18-year-old woman. The allegations came after Overton earlier avoided prosecution after two sexual situations involving teenage girls.
Overton is currently in King County Jail and there is a $150,000 bail. He has a June 30 arraignment.
Yet he played in two NCAA tournament games this March -- a win against Georgia and a loss to North Carolina -- after being suspended for the Pac-10 tournament.
Why?
"If I had knowledge at that time, it would have been far different than the way we handled it," Romar told ESPN.com by phone Wednesday. "I had zero knowledge of it."
Romar said the first time he knew about the extent of Overton's criminal activity was when he got the call that he had been arrested. The Huskies were initially operating under the information that Overton had been cited for providing alcohol to a minor. That gross misdemeanor, reached in a plea deal, was the only charge that arose out of a police investigation.
But there was more. Allegedly Overton not only provided alcohol to two 16-year-old girls he met online, but he also had sex with them (the age of consent in Washington is 16). One of the girls accused Overton of rape, but prosecutors did not file charges because she failed "to clearly communicate a lack of consent." The incident came after an investigation in summer 2009 that involved accusations that he sent sexually explicit text messages to his 15-year-old cousin. Overton's troubles are well-documented in a recent report in the Seattle Times.
[+] Enlarge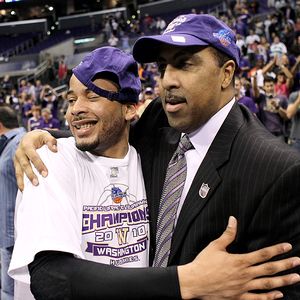 Stephen Dunn/Getty ImagesThe career of Venoy Overton, seen here with Lorenzo Romar after the 2010 Pac-10 tourney, will be remembered more for the embarrassment it brought to UW.
The only charge out of that case involved the alcohol and that's what Romar and the university used as a basis for making their decision.
"Venoy had been improving a lot of areas in his life and making a lot of progress when he joined us," Romar said. "I thought there had been a lot of progress."
Nevertheless, Romar and UW can't run away from the bad publicity that followed when Overton was allowed to play in the NCAA tournament. Interestingly, Overton ultimately cost the Huskies when he botched two of the final possessions in a close round of 32 game against North Carolina, choosing not to pass off to leading scorer Isaiah Thomas. Thomas was miffed after the game that he didn't get a chance to score, let alone shoot, for the Huskies in the final possessions (before a last shot) against the Tar Heels.
Overton said at the time he was doing what he was told, which was to go toward the basket and create.
In the end, though, that's just basketball. Overton's decisions on the court clearly pale in comparison to what he was alleged to have been doing off the court.
And it stings the Huskies and Romar.
"I'm hoping people look at our body of work and see that the last nine years what has happened and judge us on that, not on what I call an isolated situation," Romar said. "It was unique. It wasn't one that we had dealt with before. I don't think there's a rulebook for this. I have a certain standard for the program and a standard that I felt we had been maintaining."
Romar didn't want to go into the specifics of the case, but as a father he said he was sick about the charges.
"You want this to go away, but it won't," Romar said. "We went nine years without this sort of thing. Hopefully we can go another nine years and continue to do the right thing. This is certainly not a pattern for us."
The lesson for Romar and other coaches is that there must be due diligence before reinstating. Clearly Overton did enough to warrant the Pac-10 tournament suspension. But bringing him back for the NCAA tournament warranted even more vetting.
Romar said he acted on what he knew. He had to have university support to do so. He did. And he got burned -- badly.
The investigation into sex with a pair of 16-year-olds was probably enough to warrant sitting Overton for all of the postseason. He was a senior playing in his final games, but there are consequences to your actions, no matter when they happen.
Washington's program will survive this ugly incident. The Huskies have another impressive recruiting class coming in. Terrence Ross should be a star next season and Abdul Gaddy should be fully healthy. U-Dub will be in the mix for another NCAA tournament berth.
The decision to reinstate Overton was a mistake, even with limited information. There was still enough gray area from his previous issues to warrant a stiffer penalty.
Romar's position was that Overton had suffered quite a bit in not being able to share in the joy of a Pac-10 tournament title. He didn't want to dismiss Overton from the program with the information he had at the time.
Now he wishes he'd known everything. He says he didn't, and there's not much more he can do about it at this point. He didn't commit the crime, after all. But the bottom line is Washington played a player who was clearly troubled.
The Huskies want this story to go away. And it will once Overton's legal case concludes. The stain of scandal will eventually wear off.
But now you can be assured Romar and other coaches who end up dealing with something similar will be even more cautious about reinstating a player. If they don't, they'll potentially suffer the same consequences: shame and embarrassment.