Cincinnati's Mick Cronin more at ease now
June, 23, 2011
06/23/11
8:42
PM ET
Mick Cronin said he had overtures this offseason from two major-conference programs searching for a new coach, but he politely declined to pursue.
He had rebuilding fatigue. He had a family structure that wouldn't be conducive to a move, with his divorce now two years out and a 4-year-old daughter in the middle of the marriage.
And he had a commitment to Cincinnati, his hometown, his alma mater, and to a program that desperately needs stability.
So he stayed. He stayed a year after it looked as if he could be forced out at Cincinnati if the Bearcats didn't make the NCAA tournament in his fifth year.
[+] Enlarge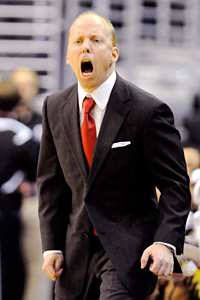 Brad Mills/US PresswireMick Cronin led UC to its first NCAA tourney win in six years.
Well, hot seat no more. He is now on firm ground.
Cronin's teams did show some improvement over his first four seasons, going from 11 to 13 to 18 to 19 wins overall (2 to 8 to 8 to 7 in the Big East).
"The problem in this business is that you can improve every year, but the first four years didn't include an NCAA tournament appearance,'' the 40-year-old Cronin said. "We were making progress, but to the average fan there was no NCAA tournament. Until we went to the tournament and won a game, the jury was going to be still out.''
The Bearcats did just that. Picked to finish 12th in the Big East, Cincinnati wound up 11-7 in conference play, two more league wins than eventual national champ UConn. Cincy reached the NCAAs, beating Missouri in the round of 64 before losing to Connecticut, one of 11 Big East teams in the bracket. UC finished 26-9.
"You can improve in this business but the threshold in this business is the NCAA tournament and we needed to be a contender,'' Cronin said of the Bearcats, who under Bob Huggins went to the Big Dance a remarkable 14 straight times from 1992-2005. "I knew we could be much better last summer. And we were. I was anxious to show that we could get the job done and cap off rebuilding a program. Now it becomes the next step to prove you can become a fixture at the top of the Big East.''
As for the two interested schools this offseason, Cronin wouldn't name them but said both jobs offered more money than he's currently making. The overtures didn't get far, and he said he told one of his assistants he couldn't imagine going through another rebuilding job.
He didn't see himself having the energy necessary to go through what Mark Turgeon will be doing, leaving probably his best team yet at Texas A&M for a rebuilding season or two at Maryland.
"How much can you go through?'' Cronin said. "I took on a massive project. I'd be lying if I didn't say it didn't have an effect on me. I went through a divorce. I was working 15- and 18-hour days, which affected my marriage. We're great friends now but the marriage suffered.
"If you're married with kids, or even single with no kids, it's hard to rebuild like what Mark Turgeon or Lon Kruger [going from UNLV to Oklahoma] have to do."
On Tuesday, UC's board of trustees quietly approved a new contract for Cronin, who said he essentially has a new six-year contract that will take him through 2017 with an average pay of $1.5 million a year. The key point for him was there was also an increase in salary for his staff, as well as a bump for the basketball budget.
The Bearcats will likely be a top-25 team to start the season with their top four scorers back in Yancy Gates, Dion Dixon, Sean Kilpatrick and point Cashmere Wright.
"We upgraded our talent, we have veteran guys, and now if Cashmere is healthy after having surgery two days after the UConn game, then that we'll be very important for us,'' Cronin said. "Cashmere has to be back to help us defend. Yancy will be better. We've got our leading scorers back.''
Cincinnati's nonconference slate isn't daunting, highlighted by roads game at Georgia and rival/A-10 favorite Xavier, as well as a home game again Marshall, a sleeper tourney pick out of Conference USA.
But there's little doubt the Bearcats will be a major force in the Big East this season with UConn, Syracuse, Louisville and Pitt. And with Cronin secure for the foreseeable future, there is finally some stability in the Queen City. That never hurts.