Plenty of stars returning in 2011-12
June, 24, 2011
06/24/11
1:02
PM ET
College basketball was spoiled with the decisions of a number of potential lottery picks who chose to return for the 2011-12 season instead of ending up in Thursday night's draft.
[+] Enlarge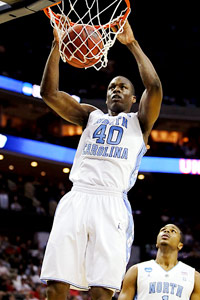 Kevin C. Cox/Getty ImagesHarrison Barnes returns to North Carolina after averaging nearly 16 ppg his freshman season.
Don't expect that to occur in 2012.
The talent pool is too rich, and too deep at the small forward and power forward positions, for the college game to hold onto the top players.
And North Carolina and Kentucky probably shouldn't get too attached to their players next season.
The two schools are going to be 1-2 in the preseason poll for a reason -- talent.
The Tar Heels and Wildcats dominate the 2012 draft prospect list of one NBA team, which seems to be a consensus opinion.
And it shouldn't come as a shock.
North Carolina's Harrison Barnes, who would have challenged Duke's Kyrie Irving for the No. 1 spot Thursday night, tops the small forward list. Carolina's John Henson and Tyler Zeller and incoming freshman James McAdoo are in the top 10 at power forward. Of course, each team will have a different view on these particular talents, and where a team selects has an impact. But Barnes, Henson, Zeller and McAdoo are all high on the draft board. UNC point guard Kendall Marshall starts the season on the second tier of point guards, but he is more than capable of moving up.
Now, it's not a lock that Barnes, McAdoo and Henson will leave as underclassmen in 2012. Zeller is a senior, so he has no choice. Marshall is unlikely to bolt. But this core of five players is as highly rated a group as the Tar Heels have had since winning the 2009 national title.
Kentucky will be a much younger team but can challenge in talent. The Wildcats have one of the top prospects at point guard (freshman Marquis Teague) along with two top prospects at small forward (sophomore Terrence Jones and freshman Michael Gilchrist) plus power forward (freshman Anthony Davis).
North Carolina and Kentucky will have the most talent on the floor in every game they play, save when they play each other Dec. 3 in Lexington.
---
Two teams that weren't in the NCAA tournament that will be interesting to watch will be Mississippi State and Minnesota. The Bulldogs have two big men, Renardo Sidney and Arnett Moultrie, a transfer from UTEP, who have the potential to be first-round picks. The Bulldogs will be picked in the middle of the SEC, behind Kentucky, Vanderbilt, Florida and Alabama. But the talent up front makes them a factor.
Minnesota's Trevor Mbakwe and Rodney Williams have always been on the draft radar due to their athleticism. Toss in the potential that Ralph Sampson III has always had, and the Gophers have three talents who should make this team better after a disappointing season.
Of course, there are individual stars who will be tracked by the NBA while carrying their teams quite a bit during the season.
Ohio State's Jared Sullinger will be one of the favorites for national player of the year. Duke freshman guard Austin Rivers will be given the ball and told to lead the Blue Devils. UConn's Jeremy Lamb has NBA potential and is a top 10 wing. He'll take on even more of the scoring responsibilities with Kemba Walker gone. Baylor's Perry Jones will be a dominant presence in the Big 12. If he can add more to his offensive game, he's a contender for the top pick in 2012.
No one should sleep on the potential of Purdue's Robbie Hummel to lead the Boilermakers and become a viable, seasoned player for the NBA to covet next season. And expect college stars like Syracuse's Kris Joseph and Texas A&M's Khris Middleton -- as well as Vanderbilt's Jeffery Taylor, who has John Jenkins and Festus Ezeli to complement him -- to shine brightly enough as seniors to be drafted in the first round in 2012.
But if there are three players who aren't that well-known yet, but who could make the early jump from college to the NBA, they are Memphis sophomore shooting guard Will Barton, Florida freshman point guard Brad Beal and Texas freshman point guard Myck Kabongo. All three are in the top 10 at their respective positions on the draft lists. That doesn't mean they'll bolt quickly, but they've got the potential to do so. Barton will be the star for the Tigers, a trendy top-20 pick and the favorite in Conference USA. Beal won't be asked to do as much since Gators guards Kenny Boynton, Erving Walker and Rutgers transfer Mike Rosario will dominate the ball. But Beal still has the ability to be a special talent. Kabongo will be the premier player for the Longhorns after Cory Joseph abruptly left.
Next season's draft will be much deeper than Thursday.
The hope for college basketball is that a minimum stay of two years in college comes out of a new NBA collective bargaining agreement. The current rule calls for players to be one year removed from high school. College coaches would love if it got bumped to two. If it did, the strength of the 2012 draft would still be strong with Barnes, Sullinger, Lamb, Zeller, Henson, P. Jones, T. Jones and Co. all likely in the draft. But the freshmen who could easily bolt, like Gilchrist, Davis, Teague, McAdoo and Kabongo, would have to return.
Regardless of what occurs in the negotiations between the NBA and National Basketball Players Association, know this: College basketball will have more NBA-level talent in the 2011-12 season than it had in 2010-11. And in the end that bodes well for the college game and the NBA.