Ex-Vol coach Bruce Pearl waits in limbo
July, 7, 2011
07/07/11
3:20
PM ET
Bruce Pearl is in Knoxville this month, exactly where he would have been had he not been fired by Tennessee in March.
Remember, Pearl was banned for a year from off-campus recruiting as part of his school-sanctioned penalty, so he would be sitting at home during this busy month anyway. But regardless of being employed or not, the start of the July evaluation period has left him feeling empty.
[+] Enlarge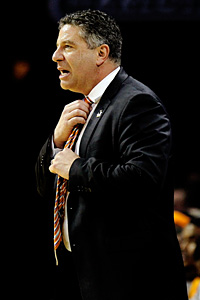 Kevin C. Cox/Getty ImagesFormer Tennessee coach Bruce Pearl says he will miss the July evaluation period, but not all the travel requirements.
"I went out on the road for the first time when I was 22 years old, so for the first time in 30 years, I'm not on the road in July," Pearl told ESPN.com on Thursday.
Pearl is awaiting word from the NCAA Committee on Infractions. He met with the COI in Indianapolis on June 11, but won't know his fate until August at the earliest, possibly into the fall. He's likely to be hit hard for the charge of misleading investigators.
In an interview with Atlanta radio station 790 on Wednesday, he said he answered "148 out of 150 questions" truthfully. But he didn't initially tell the truth about hosting a cookout on an unofficial visit for a recruit and where it was held. It was at his house, and he knew exactly who was in the photo that he was shown by the NCAA.
He eventually told the truth. But it was too late, and then the NCAA also hit him with a charge of an unofficial contact just two weeks after the school called a news conference to issue his sanctions and just days before his one-year ban was set to begin.
Pearl said he panicked when first questioned.
"There's no good excuse for not answering correctly," Pearl said. "No excuse."
Pearl's next move is in limbo. He wants to coach in college again but fully understands that he won't in the foreseeable future if he's hit with a show-cause penalty. If he isn't, then he's hopeful he'll get a chance. He's interested in becoming a broadcaster, too.
There are potential opportunities in the NBA Developmental League, but if he were to pursue an NBA coaching career, he would rather go the route of former banned college coach Kelvin Sampson, who learned on the bench with the Milwaukee Bucks and is now a legitimate candidate for head-coaching jobs.
Yet this month, Pearl's focus is on what he's missing.
"July Fourth had other connotations over the years that after the holiday weekend I was scheduled to go out on the road," he said. "Every coach has his strength and weaknesses and one of the things I did differently was that I would be the guy on the staff to identify the players. Then I would bring my assistants and say, 'What do you think?' I was out every day that I could be as a head coach. I didn't miss a day in 30 years."
Pearl said he enjoyed evaluating, rather than babysitting a potential recruit or committed player.
"I would have my assistants do some of that," Pearl said. "I liked being in the smaller gyms. I really enjoyed evaluating prospects and watching them play."
He even watched some of the teams in search of plays. He said he remembers watching a Friends of Hoop team out of Seattle and liking a sideline-out-of-bounds play they used with three seconds remaining.
"It was an unbelievable play," Pearl said. "I used it."
What Pearl doesn't miss about July is the travel.
"I won't miss going from the heat to the air-conditioned gym to the heat," Pearl said. "I won't miss driving all over Vegas."
He's got bigger worries these days. For now, he has to wait for the COI verdict in his case. Until then he's in limbo, waiting to see his next career move.
Tennessee has moved on with the hiring of Cuonzo Martin. The new UT coaches can hit the road recruiting since the penalties were imposed by the school on the previous staff, not the program. The COI could still come down on the Vols and sanction recruiting. But any kind of ban on coaches who weren't party to the infractions is unlikely.
There's no question that Pearl will be the main target. And so now he waits.
In one of the most hectic months of the year for coaches, that's really all he can do.