USA U19 team gains experience in Latvia
July, 11, 2011
07/11/11
6:15
PM ET
All Greg McDermott needed to hear came right after the end of the FIBA U-19 World Championships in Latvia, when the gold-medal-winning coach from Lithuania explained that his team had a great four years together.
"We've been together since June 20th," McDermott said of the Americans, who lost to Russia in the quarterfinals and finished in fifth place after Sunday's two-point win over Australia.
"There's no question that the timing and execution of the teams playing together is obvious," said McDermott, who took a break from recruiting as head coach of Creighton to watch his son Doug play for Team USA. "Our coaches have a short time frame to put together everything and have to keep it relatively simple due to the prep time."
Syracuse coach Jim Boeheim, an assistant on the U.S. national team and the chair of the junior national team committee, said the U-19 has consistently been the hardest championship for the Americans to win. The tournament was held every four years from 1979 to 2007 (it's now every two), with the U.S. winning gold in 1979, '83 and '91. The Americans went four straight tournaments without winning gold before a team coached by Pitt's Jamie Dixon ended the drought two years ago in New Zealand.
This squad, which was snubbed by a number of high-profile underclassmen who were eligible but chose either summer school or working out at their respective schools, was coached by new George Mason coach Paul Hewitt.
Team USA lost an exhibition to Lithuania by 33 points, but then in the second round -- behind 35 points from UConn's Jeremy Lamb -- beat the eventual gold-medal Lithuanians by two in overtime 107-105. But the U.S. then lost the ensuing game against Croatia before the medal round and was upset by Russia before beating Poland and Australia in the consolation round.
"The 19 is the toughest for us to win,'' Boeheim said. "The other teams have been together for three to four years. They are there for the 16, 17, 18, 19. It makes it tougher for us to win. Lithuania was by far the best team and I was happy that we were able to beat them in a game. That was a huge, huge upset, but against Russia we couldn't make a 3-point shot. We had all new guys."
Dixon said he could tell while coaching the Americans two years ago that this tournament was the one the younger teams were hyped to win.
"They all build for it," Dixon said. "After that tournament, they usually go to the professional teams. We have a new team every year. The way the system is set up, the 19s is the culmination for the rest of the countries. We don't get all of our best players."
[+] Enlarge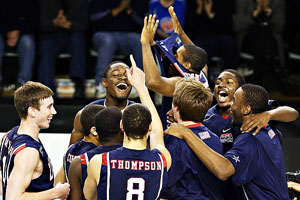 Hannah Johnston/Getty ImagesPlenty of players from the 2009 championship team enjoyed success upon their return to the States. Will the same happen this time?
Regardless of this year's so-so performance, you can expect a number of the leaders on this team to have standout seasons when they return to campus, just as players like Ashton Gibbs, Gordon Hayward and Shelvin Mack did after their experience in New Zealand.
"It validated everything for Gordon," Butler's Brad Stevens said. "He was someone who averaged 12 points and five rebounds in high school. He didn't know how good he was. That experience validated it for him. It showed that he's pretty darn good. Shelvin was already feeling he could play with anybody and it showed he was right."
Stevens is hoping the experience will have a similar effect for Khyle Marshall, who was a role player for the Bulldogs' national runner-up team this spring. His main responsibility was to rebound off the bench, but he'll be asked to do much more this season. In Latvia, Marshall averaged 5.7 points and three boards in 13 minutes a game.
"It was such a great experience for him, to represent the U.S., to travel abroad and to see how much it matters to other countries," said Stevens, who will assist Purdue's Matt Painter on the World University Games team that heads to China in August. "You can't put a price tag on that. Khyle is a guy who can find the basket in a number of different ways. The rest of the summer he'll hone his skills and get in the gym and make it a priority. He wasn't the first or second guy on a scouting report so that's a big step for him and he'll have to take the appropriate steps on how to handle it."
The tournament will be a difference-maker for a number of players.
Lamb (16.2 ppg, team-high 18 steals) will be the go-to scorer for Connecticut with Kemba Walker no longer around. Michigan's Tim Hardaway Jr., (9.4 ppg) will be counted on even more after Darius Morris stayed in the draft and was selected by the Lakers. Florida's Patric Young (9.7 ppg, 6.8 rpg), who was a beast around the basket (28 offensive rebounds), will be the focal point inside for the Gators with the departures of Vernon Macklin and Alex Tyus. Michigan State will lean heavily on Keith Appling (11 assists, seven turnovers) in Kalin Lucas' absence, while Illinois can certainly expect increased playing time and production out of big man Meyers Leonard (6.9 ppg, 5.2 rpg).
Florida coach Billy Donovan was in Colorado Springs as a court coach prior to the team leaving for Latvia. Donovan had to instruct Young to stop being a perimeter player and told him to run the floor, duck in and grab rebounds and finish.
Last season, Young didn't have to be an everyday player with Macklin, Tyus and Chandler Parsons around. That won't be the case this season.
"My hope for him is that he can become a consistent guy every day," Donovan said. "He has to be a guy who is consistent with effort, attitude all the way through. The simpler the better for him. He has to understand what our team needs. He has to do what he does and then work on everything else. He has to focus on how he can impact the game."
Two players in particular from this team really stood out in terms of a take-away experience: the aforementioned McDermott and Joe Jackson of Memphis.
The hometown hero Jackson competed with Antonio Barton at the point last season and will do so again. In Latvia, Jackson was solid from the free throw line (21-of-27) and averaged 11.6 ppg, but his assist (37) to turnover (30) ratio wasn't exactly ideal.
Nevertheless, Boeheim said Jackson showed him an ability to play the point. And he said the intensity of the games will only help him on a Tigers team with big expectations for next season.
That's exactly what Memphis coach Josh Pastner wanted him to experience.
"He had to continue to learn the game," Pastner said. "He had to continue to play against high-level teams in a structured environment -- not pickup games, real games, more game experience. There's no spot that's handed to him. We've got good players and good competition. Everyone will have to earn spots. But this gave Joe a lot of confidence."
McDermott didn't need any more confidence in his overall ability. While playing for his father in Omaha, he led the Bluejays in scoring (14.9) and rebounding (7.2) and was named to the USBWA freshman All-American team.
At the World Championship, he was third on the U.S. team in scoring (11.3 ppg) and made a team-high 13 3s.
"This was such a fabulous experience for my son to put on this jersey," McDermott said by phone from Riga, Latvia. "Doug's confidence is at an all-time high. As soon as he got the invitation he was doing the extra work in April, May and June. You can't put a price tag on this. It's one of the more special things for me as a father. My oldest son Nick was here with us and to share this experience with them, I can't ask for anything anymore as a dad."
In 2011-12, the Bluejays are expected to compete with Wichita State for the Missouri Valley Conference title. In addition to McDermott, Creighton also returns guard Antoine Young and a full season from big-man transfer Greg Echenique.
"We've got good pieces back," Greg McDermott said.
Creighton actually begins a five-day practice session on Saturday before heading off to the Bahamas on Aug. 11.
"I told Doug he can have Tuesday off," McDermott said. "We'll go easy on him. He came over here and played with guys who will be going to the NBA. That will end up being an incredibly valuable experience."
In the end, the Americans didn't medal. You can pick apart the roster selection or the coaching. The experience the opposing teams have over the Americans when they are together for several years can't be denied, but everything is fair game when there is a defeat.
But playing in these intense games -- at a high level, on the road, overseas -- will almost certainly benefit these players next season more than any pickup game or local tournament would have.