News and notes from around the country
July, 12, 2011
07/12/11
6:45
PM ET
Quick hitters for this Tuesday:
• Florida coach Billy Donovan has been working the mental side of his suddenly loaded perimeter to get the guards ready for a heavy load next season.
The Gators return guards Erving Walker, Kenny Boynton and Scottie Wilbekin, while also adding Rutgers transfer Mike Rosario, a high-scoring talent who did well in the Big East. Toss in impact-freshman wing Brad Beal and the Gators will tip heavily toward the perimeter with the departures of forwards Alex Tyus, Vernon Macklin and Chandler Parsons. Patric Young, fresh off competing for Team USA at the U-19 World Championships in Latvia, will be the focal point in the post.
"The last two years we played with a lack of depth on the perimeter,'' Donovan said. "Now we add Rosario and Beal and we're going to be a much better shooting team and will have more experience. Now the test is how much will those four guys make each other better.''
Donovan said Rosario had everything run through him at Rutgers and he anticipated he'd be on his way to the NBA after two years. But it didn't happen. Now he has to check the ego at the door and become a winner, something that never materialized at Rutgers.
Donovan said he has told Walker that he wants him to lead the SEC in assists since there will be more than enough offense on the wings this season. Walker's assists actually went down from his sophomore to junior year, from 4.9 to 3.4 a game.
"We want everyone to understand a good shot,'' Donovan said. "I'm excited with the challenges of dealing with the guards.''
Donovan said Kentucky will have the most talent in the SEC, while Vanderbilt returns its team intact and will also be a contender. But he fully expects the Gators to be right in the mix for the SEC title.
• Duke held its first two practices on Sunday and Monday in advance of the team's trip to China and Dubai next month. Duke will take a break this week as the coaches go on the road recruiting, but the team will resume workouts here shortly.
[+] Enlarge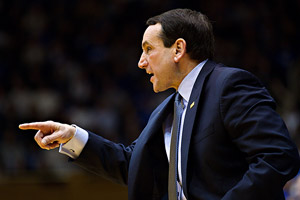 Peyton Williams/Getty ImagesDuke coach Mike Krzyzewski is open to adding Notre Dame to the ACC, but he would like to see revenue sharing as part of the deal.
Duke coach Mike Krzyzewski said the practices will be a huge benefit for the Blue Devils in trying to figure out how to play this season, let alone on the trip.
"We're giving these guys opportunities to show us who they are,'' Krzyzewski said. "How we do this trip obviously won't be how we do the season. We have to get to know our guys, not just individually but how they interact with each other. It's a great opportunity for us, a big-time trip.''
This will be Krzyzewski's first time to see all three Plumlees on the floor together in competitive games. Marshall Plumlee joins his older brothers Mason and Miles on the Blue Devils' roster.
"Marshall is a real good player with a great attitude,'' Krzyzewski said. "It's time for Miles and Mason to take a huge step forward as a senior and junior. That's the same for Seth [Curry] and Andre [Dawkins]. Seth would normally be a senior [after transferring from Liberty]. Andre is a junior but he's finally older [on the court] since he's still only 19 [he came to school early out of high school]. It's a rite of passage for these guys.''
Krzyzewski said there is plenty of work to do but he's pleased with the early progress. This is the first time the Blue Devils have taken an overseas trip since they went to London in October 2002.
"Most schools do this every four years, but with my involvement in USA basketball we haven't been able to,'' Krzyzewski said. "Another benefit of winning the World Championships last summer is that we can go to China and Dubai. This is great for us.''
The title last summer in Turkey allowed the Americans to qualify for the London Olympics so they wouldn't have to this summer, giving Krzyzewski the summer off from USA Basketball.
• The summer lockout could help BYU prep even more for its trip to Greece in August. Jimmer Fredette is expected in Provo next month to work out, and BYU coach Dave Rose is hopeful that former Cougars can scrimmage against the current crop in preparation for the trip.
• The benefits of being in the West Coast Conference are already helping the Cougars in scheduling. The WCC had no issue holding off its formation of the conference schedule to work in a bye date for BYU so it could schedule a home-and-home series with Virginia Tech with the first game in Blacksburg in January. The return game will be the following year in Salt Lake City.
• Kansas' staff continues to believe that Thomas Robinson is headed for a banner season after sitting behind three first-round draft picks -- Cole Aldrich and the Morris twins, Marcus and Markieff -- the past two seasons. Robinson is expected to be the go-to guy at forward for the Jayhawks. Apparently Elijah Johnson is also ready to take on even more of a featured role.
• In discussing the Big 12 race with a few coaches, the one school that keeps coming up as the favorite may be surprising to some: Texas A&M. The Aggies return the core of their team from a year ago, led by Khris Middleton. The consensus seems to be that the coaching change from Mark Turgeon to Billy Kennedy is similar enough that there shouldn't be a hiccup.
• The Maui Invitational bracket is being worked on this month with an expected announcement coming soon. A few things you can expect: Duke won't play Chaminade in the first round and Memphis won't play Tennessee, since the two teams have a regular series. Duke doesn't like to play non-Division I teams and makes it quite clear when it signs up for these events that it would rather not be matched in the first round with the host school.
If the tournament were seeded it would probably go: 1. Duke; 2. Memphis; 3. Michigan; 4. Kansas; 5. UCLA; 6. Georgetown; 7. Tennessee; 8. Chaminade. But the tournament won't be matched by seeds. One possible grouping that makes sense based on the parameters is: Kansas-Chaminade and UCLA-Memphis on one side of the bracket; Georgetown-Michigan and Duke-Tennessee on the other. No one would deny that a possible Duke-Kansas final helps the overall health of the tournament and would rate well. But KU would have to possibly get by Conference USA-favorite Memphis and that's with the assumption that Duke can beat Michigan if the two were to meet in the semifinals. The Blue Devils defeated the Wolverines by just two in last season's NCAA tournament.