Rick Pitino: Big East needs divisions
July, 15, 2011
07/15/11
4:40
PM ET
The Big East hasn't broached a two-divisional setup for when it increases to 17 teams with the addition of TCU in 2012-13, let alone if it ever bumps its membership to 18.
"We haven't spent any time studying divisions," Big East associate commissioner Tom Odjakjian said.
Yet, Louisville coach Rick Pitino would like to start the discussion -- now.
[+] Enlarge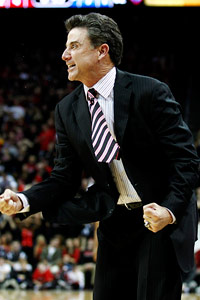 John Sommers/Icon SMIRick Pitino wants to see divisions in the Big East.
He did so with a blog post on his personal website. Pitino would like to see the Big East split into two divisions when TCU is added. His example of divisional alignment was along football and nonfootball playing sides:
East: 1. Villanova; 2. Georgetown; 3. St. John's; 4. DePaul; 5. Marquette; 6. Seton Hall; 7. Providence; 8. Notre Dame
West: 1. Syracuse; 2. Pitt; 3. Louisville; 4. West Virginia; 5. Cincinnati; 6. TCU; 7. Rutgers; 8. Connecticut; 9. South Florida.
He wanted to see a setup where there is a true round-robin within the division, and where the crossover games only occur in the Big East tournament in Madison Square Garden.
"The best way to do this is divisional play," Pitino said. "I don't care how the divisions are broken down. That's irrelevant. We can build rivalries. I did it by football and basketball but that's not the way I would want to see it. I just did that conveniently."
There are a number of issues with Pitino's breakdown.
If the Big East ever did go to divisions, a football/nonfootball split wouldn't occur.
"It would create more rumors about a split up," said Odjakjian of football and nonfootball playing members. "Why give that impression? We're unified here."
The current schedule is an 18-game regular season with each team playing three teams twice.
Having imbalanced divisions -- one with nine and another with eight -- wouldn't work, either, since one side would be playing 14 league games and the other 16.
The Big East tried a divisional alignment twice and neither attempt wasn't successful. The conference had a six- and seven-team divisional setup when the league had 13 teams for three seasons beginning in 1995-96. Odjakjian said that divisional alignment was only done in that manner so schools/coaches wouldn't finish 13th. It was not done for scheduling purposes. That setup was scrapped, but then the league went to two seven-team divisions for three seasons when there were 14 teams beginning in 2000-01.
When TCU joins the Big East in a year, the current scheduling format will go from having three repeat opponents to two. If the league were to add an 18th member, then the question becomes: Would the Big East go to 17 single-plays and one repeat game against a rival?
Syracuse coach Jim Boeheim said if the Big East goes to 18 teams, he can see going the divisional route.
"The problem is who plays who and where," Boeheim said. "We tried divisions before. It wasn't good. Figuring out the divisions won't be easy."
Boeheim said the football/nonfootball division wouldn't work becasue it would split up rivals like Syracuse and Georgetown and because it would remove Philadelphia (Villanova) and D.C. (Georgetown) from the schedules of schools that look at those areas as recruiting territory.
"Rick has a good point [about change]," Boeheim said. "Something will have to be figured out by next spring. But we still seem to be standing pretty good and we're pretty strong. There can always be a little tweaking."
Pitt coach Jamie Dixon said he didn't see the need to do anything with the addition of TCU or another school. He has no issue with one 17- or 18-team conference.
"Why do we have to go to divisions?" Dixon said. "It's working. I don't think anyone is arguing that we have the best conference in the country. What we're doing is working."
The Big East presidents currently want every Big East school to play each other at least once.
Pitino's other issue with the current system is the imbalanced scheduling as a result of a lack of divisional play. He said the Big East coaches poll put the top five teams in this order: 1. Syracuse; 2. Louisville; 3. Pitt; 4. Connecticut; 5. Cincinnati. He said the normal way of scheduling is for the repeat games to come from different tiers of the coaches poll (five tiers total). Yet, Louisville has repeat games against Syracuse and Pitt. He also took issue with going back to Cincinnati again in a single play as well as going to West Virginia yet again in a single play.
"That's three straight years at West Virginia," Pitino said. "This is what I'm getting at. The imbalanced schedule. Depending on the schedule next year, there will be a team that has a distinct advantage based on who it has at home, and the double games won't be as difficult. It's all food for thought."
The one certainty from Louisville's schedule is that the Cardinals will likely have the strongest conference schedule next season, and that will only enhance Louisville's RPI in determining an NCAA tournament seed. The Cardinals road games are: Cincinnati, DePaul, Marquette, Pitt, Providence, St. John's, Seton Hall, Syracuse and West Virginia. Louisville hosts UConn, DePaul, Georgetown, Notre Dame, Pitt, Rutgers, South Florida, Syracuse and Villanova.
Notre Dame coach Mike Brey did acknowledge that there will be a lot of discussion at next year's league meetings about alignment and scheduling. He said he's open to change. And he'd like to hear different ideas.
"But let's be careful," Brey said. "We've been eight-plus bids a year, I think, since we've gone to 16. We had a record 11 last season. That's something to be proud of and this has helped us all. The league has great inventory whether we're in divisions or not. That's one of our strengths. That's another thing to be careful about in any change."