Paul Hewitt disagrees with NCAA
July, 18, 2011
07/18/11
12:07
PM ET
Paul Hewitt sat inside a Savannah, Ga., hearing room with the NCAA's Committee on Infractions on April 15, unemployed and waiting to defend himself against a possible major violation that had been tagged under his watch at Georgia Tech.
But he never got a chance to speak.
There are conflicting reports as to why. A source close to COI chair Dennis Thomas, commissioner of the Mid-Eastern Athletic Conference, said he never told Hewitt he couldn't talk during the hearing. But at least two sources who were in the room told ESPN.com that Thomas said to them Hewitt didn't need to speak since he wasn't mentioned in the case and wasn't in jeopardy.
The thrust of the hearing was based on Yellow Jackets football and whether the school should have declared receiver Demaryius Thomas ineligible after he accepted $312 worth of clothing in 2009 from former Tech quarterback Calvin Booker, who had been working for a sports agent at the time.
[+] Enlarge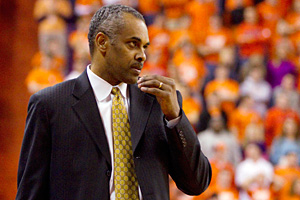 Joshua S. Kelly/US PresswirePaul Hewitt was fired after 11 seasons in Atlanta.
The sources said Hewitt was told by Dennis Thomas to sit there and not say anything since there were no penalties assessed to him. Yet, Georgia Tech had offered up to the COI a one-game suspension of Hewitt, even though it had fired him the previous month. The COI never dealt with the one-game penalty and didn't asses it. Hewitt never spoke during the hearing and neither did his attorney.
According to one source, Georgia Tech focused its attention on defending the football allegations and didn't pay as much attention to basketball. Hewitt was already gone. And the reaction from the school was that the sanctions were likely to be secondary in nature.
Hoops was more of an add-on to the football violations as the basketball focus group was looking into the camp that was conducted on Georgia Tech's campus. The finding was that the Yellow Jackets held an on-campus camp in May 2009 and that the program's academic advisor at the time, former player Jon Babul, was taking notes. Hewitt and his assistants were not at the camp.
The other issue Hewitt and his attorney, Stu Brown, had with the charge was that the rule put in place about the event came about during an NCAA session on Oct. 29, 2009, several months after Georgia Tech's camp.
Hewitt didn't receive any penalty from the COI and it didn't seem to affect his reputation much considering George Mason hired him as head coach just two weeks later. Still, the COI hit the men's basketball program currently being run by former Dayton coach Brian Gregory with a reduction of two recruiting days and four official visits over a two-year period. There were no phone call, off-campus recruiting or scholarship reductions from the hearing.
All of this adds up to more of a secondary penalty. The football program had to vacate the 2009 ACC championship and the athletic department was levied a $100,000 fine, but the damage to men's basketball is minimal at best, so this likely won't stick to Hewitt in the years to come.
Still, there is a stigma attached to a major violation under your watch.
"I'm disappointed,'' Hewitt said. "We have a difference of opinion of what happened.''
Hewitt said when LuAnn Humphrey of the NCAA enforcement staff spoke at the ACC meetings in May 2010, he realized that there might be a potential violation. He said that's when the questions started from the NCAA.
"Now my name is tied to a major violation penalty,'' said Hewitt. "It bothers me that my name is tied to a major violation that in May of 2009 wasn't in place.''
Hewitt said he wasn't on campus during the event and said there was no contact with his staff during the event. The enforcement staff charged that in May of 2009 and 2010 the event was run and operated by the program's graduate assistant. Georgia Tech and the NCAA agreed on the facts but not on the type of infractions. Tech called it secondary while the NCAA deemed it major.
The other secondary violation listed was the 10 impermissible tickets that were left by the men's basketball staff. The tickets became a violation, according to the NCAA, when they were left for people who had activity with possible student-athletes. According to multiple sources, the tickets were left for former players Matt Harpring, James Forrest and Dion Glover, who had been working out with kids who were 12 and 13 years old.
It has certainly been an eventful spring for Hewitt. He was fired. He went before the COI but didn't speak. He was hired at George Mason. He then left for a month to coach the USA U-19 World Championship team through the trials in Colorado Springs and into the tournament in Latvia, where the team finished fifth.
Now he'll be on the road next week for the final 10 days of the July evaluation period.
"We had a great group of guys,'' Hewitt said of the USA team. "We had that one game where we didn't shoot well, going 0-for-9 on 3s. There will be benefits in the long run. Everyone that went through it made an incredible sacrifice.''
Hewitt said he regretted that the Americans weren't able to play Lithuania for the gold medal in a raucous road environment in neighboring Riga, Latvia. USA had lost to the Lithuanians in an exhibition but then beat them during pool play.
"We didn't get that chance to play them in that crowd,'' Hewitt said of the eventual gold-medal winners. "I'm not sure we would have beaten them, but I like our chances.''
Hewitt said one of the toughest breaks for the Americans was losing Cal's Allen Crabbe during the trials to a broken nose and concussion. He said as soon as that happened and Crabbe was deemed unable to go on the trip, he knew shooting was going to be an issue for the team.
"I remember sitting there with Randy Bennett [assistant coach on the team and head coach at Saint Mary's] and saying, 'Damn, I hope it's not serious,''' Hewitt said. "He would have made the team. I think coming in he and [Creighton's Doug] McDermott were the best 3-point shooters.''
Hewitt said outside of the obvious choices of McDermott, Joe Jackson (Memphis), Patric Young (Florida) and Jeremy Lamb (Connecticut), he said he could see Meyers Leonard of Illinois having a breakout season after his play with Team USA.
"He's got a lot of potential,'' Hewitt said. "He's athletic. He can shoot the 15-foot shot. He can block shots. He runs well.''
As for his Patriots? George Mason is the predicted favorite in the CAA and added a major impact player in Erik Copes, a top-50 recruit who originally signed with George Washington before Karl Hobbs was fired.
"He's here, he's all set and he's ready to go,'' Hewitt said.