King Rice learned from his mistakes
July, 21, 2011
07/21/11
6:38
PM ET
King Rice sat in jail, waiting to be picked up by his boss, Kevin Stallings, wondering whether he had finally woken up from this fantasy that he didn't have a drinking problem.
"I was 27 years old and, as soon as it happened, I looked at it as serious and knew I had to do something about it,'' Rice said.
"I was the one he called that night,'' said Stallings, who was the coach at Illinois State in 1996 with Rice as an assistant. "I got him out of jail. I was the one who went and picked him up. It was disappointing. I had hired him to be someone to emulate, and he had done the opposite.''
[+] Enlarge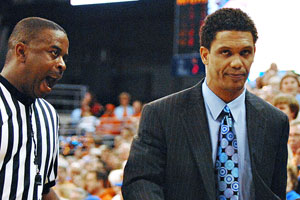 AP Photo/Phil SandlinIt took some tough love and self-awareness for King Rice to finally realize he had a problem.
Nevertheless, Stallings didn't hesitate to characterize Rice as a good person who had done something wrong. A well-meaning man who had a problem and made a mistake. Stallings was able to persuade athletic director Rick Greenspan to keep his young assistant on staff.
As for Rice, he was pushing down a secret he didn't want to admit, only realizing it once he got the DUI and finally went to rehab.
"I used to drink too much -- no question,'' Rice said. "I had a problem with drinking. But I stopped when I got the DUI because it was time. In college, I would get in arguments, fights with people, and it never would have happened if it weren't for drinking. But I didn't want to accept that it was the drinking doing it.
"I learned about alcoholism because it's in my family,'' he added. "My mom is an alcoholic; her dad was; and two of my three brothers are and my sister is, and I thought I was different because of sports. I thought I never would have a problem, that it couldn't be me, too.''
Rice said he told everyone he knew, including his college coach at North Carolina, Dean Smith, that he could stop whenever he wanted. But he could not -- and he constantly put himself in bad situations.
"But I got cleaned up and I'm happy I did,'' said Rice, now 42. "My life is way better now that I don't drink.''
That said, the past did continue to haunt his chances to advance his career fully. Just plug the name King Rice into Google, as most who would hire him would, and it's easy to find his arrest from 1990 for assaulting a female, resisting arrest and destruction of public property while playing for the Tar Heels. That incident happened when he was a player. The DUI occurred seven years later while he was a coach. Was there a pattern?
"I think King went through a period where he wondered if he was always a victim of his own past,'' Stallings said. "I think that caused him a great amount of frustration. But he owned his mistakes. He never tried to blame that for why he didn't get an opportunity. It was his mistake, he shouldn't have done it and he's still paying for it. It was always a disappointment to him that he put himself in a position where people had [a reason to] not give him an opportunity.''
Rice couldn't shed the questions. He stayed with Stallings until 1998, then moved on to Providence for two years before leaving the business for six to work in Los Angeles with friend and fellow Tar Heel Rick Fox. Rice was Fox's personal trainer, and the two also formed CarolinaPros Inc., a service organization that sponsors a variety of community-based events and mentoring programs. He also managed T-Mobile stores that the two owned and even coached the Bahamas national team for three summers. (Fox grew up in the Bahamas.)
[+] Enlarge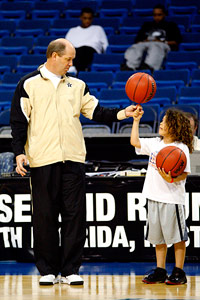 Kim Klement/US PresswireKevin Stallings, seen here with Rice's son, Alexander, stood by his assistant during the tough times.
Then, in 2006, Stallings hired him again -- this time at Vanderbilt. With the help of Rice, the Commodores went to the NCAA tournament in four of the next five seasons, and Rice attempted to parlay that into his first head-coaching job, interviewing at Wagner, Missouri-Kansas City, Tennessee State and Texas A&M-Corpus Christi.
He never quite broke through, however, and wasn't sure whether Monmouth would end up being the same old story: getting close to a job, then having his history come back and cost him in the end.
"I kept getting to the final one or two and not able to get over the hump,'' Rice said. "When I was younger, I put myself in bad situations and made bad choices, and it came back to bite me.''
Yet Rice was a tantalizing candidate, especially for a struggling program such as Monmouth. And why wouldn't he be? He came from Carolina bloodlines and played point guard in the Final Four for a legendary Hall of Famer. He was raised in Binghamton, N.Y., and has plenty of New York/New Jersey connections. He has the catchy name, the engaging smile and a track record of on-court success as an assistant under well-respected Stallings.
So Monmouth athletic director Marilyn McNeil, Ph.D., brought Rice in for an interview, but she didn't dance around The Big Question.
"You Google him and it comes up, and one has to answer to a public that's going to ask the same question: What's up with that guy, and do we want him representing our university? Within 15 minutes, I said, 'OK, the elephant in the room is this issue, so talk to me about it.' I'm a great liberal and I believe in second chances and I wasn't going to hold it against him. I told him I want to know if this is going to be something that is going to embarrass the university.''
McNeil said Rice was forthcoming and explained what had occurred in the past 15 years, notably that he had been clean and sober. After the interview, McNeil told Monmouth president Paul Gaffney that Rice would be a great role model for the program's student-athletes.
Clearly, Stallings agrees.
"He's very up front and open about what occurred and how it occurred and the details," Stallings said. "He's done what people in that situation should do, and that is to use it as motivation and to try to help others and people he coaches in particular. He understands about making a mistake and wants to be the right kind of example and right leader for young people.''
Rice said he also has counseled young coaches who have had issues with drinking.
"We all stand up there and act holier than thou about drugs and alcohol, but now here's someone who has been down that road and in a meaningful way can use that life lesson in a real way,'' McNeil said. "It was over once we talked. He has so much to offer. I laughed after he had a great line: 'How long do I have to apologize for something I did 14 years ago? I guess I'm going to have to apologize for the rest of my life.' We've all made mistakes, but we're not as high-profile. We're in a business of education, and we don't want to forget that.''
McNeil said that Rice's days at an academic bastion such as Vanderbilt immediately caught her attention and that his overall body of work indicated the type of coach she wanted.
"I thank her every day for giving me this opportunity,'' Rice said. "I have a great job. I've seen my mom more recently than I have in the last 10 years since Binghamton is close to New Jersey. It's just a matter of time before we do big things here.''
Monmouth plays in the Northeast Conference, a hodgepodge of state and private universities spanning six states. The conference is a one-bid league that has been cyclical lately in its rotation of champions. Money is being spent in large sums on facilities and coaching staffs at Quinnipiac, and other schools, such as Wagner, have gone for a home run hire such as Dan Hurley and brother Bobby.
And then there is Monmouth, a campus on the Jersey shore with a $57 million-dollar arena that is envied by most around the conference. Earlier this year, then head coach Dave Calloway resigned under pressure after 14 seasons. He led Monmouth to the NCAA tournament in 2001, '04 and '06 but was just 30-60 in league play (48-105 overall) over his last five seasons and even missed the NEC tournament in 2011 after finishing 11th in the 12-team conference.
But even with the program's lack of success in the past half-decade, McNeil isn't shying away from her expectations for Rice.
[+] Enlarge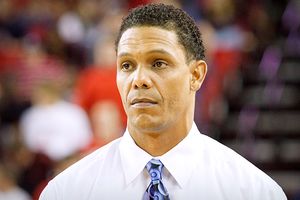 Darrell Walker/Icon SMIRice takes over a Monmouth program that has suffered through five straight losing seasons.
"In three years, we should be able to win the conference, four [years] maximum,'' McNeil said. "And then we need to win that first round. So we've got to do a good job of pre-conference scheduling. He's got enough connections, and he's bold enough. Our [NEC] coaches talk about getting a better schedule, but they want the 20 wins to get their contract extended. [Rice] gets it.''
He sure does. Despite coaching a second-division team in his first year, Rice is taking the Hawks to games at North Carolina, at Vanderbilt, at Rutgers and at the Virginia Tech regional in the NIT Season Tip-Off. They also host upstart Harvard and signed a home-and-home agreement with Villanova. Rice said he wants at least two high-majors on the schedule every year.
He stacked his staff with former Carolina teammates Brian Reese and Derrick Phelps, along with veteran assistant Rick Callahan, who was a longtime assistant to Rice mentor Eddie Fogler.
Rice said he has formed his coaching style from a combination of Stallings, Smith, Fogler and Larry Brown. He said former UNC players who go into coaching have had a tendency to shy away from the Carolina system because the personnel doesn't match the style. He said he won't do that.
He's also learning from fellow Tar Heels who are now coaches and have had bumpy roads along their careers, Jeff Lebo, Buzz Peterson and Matt Doherty.
"They've all helped me, and while they may have stumbled, they didn't fall [down for good],'' Rice said. "And I don't want to fall into the same holes they fell into.''
Rice has a shot as a head coach after coveting an opportunity for quite some time. He drank too much, got a DUI 15 years ago and said he stopped cold. Now he has finally gotten someone to give him a chance at his ultimate goal. He said he's not about to blow it.
"He may have the opportunity to move on, but I can't imagine he's not going to work his tail off and be extremely successful and leave us in a better place,'' McNeil said. "I hope he stays here forever, but I don't want to be naive, either. I see this as a very good match.''