Renardo Sidney will miss team's Europe trip
July, 25, 2011
07/25/11
5:44
PM ET
Renardo Sidney marches to the beat of his own drum. Always has, apparently always will.
And Mississippi State coach Rick Stansbury is trusting that this time Sidney knows what he's doing by staying with renowned personal reformer John Lucas instead of joining the Bulldogs on a foreign trip to Amsterdam in two weeks.
The move by Sidney to return to work out with Lucas in Houston after being there for two months better pay off with a more lean, focused and team-oriented player or else Stansbury may end up derailing his team for the second straight season based on Sidney's whims.
A year ago, Stansbury jammed in a ridiculous schedule of five games in five days as well as a Bahamas-Las Vegas-Hawaii-Las Vegas road trip to put high-profile games all in a row in late December because of a nine-game NCAA suspension imposed on Sidney from the previous year. The schedule was also designed to deal with a 14-game combined NCAA/academic suspension of point guard Dee Bost.
[+] Enlarge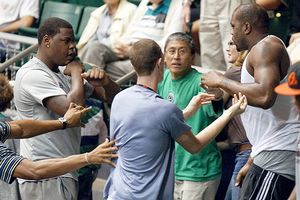 AP Photo/Eugene TannerRenardo Sidney's fight with Elgin Bailey in Hawaii was the lowlight of a disappointing 2010-11 season for MSU.
It totally backfired as the Bulldogs lost all but one of the games on the five-game road trip and Sidney was suspended twice -- once for being insubordinate in practice and another for a televised fight with former teammate Elgin Bailey in the stands at the Diamond Head Classic in Honolulu.
Sidney ended up averaging 14.2 points and 7.6 rebounds for the Bulldogs.
"He's lost 23 pounds," said Lucas of Sidney, who was listed on the MSU website as weighing 270 prior to working out with Lucas. "He wanted to get more weight off through conditioning and running. He wants to be more focused. We're teaching him to be much more professional."
Lucas said he was surprised when he got the call that Sidney wanted to return to his workout regimen of getting up before 6 a.m. to run at least three miles before he heads to the gym. Sidney is one of 14 college players and at least 20 NBA players who are working out with Lucas.
Lucas said that Sidney's mother has been paying for his hotel bill during his two-plus month stay in Houston. He said the school cannot fund the workouts or expenses.
"He's a good kid, but what I didn't realize is that he was that good," said Lucas, a former NBA head coach who has specialized in helping reform players on the court and off, especially those who have dealt with substance-abuse problems. With Sidney, he's dealing with more of a mental hurdle and some anger-related issues.
"I had never seen the kid play and I had no idea what to expect," Lucas said. "We've had two or three blowups. I've had to tell him to take his fat ass out there and get to work. I'm helping him grow as a professional.
"Somewhere down the line he lost some motivation. When kids get ranked real high early I think they think they've got it made. When he wanted to come back I was shocked. This isn't easy. He wants to do it. He wants to get more weight off him. He doesn't have to do it."
But Sidney will be missing critical practice and game time with his teammates. The Bulldogs need a season with no disruptions. Stansbury said he's pleased Sidney has lost weight, but reiterated that this was Sidney's choice not to go on the trip.
He said Sidney plans on returning to the team when school resumes, but he's not there now. The Bulldogs spent the weekend working as a team for the trip and they'll resume next week before departing. The trip will be beneficial for cohesiveness as freshmen guards Rodney Hood and Deville Smith learn to play with Bost. UTEP transfer Arnett Moultrie, who should have a major impact up front for the Bulldogs, will also get much-needed reps.
Stansbury's plan is to play Moultrie and Sidney together with the former at the 5 and the latter at the 4. Starting 33 games as a sophomore, Moultrie led the Miners in rebounding (6.7) and averaged 9.8 ppg. They will be able to practice together when normal practice begins in October, but it sure seems like a waste not have them work out together in July and play some foreign games in August to get them ready for the season.
On the other hand, Lucas said building up Sidney's self-esteem and getting him in shape will be just as much of a help for team chemistry.
"I think the team camaraderie needs him to improve and get the weight off," Lucas said. "That will help his focus in October."
Stansbury is once again putting together a challenging schedule for a team that will be vying for a top-five spot in the SEC with Kentucky, Vanderbilt, Florida and Alabama. The Bulldogs are in the 2K Sports Classic in New York with Arizona, Texas A&M and St. John's, play Baylor in Dallas, host West Virginia and Utah State, and travel for a tricky road game at Horizon contender Detroit.
Stansbury said the Bulldogs are close to a deal to play Oregon, which would leave the Bulldogs just one game left to schedule. No matter who that ends up being, this tough slate has a chance to dramatically help the program's RPI if the Bulldogs compete well in the SEC.
Of course this is all based on Mississippi State's hope that Sidney doesn't implode the team from the inside out. Spurning Europe and sticking with Lucas better be the right move for Sidney and the Bulldogs or else the beefy nonconference schedule won't matter on Selection Sunday.
The team has plenty of talent and potential, but simply can't survive that schedule and a tough SEC if there's again internal strife.