Remembering Skip Prosser four years later
July, 26, 2011
07/26/11
8:07
PM ET
LAKE BUENA VISTA, Fla. -- Wofford assistant coach Mark Prosser was a bit bleary-eyed Monday night, fresh off a red-eye flight from Las Vegas to Orlando, Fla.
He hustled straight to the Milk House on the ESPN Wide World of Sports campus for an AAU tournament and he stayed into the evening to watch a game before heading to the hotel to shut it down and take Tuesday off.
It just made sense for him to take a day off after the red eye, but it wasn't about just that. The decision to sit idle and reflect is much deeper than that.
It was on this day four years ago that his father, George Edward "Skip" Prosser, died of a heart attack at 56 years old. Skip had taken the red-eye flight from Vegas to Orlando like countless coaches did before him and coaches continue to do to get from one recruiting event to another. Prosser then flew home so he could speak at a Wake Forest basketball camp. He went for a jog in the Carolina heat then collapsed in his office.
"It's been four years,'' said Mark, as he sat in the stands watching a game Monday night in Orlando. "I'm off the road [Tuesday]. I won't be here. That will be good.''
[+] Enlarge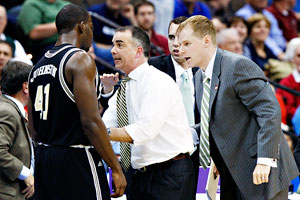 AP Photo/Steve HelberMark Prosser, right, is entering his fourth season as an assistant at Wofford.
Mark, then an assistant at Bucknell, was in a gym four years ago, when he received a phone call that his father had collapsed. He ran out of the building and headed immediately to catch a flight to North Carolina. Being in the gym that day was incredibly eerie. Seeing Mark sitting there then bolting was a haunting experience for those in the gym. The talk that day centered around Skip. When word spread throughout the gym of his death, it had a paralyzing effect on everyone there.
A year later, there was a memorial service on the Wake Forest court as those close to him spoke about what Skip meant to them.
Three years have passed since the unique church service on a basketball court. Yet, Skip's legacy is enriching and has been celebrated, not fading, in the years since his death.
There are awards named in his honor: The ACC's Skip Prosser Award to the top scholar-athlete (won by North Carolina's Tyler Zeller in 2011); the CollegeInsider.com Skip Prosser Man of the Year Award (won by Xavier's Chris Mack last spring); and the U.S. Merchant Marine Academy Alumni Association honors its fallen graduate with a Skip Prosser Achievement Award for honesty, integrity, dedication and determination to serve others.
"I miss being at these things with him,'' Mark said. "Obviously I'm happy I'm off the road [Tuesday]. It's not a sentimental thing. I just thought it made sense with the red eye coming right here. I just know my dad this week would have been so happy that the lockout ended and his Steelers are back playing. We would have talked about that.
"He would have loved the success the Pirates are having. It's been four years. And yet when I see other coaches, his friends like Ed DeChellis [now at Navy] they love telling me stories. That's what keeps everything in the forefront.''
Mark said his father would have done the red eye again. He doesn't think his dad would have changed one bit of his routine. He said he believes his father's heart attack was a cumulative effect and running in the Carolina heat didn't help him.
Yet, Skip's death still has had a tremendous effect on one of his mentees, Pat Kelsey, also a friend of Mark's. Kelsey, who played for Skip at Xavier, was on the Wake Forest staff and was on campus when Skip died. He stayed on in Winston-Salem with Dino Gaudio and Jeff Battle then went to work with another Skip Prosser pupil, Chris Mack, at Xavier. But Kelsey abruptly quit the business after this past season, saying he wanted to spend more time with his family. He mentioned Skip at the time of his decision.
Kelsey said in a statement on May 16: "For a long time I have struggled internally with this decision but I have decided to step away from college coaching at this time. Four years ago, I witnessed first-hand coach Skip Prosser's death in the basketball office at Wake Forest. That day, my perspective on the profession and life was forever altered. My role as a father and husband is everything to me and the rigors of this business can make that challenging. My family and my health comes first."
The younger Prosser said he wasn't expecting the decision.
"I was shocked when I heard that,'' Mark said. "I've talked to him. He seemed happy. I respect that. Pat is in great shape, so it's not a health thing. He wants to be around his family, his girls. I know that was a big motivating factor for him.''
Skip's legacy is important to Mark, and it has been celebrated even more in the years since his death.
"It's about doing things the right way, and what people remember most about him is that he was a normal guy,'' Mark said. "He worked his brains out. He enjoyed this on a day-to-day basis. He loved being here. He loved Vegas, Orlando and all this stuff. He wanted to go back to speaking at the camp. He went from a JV football coach in Wheeling, West Virginia, to being a head coach in the ACC. It was an unbelievable journey. He worked for it and was very fortunate to be around good people.''
Mark called his father a renaissance man who loved to travel overseas to Ireland, study history and read on the beach. He said his father originally just wanted to be a teacher.
Mark got married two years ago to Emily Criscione. Emily had a chance to meet Skip prior to his death. Six months ago the couple had their first child, a girl named Ava Grace.
"She has red hair and blue eyes like my father,'' Mark said. "She's so much fun. He would have enjoyed her. He wasn't the touchiest-feeliest kind of guy. But that would have been great for him. It would have been good to see. It's tough that she won't know him. I just know that Ava would have softened him up.''
Mark is cognizant of Ava Grace's early moments. Like most fathers, he doesn't want to miss anything significant.
"I don't want her first words to be 'Where's Daddy?' Oh, 'He's in Orlando or Vegas,''' he said.
Mark turns 33 this year. He's in his 10th year as an assistant coach and has worked at two successful lower-profile programs, coaching in four NCAA tournaments, working for Pat Flannery at Bucknell and now Mike Young at Wofford.
"I've had impeccable timing, working for two really good coaches,'' he said. "I can't believe it's 10 years as an assistant. It seems like it's been flying by.''
It has been four years since Skip Prosser died. That too seems hard to believe for his son.
"Four years,'' Mark said. "What do I miss most? I just miss talking to him on a daily basis.''