Jim Larranaga relishes challenge at Miami
July, 29, 2011
07/29/11
3:53
AM ET
LAKE BUENA VISTA, Fla. -- Duke coach Mike Krzyzewski and North Carolina coach Roy Williams were in attendance, as were Florida State's Leonard Hamilton, Ohio State's Thad Matta and Pitt's Jamie Dixon. Alabama and NC State were represented as well.
[+] Enlarge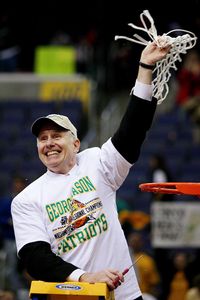 Travis Lindquist/Getty ImagesAfter 14 years at George Mason, including a Final Four run in 2006, Jim Larranaga opted for a new challenge at Miami.
Sitting among the headline names at the HP Field House on the campus of the ESPN Wide World of Sports Complex was Jim Larranaga, adorning a freshly acquired bright orange golf shirt with a "U" embroidered on the left chest, the traditional moniker for the University of Miami.
For 14 years as the coach of upstart George Mason, Larranaga relished his role as the underdog, most notably when the Patriots embarked on a historic run to the 2006 Final Four. He cashed in on that achievement by becoming a successful motivational speaker with a Washington, D.C.-based speakers group.
Larranaga had carved out his niche. George Mason was a Colonial Athletic Association power and a regular contender for an NCAA tournament berth. The Patriots are expected to be a preseason Top 25 team this season, and one that could possibly go on another magical March run.
He was 61. Yet he wasn't satisfied.
"I loved my 14 years at George Mason, and I know a lot of coaches say this: 'Don't mess with happiness,' and I was very, very happy at George Mason," Larranaga said. "I'm very goal-oriented and I wanted to take a shot at a league that gives you a chance to win a national championship."
Larranaga had an opportunity to return to his alma mater, Providence, three years ago when the Friars fired Tim Welsh. He turned them down.
"I've always been driven by the opportunity to succeed in your own league, so when I was being courted by my alma mater, Providence, in the Big East I knew the money was substantially better, but the opportunity to win the Big East for Providence would have been a stretch. To compete with teams like Connecticut, Syracuse, Georgetown and Louisville?" Larranaga said.
So Larranaga stayed on at Mason in the CAA. The league put another team in the Final Four in April when Virginia Commonwealth made an improbable run from the inaugural First Four to the Final Four. That means the CAA has put two teams in the Final Four in a five-year period; Miami has four NCAA tournament wins in its history.

Every individual is on their own journey. I've never been driven by money, and when other schools came courting everyone thought I would move for the money.
-- Miami coach Jim Larranaga
And let's be honest: Miami isn't beating North Carolina or Duke for the ACC regular-season title any time soon. But getting access to an NCAA tournament berth should be easier out of what is currently a rather pedestrian ACC once you get past the Blue Devils and Tar Heels.
After former coach Frank Haith was scooped up by Missouri, Miami initially flirted with Harvard's Tommy Amaker, but to no avail. Then Miami president Donna Shalala and her top administrators got word of some interest from Larranaga and, suddenly, there was a match few would have predicted.
"Every individual is on their own journey," said Larranaga, who consistently speaks as though he were giving a motivational speech. "I've never been driven by money, and when other schools came courting everyone thought I would move for the money.
"Right now, the ACC is going through a tremendous transition with eight new coaches [over the past three seasons], and any one of those eight could jump up into the upper echelon and make themselves a national contender," Larranaga said.
The theory that a coach has to move to a power-six job to compete for a national title seems to have less clout. Larranaga, in large part, helped start the trend that has since been followed by Butler's Brad Stevens and VCU's Shaka Smart.
But one thing that hasn't changed is access to players. Recruiting at a high level remains difficult, and in most cases out of reach for schools outside the power six.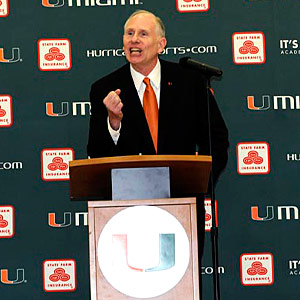 University of Miami photographer JC Ridley Jim Larranaga turned down higher-profile jobs in years past, but decided Miami was a challenge he was ready to undertake.
"The quality of the player that receives our phone calls and shows genuine interest is different," Larranaga said. "We're now in the battle to get the really good players. Our football team has won five national championships. Our baseball team has won titles. In my mind, and the coaches here feel the same way, there's no reason why we can't compete with the best teams in the country to win a national championship. That's our goal."
Larranaga is no stranger to the ACC. He was an assistant to Terry Holland at Virginia in the 1980s when Ralph Sampson starred for the Cavaliers. But Duke wasn't Duke then. Now, North Carolina and Duke aren't going anywhere but the top of the ACC. The rest of the league is trying to catch them, with each taking a rotating turn in the chase. Maryland is going through a transition with the departure of Gary Williams and the arrival of Mark Turgeon; Hamilton has made Florida State consistently good; Virginia Tech has been a thorn in the side of all the above teams under Seth Greenberg but hasn't been able to get through to the NCAA tournament; Clemson made a smooth transition from Oliver Purnell to Brad Brownell and should be a regular in the postseason discussion; Virginia appears to be on the verge of a breakthrough under Tony Bennett.
It's too early to judge Steve Donahue at Boston College, but he is facing an overhaul of his roster. Mark Gottfried and Brian Gregory just arrived at their respective schools, NC State and Georgia Tech. Wake Forest is facing a major rebuild under Jeff Bzdelik.
"I love the challenge of now recruiting against the best teams in the country," Larranaga said.
Larranaga's current team took a major hit when one of the best big men in the ACC, Reggie Johnson, went down with a knee injury (torn meniscus) that will sideline him until January at the earliest. Johnson, a 6-foot-10, 305-pound center, averaged 11.9 points and 9.6 rebounds for the Canes as a sophomore.
"Reggie was going to be an impact force for us in the low post and could have been the leading rebounder in the league," Larranaga said. "Because of the sensitivity of the knee and the decision to repair the cartilage they need four to five months for it to heal properly. He weighs 300 pounds and that can pound on his knee. So it will take three to four weeks to get him in playing shape.
"The earliest is Jan. 1 for a return, but it's more realistic to think mid-January," Larranaga said. "There will be a transition when Reggie comes back. He'll have to shed the cobwebs from being out for six months. Then we'll have him hopefully for the close of the ACC season in February, the ACC tournament and hopefully the postseason."
[+] Enlarge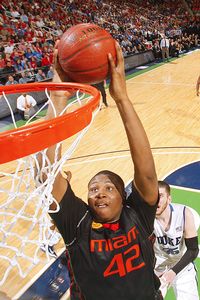 Bob Donnan/US PresswireMiami will be without big man Reggie Johnson until at least January while he recovers from a knee injury.
Larranaga will be counting on Florida transfer Kenny Kadji -- who never realized his potential with the Gators -- senior Julian Gamble and sophomore Raphael Akpejiori to fill in for Johnson. All are about 6-10 to 6-11, but none have proved themselves at this level.
Getting shooting guard Bishop Daniels to keep his commitment was one of Larranaga's most significant coups after he got the job. Daniels will join an experienced roster in the backcourt with Malcolm Grant, Durand Scott and DeQuan Jones, and there's an expectation that UMKC transfer Trey McKinney Jones will have an impact, too.
Miami had the talent a year ago to be an NCAA tournament team, but the guard play wasn't strong in late-game possessions, notably early in the season at Memphis. That contributed to a bizarre season in which the Hurricanes finished ninth in the ACC at 6-10 overall, yet finished 21-15, enough to earn a bid to the NIT, where they lost to Alabama in the quarterfinals.
"Miami did win 21 games last season, but they did finish [ninth] in the ACC, and that concerns me," Larranaga said. "I think everyone thinks we'll be better this season, but it's a new system and a new philosophy and there will be an adjustment. They played a lot of 2-3 zone, and we'll only play zone in an extreme situation."
Larranaga said the Hurricanes will have multiple seasons within one -- the nonconference, the early ACC without Johnson, the latter part of the ACC with him and the ACC tournament before possibly the postseason. To reach that postseason goal, the Hurricanes will have to make some noise in the nonconference schedule. The ACC ranked 16th in nonconference scheduling last season. The Big East was No. 1. That was a major issue at the annual spring meetings. The ACC had four NCAA tournament teams. The Big East had 11.
Larranaga knows about scheduling into the NCAA tournament. He had multiple at-large berths at Mason, including in its 2006 Final Four run.
This season, the Canes will play Purdue, Memphis, West Virginia, Rutgers, Ole Miss and UMass in nonconference play.
"If we can succeed without Reggie in the nonconference then we should be able to set ourselves up to compete for postseason play out of the ACC," Larranaga said. "I've never had the ambition to retire. I love coaching. I have the passion to keep doing it and see players develop and mature."