Billy Gillispie returns to his Texas roots
August, 5, 2011
08/05/11
1:13
PM ET
Billy Gillispie doesn't appear to have changed one bit.
He's a coach. A basketball coach. That's really all he wants to do. That's who he is. And to define him in any other way is probably a mistake.
And now he's back in the Big 12 at Texas Tech, tucked away in Lubbock, where he can grind away and produce a winner in relative obscurity, much like he did when he left Bill Self's staff at Illinois to head up UTEP and Texas A&M before accepting one of the highest profile jobs in the sport at Kentucky.
[+] Enlarge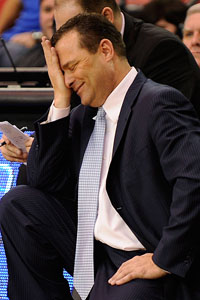 AP Photo/John CurryBilly Gillispie's time in charge of storied Kentucky ended after just two seasons.
"I've been lucky,'' said Gillispie, a native of Abilene, Texas. "We've improved the teams and we've won. I'm proud of where we are and what we can achieve at Texas Tech.''
The Kentucky experience ended rather abruptly after just two seasons. The Wildcats didn't win a NCAA tournament game during his short tenure in Lexington. He didn't even make the NCAAs in his second season, snapping the school's 17-year streak. He never even signed his original contract and ultimately sued the school for the $6 million left on his deal. The two sides settled for just under $3 million.
In short, it was a mess.
You would think Gillispie would have a negative view of his rocky two years in the Bluegrass State. But think again. Whether you believe him or not, Gillispie refuses, at least publicly, to look at the experience as anything but positive.
"I thought our outcome was great,'' he said of his tenure, which ended with a 40-27 record. "I thought we did a lot of good work. Nobody wants to lose their job. I'm proud of what we've done. Sometimes it gets looked at as perceived failure. I don't look at it like that. I'm very proud of what we were able to do there and at Texas A&M and everywhere else.''
But he's had some rough personal moments since he was fired at Kentucky in the spring of 2009.
That August, just a few months after his departure from UK, he was arrested in Lawrenceburg, Ky., for a DUI. It was his third offense in the past decade, according to a Yahoo Sports! report on March 8.
This January, he lost his mother, Winfred, to lung cancer. And then within the last month, in what turned out to be a major error in judgment that spiraled out of his control, Gillispie discovered he lost what is being estimated as millions in two financial scams.
One is being investigated as a Ponzi scheme involving former Georgia football coach and ESPN analyst Jim Donnan, and the other involves the late David Salinas, who committed suicide after he allegedly defrauded hundreds of people in a bond scam. The U.S. Securities and Exchange Commission was investigating Salinas before the Houston-area financial advisor took his own life.
Gillispie said he's not yet at liberty to discuss his personal financial losses, and wanted to emphasize that he lost a good friend in Salinas and that people should remember that a human life was lost.
Through all the personal losses and setback, Gillispie's passion has always been coaching. He didn't do television during his two years away from the game. That wasn't for him. He knew that. The networks knew that.
"I stayed true to myself and understand the strengths and weaknesses I have,'' Gillispie said. "TV is great for some people -- not for me."
As he looks back, one of the few positives that came from being out of the game for two years was the opportunity to be with his ailing mother before she died.
"That's one of the things that was a blessing,'' said the 51-year-old Gillispie. "If I had been in coaching the past couple of years, then I wouldn't have been able to be there. I wouldn't have had as much time available to me. I spent more time with her than I ever have.''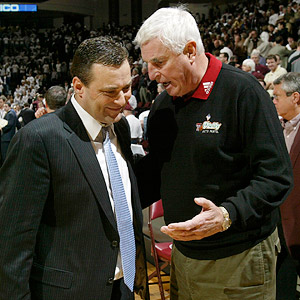 AP Photo/Paul ZoellerGillispie is the first person not named Knight to lead TTU since The General took over a decade ago.
He said he wouldn't trade that time with his mom for any years he has spent in coaching.
"There are so many hours in the day that you spend coaching basketball,'' Gillispie said. "No matter how hard you try, it would be impossible to spend all that time.''
Gillispie is still hopeful that the financial aspect of his life will work itself out. Clearly, plenty of mistakes have been made, both by him and the people he trusted. But he doesn't give any sign he's overly concerned.
For now, he's locked in on recruiting for Texas Tech. Like all coaches in Division I, he just finished his 20-day evaluation period in July. But he wasn't nearly as visible as he once was at Kentucky.
"We're rebuilding the roster,'' said Gillispie, who has just four returning players this season as the Red Raiders prepare for a slimmed-down, 10-team Big 12 that will be even more competitive with an 18-game, round-robin schedule.
A veteran TTU team entered last season with heightened expectations, but finished a disappointing 13-19 (5-11 in the Big 12) as head coach Pat Knight was let go after a largely unsuccessful tenure.
"We've got a really inexperienced team," Gillispie said. "But I haven't been around a better group in the summer. That doesn't always equate to more wins than losses, but we're focused on the foundation of our program and I'm really excited about it.''
As for Gillispie's legacy at Kentucky, it doesn't appear to keep him up at night. After all, how many coaches have had two Big 12 jobs, another job that has had a history of success with a passionate local fan base (UTEP) and another with one of the all-time blue-bloods in all of college sports? He says he feels fortunate.
"I had a great time [at Kentucky]. I wanted it to last longer. Because of the great tradition there, I didn't mind the attention at all. We always try to go about our business, get good players and win games. That's the same thing we'll try to do at Texas Tech.''
For Gillispie to land another Big 12 job, in his home state, just two years removed from being fired and getting arrested, shows that his coaching ability is still well-respected on the circuit.
"The worst thing in my life was my mother passing [not his downfall at UK],'' Gillispie said. "It will take time to get over. But you have to move on at some point. And I'm very fortunate and blessed to be around great people. I totally believe in what we're doing.
"I'm moving on to the next challenge. There is great support here.''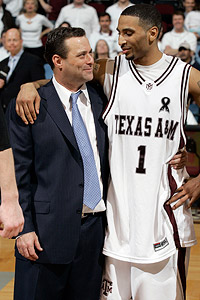 AP Photo/Paul ZoellerGillispie went a remarkable 70-26 at a "football school" like A&M.
UTEP had won under the late Don Haskins, but Gillispie came in when the program was down. A year after winning just six games in his first season, he won 24 and got the Miners to the NCAA tournament. The Aggies called next and after a season that ended in the NIT, he took Texas A&M to two straight NCAA tournaments, including a Sweet 16. No one can dispute that he helped recreate the energy and buzz for hoops at those two Texas schools.
Now he has to do the same at a third.
Over the years, his teams have been defined by hard work, defense and lockdown fundamentals. It doesn't always produce a beautiful game, but more times than not it produces wins. He'll try to establish that same identity with the Red Raiders.
"Texas Tech wants to win,'' Gillispie said.
It will take time, however. His team will be grossly inexperienced. The league will always have standard-bearer Kansas, and Texas, Texas A&M, Baylor and Missouri aren't going anywhere.
Kansas State has created a tough mentality, and you get the feeling the Wildcats will always be in the mix under Frank Martin. Behind a slew of transfers, second-year coach Fred Hoiberg seems to be building Iowa State back up. So that puts even more pressure on Tech to regain the relevancy it once had under Bob Knight.
"I've very fortunate for this opportunity at Texas Tech," Gillispie said. "If you asked me if I enjoyed my time off, then the answer is no. I made the most of it, but I didn't enjoy it. I learned a lot of stuff watching stuff. But I didn't enjoy it.
"I like having a team, building it together and forming a special chemistry. That's what is important to me and I was champing at the bit to get back to it.''
He now has his chance. Back home. Back on the bench.
Back where he belongs.