Don't forget about Kentucky's Doron Lamb
August, 8, 2011
08/08/11
7:24
PM ET
Kentucky has an incoming freshman class that is among the most highly acclaimed in all of college basketball over the past 20 years --
Anthony Davis
might very well be the No. 1 pick in the 2012 draft, and
Marquis Teague
and
Michael Kidd-Gilchrist
are both top-10 talents.
It also has a rising sophomore (Terrence Jones) who could've been a lottery pick this summer and a rising senior (Darius Miller) who is about to embark on a trip to China with Team USA for the World University Games.
So where does sophomore wing Doron Lamb fit into the equation?
"He's our best basketball player,'' head coach John Calipari said.
Well, OK then.
"He has a great feel for the game and it showed against Connecticut [in the Final Four]," said Calipari, who is currently prepping a Dominican team led by NBA players Al Horford, Francisco Garcia and Charlie Villanueva during a training camp in Lexington.
Jones (15.7 ppg) was second on the team in scoring last season behind departed freshman point guard Brandon Knight. Lamb (12.3) was third and Miller (10.9) fourth.
[+] Enlarge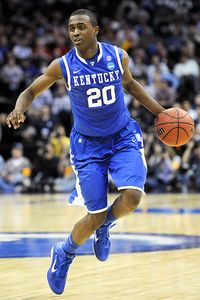 Richard Mackson/US PresswireDon't expect Doron Lamb to get lost in the shuffle on UK's mega-talented team.
Yet Calipari is projecting Lamb for a major breakout.
"Terrence has used this time to get stronger and I'm hoping Darius will use this experience overseas to help him,'' Calipari said. "But Doron is a better player, in better shape and he can take the pressure off those freshmen so they don't have to be anyone else but themselves.''
Calipari said the 6-foot-4 Lamb worked on his ballhandling extensively in the offseason. He said he has seen him mature off the court as well. Lamb did score 32 points with seven 3s in a win over Winthrop last season, so it's not like he hasn't shown the ability. But he had plenty of single-digit scoring outputs and his minutes fluctuated.
"In my opinion, he's going to be one of the top-15 players in the country,'' Calipari said. "He was a freshman last season and it's hard for those guys to be consistent. The same thing occurred for Terrence Jones. [Lamb] has a great feel for the game. He was here for most of the summer and is now home for three weeks in New York before school starts. These are a big three weeks for him.''
The Wildcats' depth was hurt when junior wing Jon Hood suffered a torn ACL this summer. But his departure means everyone moves up a slot in the rotation. That means more minutes for wing Stacey Poole and even more opportunities for freshman forward Kyle Wiltjer and guard Twany Beckham, a potential defensive stopper who will be eligible in the second semester after transferring from Mississippi State. Who knows, perhaps even senior Eloy Vargas can become the Josh Harrellson of 2012.
Calipari said the Cats will have a legit eight or nine players in the rotation, and possibly even 10 by midseason.
The freshmen will obviously play a large role, especially on the defensive end. Gilchrist will be a pest with his length. Teague can guard the ball effectively. Davis will be a monster shot-blocker.
But Lamb has a little bit of everything.
"He has the best instincts," Calipari said. "He's not the biggest or most athletic. But he's a really good basketball player. If he's in great condition and ready to go and improves his handle, then we'll be fine. This is basketball, not track or gymnastics. He does things well with the ball.''
Kentucky, the almost-certain No. 2 in the preseason polls behind North Carolina, has plenty of challenges on its nonconference schedule. On Nov. 15, the Wildcats play Kansas at the Champions Classic in New York, followed by a probable game at Connecticut's Mohegan Sun Arena against perennial CAA contender Old Dominion (if the Monarchs beat South Florida and UK beats Penn State). The Cats also host St. John's in the Big East/SEC Challenge on Dec. 1 and then play in the regular-season game of the year against North Carolina at Rupp Arena on Dec. 3. Kentucky also travels to rival Indiana on Dec. 10 before the last high-profile nonconference game against Louisville in Lexington on Dec. 31.
"Right now we've got [a series with][ North Carolina, Louisville, Indiana and the Big East Challenge, and over the next three years [rotate with] Kansas, Duke and Michigan State [in the Champions Classic]. That's five out of our 15 nonconference games,'' Calipari said.
"And then you add in an exempted event for another two or three. That's six or seven really hard games outside our league. We did finish 10-6 in our league last year, too. Vanderbilt and Florida are going to be really good while Alabama and Mississippi State are going to be good, too.''
As for Calipari, it's soon off to South America for him. The Dominican national team that he is coaching will compete at a preliminary event in Brazil later this month before the FIBA Olympic qualifying event Tournament of Americas begins in Mar del Plata, Argentina, on Aug. 30. Calipari said Vargas, a D.R. native, will have a tough time making the final cut but that he will be traveling to Brazil for the first event.
All in all, Calipari doesn't see any downside in coaching the national team.
"I wouldn't be doing this if I couldn't have the national team in Lexington,'' he said of the Dominican Republic training camp near his home in Kentucky. "I'm here in Lexington until Aug. 17, then we go to the Dominican, to Brazil and to Argentina. Our [Kentucky] players are home now. I'll miss their first two weeks when they come back, but we'll be fine.''