Festus Ezeli continues to learn the game
August, 9, 2011
08/09/11
9:53
PM ET
Festus Ezeli
hated basketball when he arrived in the United States.
It was 2004. He was 14. And he was sent from his home in Nigeria to live with an uncle in California for the purpose of furthering his education, not for anything basketball-related.
"I didn't know what I was doing," Ezeli said of his first attempts at playing hoops. "Imagine someone who is 14 or 15 years old, and you're teaching them as if they're a 6-year-old. It was tough. Everyone was getting frustrated with me. I was getting frustrated with it. I tried playing in 2005. I stopped. I tried again in 2006. And when I had my first dunk in a summer league game in Las Vegas in 2006, that's when I was so excited. It was so exhilarating that I started to like it."
Five years later, Ezeli could end up being Vanderbilt's most important player as the Commodores face perhaps the highest expectations in school history. The program has never reached the Final Four, but on paper, this is its best chance in Kevin Stallings' 13 seasons in Nashville. The Dores will have to establish an inside presence, defend and rebound in the interior to compete for an SEC title and reach New Orleans. Only one person on the roster can be counted on to do that -- Ezeli.
The Commodores return the majority of their team. Vandy is loaded with seniors, with Ezeli joining Jeffery Taylor, Lance Goulbourne, Brad Tinsley, Steve Tchiengang and Aaron Noll. Junior John Jenkins, currently playing for the USA at the World University Games team in China, is one of the top shooters in the country, and depth on the team runs deep with sophomores Rod Odom and Kyle Fuller and expected impact freshman guards Dai-Jon Parker and Kedren Johnson.
Vandy has lost to a double-digit seed in the first round in each of its past three NCAA tournament appearances, including last season's loss to Richmond. Nevertheless, the Dores likely will start the season in the preseason top 10. And Ezeli, who had left knee surgery to clean out some cartilage during the offseason, says he's ready to ensure the Commodores don't disappoint again in March.
"Right now there is a lot of energy here, and we're expecting a big year," he said. "I still haven't had my peace with what happened last year. We've learned from it, though."
Kentucky freshman Anthony Davis will be the marquee inside player in the SEC with his shot-blocking ability and overall ceiling that continues to rise. Mississippi State owns two legit big men in UTEP transfer Arnett Moultrie and Renardo Sidney. Alabama has one in JaMychal Green. Florida will be perimeter-oriented but has plenty of talent to warrant a top-three prediction.
[+] Enlarge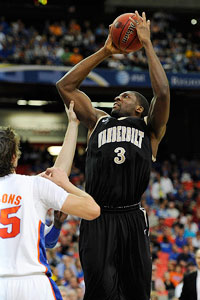 Paul Abell/US PresswireFrom Nigeria to Nashville, Festus Ezeli has come a long way.
So there's plenty of competition, and Ezeli's potential will need to be maxed out. This for a player who couldn't do much of anything in basketball just five or six years ago. A player who still spends time in the gym working on basic skills such as catching and passing.
"The hardest thing to master for me was hand-eye coordination," Ezeli said. "It's something that has been hard for me. Sometimes I just work on passing the ball, and I'm sure not a lot of people do that.
"To go from where people were telling me, 'You're so bad, you're terrible,' to being able to do what I'm doing now, to where I could be playing with the best eventually, it's an honor. It shows how hard work pays off and is finally paying off."
So how did it happen?
Ezeli clearly grew into the physique that makes him quite a specimen, even a raw one that had virtually no skill set when the Commodore coaching staff first caught him in person as he played AAU basketball in the summer of 2007. Ezeli, who is now 6-foot-11 and 255 pounds, wasn't allowed to play high school basketball in the U.S. because he had already graduated in Nigeria. He left his family seven years ago and hasn't been back to his native land, although his family comes stateside to see him and did so this summer in California.
"When we first saw him, he didn't get the ball very often," Stallings recalled. "He didn't look particularly good when he got the ball, but he had this unbelievable basketball body. You could see his speed, athleticism and how he could really run. He didn't have the skill level. We decided to recruit him, and others tried to do the same thing."
Ezeli was recruited by Florida, UConn, West Virginia, Minnesota, Pacific, UC Santa Barbara, Nevada, Creighton, South Florida and UNLV. Other teams were willing to take a gamble on a project -- even at an elite level.
"Obviously you don't take chances on 5-7 point guards, but 6-11 projects, we just thought it was a chance worth taking," said Stallings, who had big man A.J. Ogilvy at the time and was looking for insurance.
"The first individual workout wasn't that hard, but Festus couldn't get through it," Stallings said. "He was learning everything for the first time. He didn't know the terminology. He had never been on a team."
So Vandy redshirted Ezeli in his first season, but midway through, the Commodores noticed that Ogilvy was having trouble scoring in practice. That was because of Ezeli's defense. Offensively, though, it was still a struggle for Ezeli whenever things started to speed up.
But the staff saw the raw potential, and Ezeli listened. He trusted. He was coached. And he excelled.
"He now has a feel for the game," Stallings said. "He has made himself an effective player. I think it's very rare. All of us are looking for more finished products. But we all understood if the payday came, if it really came, if he understood the game, if he was experienced, then it was going to give him a chance to be different than other guys. He didn't learn the game in elementary school like I did. He was trying to learn the game while competing effectively in the SEC. That makes it even more amazing."
Ezeli went from 3.8 points and 2.6 rebounds in limited time as a redshirt freshman to a modest 3.8 points and 3.2 rebounds as a sophomore behind Ogilvy.
Then, with Ogilvy gone last season, Ezeli averaged 13 points and 6.3 rebounds, becoming one of the most improved players in the country and a second-team all-SEC honoree, something that he told Stallings he couldn't believe when he received the news.
"Watch our NCAA tournament game against Richmond, and he was the best player on the floor for us by far," Stallings said. "He gives us a chance with his athleticism, his defensive presence and playing with his back to the basket. He can score, get fouled and is now a legitimate post-scoring guy. His free throw shooting has gone from 39 percent to 60 percent to 70 percent in SEC play. The game used to speed up too much for him. Now he can slow it down."
Ezeli isn't ready to pronounce himself ready for the big boys just yet. He said he knows he has to become much more of a finished product. But the NBA has taken on much riskier projects. For now, he's focused on getting the Commodores to a level they've never achieved.
"I just want to do whatever I can to help us win," he said. "We have so much talent on this team. And that's another reason why I work so hard. I don't want to be the person who holds this team down. I love this game now. I love the people around me, great teammates. That's why I keep playing the game. I love improving.
"My parents told me I was an unusual child. My first name is Ifeanyi, and that means 'nothing is impossible with God.' That sets the tone for my journey while I'm alive. I would never been able to predict that all of this would have happened."