Career assistant Rodney Terry gets his shot
August, 15, 2011
08/15/11
12:15
PM ET
For years, the Fresno State athletic department has desperately wanted to be a national player.
That's why the Bulldogs hired their most famous alumnus, Jerry Tarkanian, in 1995.
That's why the football team has consistently been willing to play whomever, whenever for television purposes.
That's why Fresno was crushed when the Mountain West Conference split from the 16-team WAC in 1998 and didn't include the Bulldogs -- and subsequently showed no interest in the decade-plus that followed.
So one can imagine the school's elation when Utah's abrupt departure and the threat of BYU's (which ultimately proved real) led to another round of expansion for the MWC that this time included FSU, which will come on board alongside Nevada in fall 2012. Boise State joins the league this season.
So, now that Fresno State got what it wanted for its football program, a seemingly safe place for the foreseeable future, what does it mean for basketball?
Well, the timing couldn't be better for new coach Rodney Terry, a former assistant at Texas who took a gamble and left the comfort zone of one of the richest programs in the country in terms of facility, funds and recruiting.
[+] Enlarge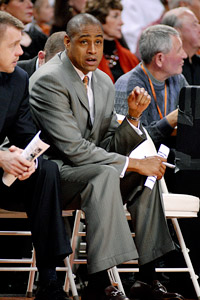 Icon SMILongtime assistant Rodney Terry is a first-time college head coach.
And he couldn't be more pumped for the challenge.
"The timing is great,'' 43-year-old Terry said. "This is a great time to enter the Mountain West. It's a great time to take our program to the next level and attract a high level of talent.''
The MWC still has three programs that are going to be the bedrock of this league for the immediate future in UNLV, New Mexico and San Diego State. The departure of BYU and Utah (no one is losing any sleep over TCU's exit), even though the Utes have been struggling of late, will open up plenty of opportunities for the rookies in this league to make their mark in 2012-13.
Fresno State has a history of modest success. from Boyd Grant to Ron Adams to Gary Colson and Tark bringing in a host of high-level transfers that transformed the image of the school but didn't translate into NCAA tournament berths.
Former BYU and Fresno City College coach Steve Cleveland came in when the program was gutted and had to deal with NCAA sanctions. Cleveland had a few NBA-level talents in Paul George and Greg Smith, but his Bulldogs never won a WAC title or advanced to the NCAA tourney. In fact, the program hasn't made the Big Dance since reaching the second round in 2001.
Enter Terry, who comes from a Texas program under Rick Barnes that has placed assistants at a traditional mid-major program (Ken McDonald to Western Kentucky) and at a power-six school (Frank Haith to Miami, and now Missouri).
"I worked with him for four years, and I knew he was always looking for the right opportunity,'' McDonald said of Terry. "He had a lot of other opportunities before this one. I saw him on the summer circuit, and he was energized about this job. I know it's out west, but Rodney can excel in any recruiting situation.''
Added Haith, who freed up a spot on the UT bench for Terry by departing for Miami: "Texas is a national school, and Rodney is very comfortable in any recruiting situation. It won't be a huge adjustment for him. Rodney has been on different levels."
He was a high school basketball coach in Texas before working at Baylor, UNC Wilmington and briefly at Richmond before the Longhorns poached him from Jerry Wainwright's staff in 2002.
Terry helped Wainwright win at a nearly 60 percent clip in seven years. He was also on the Horns staff that reached a Final Four, two Elite Eights and four Sweet 16s, and he coached and recruited a number of lottery picks during his tenure in Austin.
But he'll have to get used to a different level. If Texas is first class, then Fresno State is currently in coach.
"You do have to take a step back and recognize there are different expectations,'' McDonald said. "We all want to do big things, but we have to understand it's a process and sometimes it takes time. You have to get used to the different resources, and sometimes you're eager to do some things that may take more time.''
Terry has the benefit of following the coach who followed the legend. Cleveland had to come in and work amid the rubble and could never really get it going, ending his tenure with four consecutive losing seasons. Still, the program is in decent shape for Terry. There is a foundation there.
The city of Fresno treats its teams like its own professional franchise, much like fans in other mid-sized cities, such as Albuquerque, N.M.; Lexington, Ky.; and Knoxville, Tenn.
Fresno State's fortunes are at the center of the community with not as much to distract from the daily grind.
"This is a college town, and I know there's a lot of attention toward that,'' Terry said. "I can't emphasize enough the passion and the support here that they have for us to be successful. Pat Hill has done it in football. And we're going to a higher stage in the Mountain West in terms of exposure.
"Everything is in place to take this program to a conference championship and try to advance in the NCAA tournament. Those are the goals that I will strive for year in and year out. We can attract the best players in California and throughout the country.''
To do that, though, Terry has to have the right staff. Whether he does will have to be determined in the future, but he's off to a good start. In addition to nabbing assistant coach Michael Schwartz off Haith's staff and Byron Jones, a one-time assistant at Wilmington, Terry also went out and made the savvy hire of his former boss Wainwright.
The veteran coach made multiple trips to the NCAA tournament at Wilmington and Richmond before heading to the Big East for an ultimately doomed tenure at DePaul. Still, despite his dismissal from the Blue Demons, Wainwright is one of the most respected people in the game by his peers.
"Rick [Barnes] told me you're only as good as the people you surround yourself with,'' Terry said. "You have to have a big-time staff around you.''
In 2010, Wainwright was fired at DePaul in the middle of Big East play. The firing came shortly after he suffered a broken leg when Villanova's Corey Fisher accidently ran into him and hit his leg while going out of bounds.
As it turns out, the broken leg turned out to be a potential life-saver.
His stomach was bothering him, and he discovered that the collision had also torn a muscle in his lower abdomen, giving him a hernia. When he went for blood work, he was told that his PSA numbers were up and that he had early stages of prostate cancer.
"None of this would have been known had I not gotten hurt,'' said Wainwright, who had radiation instead of surgery. More than a year later, he said he feels great. His six-month PSA checkup went well.
"I'm in my mid-60s. I wouldn't have come back into coaching for just anybody,'' Wainwright said. "[But] Rodney deserves this chance. He'll do a great job. He's an enthusiastic guy. My job is to make sure he has fun at this. It's a tough business. He's the reason I came back. He's so excited about this place.''
Fresno State is down in numbers with just eight scholarship players listed for this season. The talent clearly will need to go up a notch when the Bulldogs join the MWC in 2012. Because there's never a whole lot of patience in Fresno. The Bulldogs and their fans in the San Joaquin Valley want to win, and sooner than later. That's the nature of a place where the school's athletic programs are woven into the fabric of the community.
"The expectations are there,'' Terry said. "No matter who you are, no matter who you are replacing. They expect a competitive team and to compete for championships.''
So does Terry. He waited for his chance. He was selective. And now he has to take advantage of the opportunity.
The Bulldogs aren't likely to win right away, but they will need to eventually.
The fans of Fresno will settle for nothing less.