Nored's summer: Mission work, coaching
August, 22, 2011
08/22/11
12:32
PM ET
Fellow backcourt mate
Shelvin Mack
left a year early for the NBA.
Matt Howard, Shawn Vanzant and Zach Hahn all finished their eligibility after helping Butler to consecutive national championship games.
That means Butler is Ronald Nored's team to lead for his senior season.
And it's hard to imagine that he could have done more to prepare himself after his most challenging summer to date in college.
For starters, he was one of 18 students who went on a mission to work on construction projects in Nicaragua with Common Ground Church out of Indianapolis.
Then he returned to Indy, where he spent July coaching an AAU team called Team Truth that played in tournaments in Louisville and Fort Wayne and featured a number of Division II recruits.
And he was finally healthy enough to work out daily on his game after dealing with shin injuries the previous two seasons that landed him in surgery with rods being placed in both legs.
"He's done an excellent job of maximizing his student-athlete experience," Butler associate head coach Matthew Graves said. "He's had a chance to touch a lot of lives and work on his post-Butler career in coaching, too. I had a number of coaches tell me on the road that he has a great presence coaching. He was working on a few hours toward his degree and then on his game. It's the first summer he's been healthy to get in extra shots, get in the weight room and have a pain-free summer."
[+] Enlarge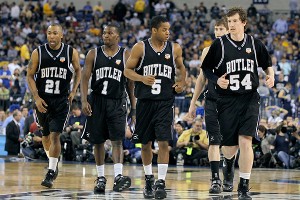 AP Photo/Michael ConroyOf the key players who brought Butler to historic heights in 2010, only Ronald Nored (center) remains.
The 6-foot Nored is the unquestioned leader of the 2011-12 Butler squad. You could make the argument he was the most vocal leader on last season's team, since Mack and Howard, the two most recognizable names, are much more subdued.
Nored doesn't hesitate to challenge himself, much like he challenges his teammates.
The excursion to Nicaragua opened his eyes to the world at large. He was there for a week in early June and the seven days left an impression.
"It's amazing how fortunate we are in America and yet how distracted we are," Nored said. "Life there is a billion times slower. Few have cell phones. It's all about face-to-face communication. One of the coolest things to me was that being punctual isn't a big deal. If things don't work out as planned, they are really cool about it. We also saw just how hard they work every day to make ends meet. It was a completely different lifestyle."
Nored makes no secret that when he's done playing at Butler he wants to join the coaching staff in some role. That's the reason he coaches the AAU team.
"His biggest strength is his leadership ability," Graves said. "He's the highest kind of leader that you'd want on your team. He's truly an extension of the coaching staff. If he's simply that type of leader all year, we're going to be successful."
The Bulldogs lost a ton. Howard, Mack, Vanzant and Hahn were four of the top nine scorers. Nored, big man Andrew Smith, forward Khyle Marshall, sharpshooter Chase Stigall and guard Chrishawn Hopkins are the other five scorers. But none of them averaged double figures last season.
Nored can't be someone he's not, though. He was a 27.8 percent 3-point shooter last season and his overall mark was under 40 percent. Nored is known as a defensive player, a glue guy, a leader.
Perhaps the healed shin injuries will help with the shooting, but don't expect to have the burden of scoring fall on Nored's shoulders, Graves said.
"He understands his role," Graves added. "He understands that he has to simply lead with his effort and passion and enthusiasm and that stuff is contagious. That's what he can do best for us to win a [Horizon League] championship again."
After watching summer workouts, Nored's analysis includes Smith's effective post scoring and Marshall, Hopkins and Stigall being much more ready to contribute on a regular basis. But he holds his highest praise for freshman wing Roosevelt Jones, a 6-4, 200-pound newcomer from O'Fallon, Ill.
"He's a huge, strong kid and long arms and big hands," Nored said. "When I say he can lock people up, he can lock people up. He'll do well in our system. He's a strong kid who finishes well in transition and can score with his back to the basket."
The Bulldogs also added freshman forward Kameron Woods, as well as redshirt transfer Rotnei Clarke from Arkansas, who will have to sit out a year but can practice.
If Jones can be a scorer from the perimeter to complement Hopkins and Stigall, and if Smith and Marshall continue to progress inside, then the Bulldogs will have a chance to win the Horizon again. But the identity of this squad will need to be defined by Nored's defense.
"The thing that makes us unique is our defense," Nored said. "This will be the first time in three years that I'm not playing with Shelvin, Matt or Shawn. So we're going to have to lock people up. That's what it's going to be about for us."