They're all chasing Xavier in the Atlantic 10
August, 24, 2011
08/24/11
2:33
PM ET
Saint Louis is in the midst of a Canadian tour, prepping to be the new challenger to Xavier in the Atlantic 10.
The Billikens will be just the latest team to take a turn trying to catch the Musketeers, who finished 15-1 and won another league title last season.
Temple has for the most part remained a consistent challenger. The Owls tied for the regular-season title in 2010 and finished just one game back last season. Richmond has had a recent run under Chris Mooney. Dayton, George Washington, Saint Joseph's and, at times, Duquesne and Rhode Island have flirted with reaching the top of the league.
But let's be honest: The A-10 has become Xavier's world, and everyone else is living in it for the foreseeable future.
"I wouldn't be surprised to see Xavier as a dark-horse Final Four team or even standing at the end," Saint Joseph's coach Phil Martelli said. "The program, the university seek domination. Some schools seek wins; others seek championships. They're seeking championships.
"They are also great front-runners. When they get out ahead of you, they want to crush you."
[+] Enlarge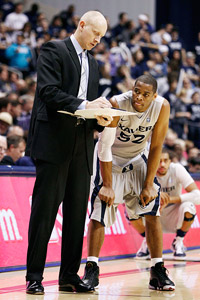 Frank Victores/US PresswireChris Mack and Tu Holloway will look to lead X to its sixth straight league title.
XU's domination of late has been quite remarkable and is akin to what Gonzaga has done in the West Coast Conference. Xavier has been in the NCAA tournament 10 of the past 11 seasons. The Musketeers have won or shared the league title five years in a row. Two years ago, in Chris Mack's first season after taking over for Sean Miller, the Musketeers reached the Sweet 16. They have made appearances in the Elite Eight.
And ticket sales, according to XU athletic director Mike Bobinski, are at 97 percent capacity with the Muskies drawing an average of 10,098 in an arena that seats 10,250.
"With the world around us, in order for us to stay relevant, we don't try to be good every three or four years," Bobinski said. "We try to be as good as we can be every year. We consciously talk about it."
Bobinski locked up Mack, an X alumnus, with a new seven-year deal after last season. Mack could have entertained serious attempts by Missouri, NC State and Tennessee but declined. Sean Miller, Thad Matta and the late Skip Prosser moved on to better-paying and higher-profile jobs at the time. But Mack stayed put, and the consistency will only help Xavier continue to be the team to chase in the A-10.
Martelli said the Musketeers have created a separation from the others in their ability to get nonconference home games, lining up schools like Georgia, Purdue and Vanderbilt for home-and-home series.
"Not too many A-10 teams can get those games," Martelli said, with Temple being one of the lone exceptions.
The return of Tu Holloway gives the Musketeers a star attraction at the point. Having big man Kenny Frease, Jeff Robinson, Mark Lyons and a healthy Brad Redford returning gives the Musketeers plenty of offensive options.
Saint Louis, with Kwamain Mitchell and Mike McCall leading the way, as well as a talented but young Temple team led by Juan Fernandez, are the two likely challengers to Xavier.
Richmond is now a perennial contender under Mooney, but the Spiders are rebuilding a bit after losing Kevin Anderson, Justin Harper and Dan Geriot off last season's Sweet 16 squad. Dayton has also been in the mix as well. The Flyers had a coaching change in the spring as Brian Gregory left for Georgia Tech and Archie Miller, a former assistant to his brother Sean Miller at Arizona, was hired to keep the Flyers in the mix. Dayton has the facilities, the support and the history to be a regular contender, but hasn't been a regular in the NCAA tournament like Xavier.
"Our league has to have more promotion," Rhode Island coach Jim Baron said. "I think this league has been as tough as it's ever been. Xavier has been above everyone else. The players really do develop. But there are some good coaches in this league. I see these Big East teams that win 17 or 18 games, and what's the difference? Our top to bottom deserves more credit. We've won 109 games in five years. There are a lot of teams that don't want to play you home and away."
Baron added in his former team and alma mater St. Bonaventure as a possible sleeper because of the return of seniors Andrew Nicholson and Michael Davenport, two consistent scorers for the Bonnies.
"It's the same old stuff; we all have to overachieve," Baron said. "But the perception should be that this is a helluva league with a lot of good coaches. We don't get the splash."
No one will until there is a consistent challenger to Xavier. Plenty of teams take turns and have significant runs in the conference and in the NCAA tournament. But maintaining that consistency has been the biggest chore.
"We've got a lead dog and a strong middle that's chasing," Martelli said of the conference. "You need universitywide commitment, you need creative scheduling, you need effective recruiting, and you need to catch a break and you need a player who can help get you there. Xavier has handled being the target. But we've had other good teams, and the challenge in our league is to promote a team, like Saint Louis that isn't in our time zone, as a postseason team."
Ultimately, Xavier has, as Martelli said, exceeded its ceiling nearly every season. The rest of the programs have to do so as well to keep up with the Musketeers.