Breaking down the Tip-Off Marathon games
August, 25, 2011
08/25/11
10:08
PM ET
College basketball has an unofficial blockbuster tipoff for the first time with the Carrier Classic between projected No. 1 North Carolina and perennial national contender Michigan State on the deck of the USS Carl Vinson on Nov. 11.
The follow-up to this unique experience isn't too shabby, either.
Michigan State will make the trip to New York to play Duke in the first of a three-year deal called the Champions Classic on Nov. 15. Kansas and Kentucky are the other two regulars in this event that will shift from New York to Chicago to Atlanta over the next three years with the four teams rotating opponents.
The headline games at Madison Square Garden (Michigan State-Duke/Kansas-Kentucky) are folded into ESPN's third annual Tip-Off Marathon. Those are hardly the only intriguing games, though.
[+] Enlarge

Phil Carter/US PresswireElias Harris and the Zags open the marathon against rival Wazzu.
Here's a breakdown:
12 a.m. ET -- Washington State at Gonzaga, ESPN
Why watch: This is a hidden gem rivalry in the Pacific Northwest and a great way to kick off the marathon. A year ago, the Cougars were a potential equal partner in a quest for an NCAA bid, but faded late in the season. Wazzu loses quite a bit with the departures of Klay Thompson and DeAngelo Casto. And the Zags, led by Elias Harris, are the pick in the WCC and might be one of the best in the West yet again.
2 a.m. ET -- Northern Iowa at St. Mary's, ESPN
Why watch: The Gaels solidified their future by locking in Randy Bennett with a new 10-year deal. You can be assured SMC will be a thorn for Gonzaga and BYU for years to come in the West Coast Conference. Northern Iowa fell off a little bit last season after 2010's Sweet 16 appearance but is expected to be back in the mix in the Missouri Valley. These two programs rarely disappoint.
4 a.m. ET -- South Alabama at Hawaii, ESPN
Why watch: Well, if you're up at 4 on the East Coast, then you better be watching this game instead of something else on television at this hour. Gib Arnold is adamant that his recruiting class will turn some heads in the WAC. Hawaii has one last season in the league before moving to the Big West and this is a solid chance to make some waves early in the season.
6 a.m. ET -- Drexel at Rider, ESPN
Why watch: Drexel is a trendy pick to be an upstart team in the Colonial Athletic Association. Rider plays in what has become one of the better and most under-reported leagues in the MAAC. If the Dragons are going to make some noise, they better pick off early road wins. This is a nice challenge.
8 a.m. ET -- Morehead State at College of Charleston, ESPN
Why watch: If you're a diehard fan looking to see how teams rebuild, then check out these two programs. They both lost NBA-level talent in Kenneth Faried and Andrew Goudelock, respectively, but are led by solid coaches who are looking to keep the momentum going.
10 a.m. ET -- Kent State at West Virginia, ESPN
Why watch: Why not watch a Bob Huggins-coached team? The Mountaineers still have plenty of talent, albeit younger than it's been recently. But to dismiss West Virginia would be a major mistake. The Eers will be just fine once the Big East starts. Kent State has made a habit of being one of the elites in the MAC, so this won't be a complete cakewalk for WVU.
12 p.m. ET -- Belmont at Memphis, ESPN
Why watch: Belmont has had a history of being one of the best mid-majors over the last decade and returns nearly everyone from a 30-win team. So this won't be an easy game for the Tigers. This is also a new era for the Maui Invitational as the tournament added a fourth game, one on the mainland, for the seven participants not named Chaminade. This will also be the first chance to see a Memphis team, led by Joe Jackson, that should be the C-USA favorite.
2 p.m. ET -- San Diego State at Baylor, ESPN
Why watch: Perry Jones III turned down being a lottery pick to stay with the Bears, but he'll still be suspended by the NCAA for this one because of a benefits case. Baylor went on a foreign trip to Canada and had a banner week from Boston College transfer Brady Heslip, and this team might be a Big 12 contender. Meanwhile, the Aztecs are in rebuilding mode after being gutted due to graduation and Kawhi Leonard's early exit to the NBA. Still, SDSU is a regular contender in the MWC under Steve Fisher and there is still talent in the cupboard.
4 p.m. ET -- Rhode Island at Texas, TicketCity Legends Classic, ESPN
Why watch: Texas never is short on elite freshmen under Rick Barnes. The Longhorns add Myck Kabongo and he'll be on full display in this game against the Rams. Texas lost quite a bit early to the NBA draft, but expect the Horns to be in the mix by season's end in the Big 12. URI is reshuffling a bit and still has NIT potential. This game should be a high-octane affair with both teams looking to run.
4 p.m. ET -- Louisville at Texas A&M (women), ESPNU
Why watch: Well, Texas A&M won the national championship last season. Remember? The Aggies don't get the exposure that they deserve and this is a great opportunity to see one of the top programs in the country against a consistent upstart in the Big East, a team that was in the national championship game in 2009.
6 p.m. ET -- Miami at Tennessee (women), ESPN2
Why watch: This will be the first chance for the nation to get a glimpse of the Lady Vols since Pat Summitt's announcement that she is suffering from the early onset of dementia. Summitt handled this news with class and dignity. Expect her team to do the same.
6 p.m. ET -- TBD at Virginia Tech, NIT Season Tip-Off, ESPNU
Why watch: There is a strong chance this game will pit George Mason against the Hokies, assuming the Patriots knock off Florida International. The NIT Season Tip-Off, the only remaining neutral-site tournament that doesn't guarantee the host schools reaching the neutral site, gave the Hokies the toughest assignment. Mason is a top-25 contender under new coach Paul Hewitt and has one of the top freshman coming on board in Erik Copes. The Hokies are coming off an injury-riddled season, but should once again be an ACC pest.
[+] Enlarge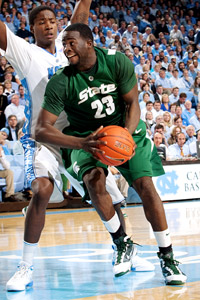 Peyton Williams/Icon SMIDraymond Green and Sparty will face UNC and Duke back to back.
7 p.m. ET -- Duke vs. Michigan State, State Farm Champions Classic, ESPN
Why watch: Duke has been on display in its tour of China and Dubai and clearly still has a rotation that can contend in the ACC and for a spot in the Final Four. The Blue Devils will put highly touted freshman Austin Rivers on the MSG stage in this one. Meanwhile, the Spartans will be coming off something that ACC schools don't ever try -- playing UNC and Duke on consecutive games away from home. MSU should be led this season by Draymond Green's spirited game but are extremely high on the incoming freshmen, notably point guard Travis Trice.
8 p.m. ET -- Florida at Ohio State, ESPN2
Why watch: The Gators will trot out two hyped newcomers in Rutgers transfer guard Mike Rosario and freshman forward Bradley Beal. Rosario teams up with Erving Walker and Kenny Boynton. The Gators will be a top-three SEC team with Kentucky and Vanderbilt. Ohio State has the best big man in the country in Jared Sullinger and smacked the Gators last season in Gainesville. OSU will likely open the season No. 3 nationally behind UNC and Kentucky.
9 p.m. ET -- Kentucky vs. Kansas, State Farm Champions Classic, ESPN
Why watch: Just the sound of Kentucky-Kansas gives college basketball fans chills. The Wildcats have the top newcomers in the country, led by Anthony Davis. But coach John Calipari is confident that Doron Lamb will be the best player on the team. Meanwhile, Kansas isn't being picked to win a wide-open Big 12, but the Jayhawks still have an immense talent in Thomas Robinson and are not about to fade away anytime soon.
10 p.m. ET -- Austin Peay at California, ESPN2
Why watch: The Bears should be the favorites in the Pac-12 behind Allen Crabbe. Cal is in the midst of a Scandanavian tour that has gone well. Austin Peay was sneaky good last season in the Ohio Valley and has a hidden gem rising sophomore in Will Triggs. California will be tested quite a bit in the Pac-12, but how it fares in Kansas City against Georgia and then either Missouri or Notre Dame will be telling.
11 p.m. ET -- TBD at Stanford, NIT Season Tip-Off, ESPNU
Why watch: The Cardinal are in a rebuilding mode after losing Jeremy Green. This could be a dicey situation for Stanford. It has to get by Fresno State in the first game, which should occur since the Bulldogs are rebuilding under first-year coach Rodney Terry. But the Cardinal could easily lose to either Colorado State or SMU on this night. CSU should be a top-four team in the MWC and SMU has been improving of late under Matt Doherty.
Time TBA -- TBD at Syracuse, NIT Season Tip-Off, ESPN3.com
Why watch: The Orange are a Big East contender with Connecticut and Louisville and a top-10 team nationally. The NIT Season Tip-Off certainly gave Syracuse an easier draw. The Orange will play the winner of Albany-Brown after opening with rebuilding Manhattan. If the Cuse can't win these two games, then something has gone horribly wrong.
Time TBA -- Arkansas-Pine Bluff at Oklahoma State, NIT Season Tip-Off, ESPN3.com
Why watch: The Cowboys should clean up on Pine Bluff so this is an opportunity to get a sense of this squad. OSU has been a bit of an enigma in the Big 12 of late. They are a tease at times, competitive but never quite challenging for the top spot. Will that change this season?