CAA needs non-Virginia teams to win
August, 26, 2011
08/26/11
6:27
PM ET
The Colonial Athletic Association buzz is at an all-time high.
VCU went to the Final Four last season.
George Mason went in 2006.
[+] Enlarge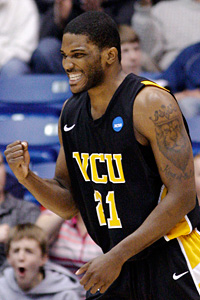 AP PhotoVCU went to the Final Four last season as a No. 11 seed.
The conference has put two more teams in the Final Four in the past six seasons than every other league outside the power six, although Memphis went from Conference USA in 2008 and Butler represented the Horizon League the past two years.
But the CAA still hasn't solved its provincial problem. The Virginia-based league hasn't had a team outside the state win the regular-season conference title since UNC Wilmington in 2006, and outside of Wilmington capturing the title four times since 2000, no other team outside Virginia has won the title since former member Navy did in 1987.
Look deeper at the stats, and you'll see that no Northern team has won the conference, either, unless you're going to count Navy's three-year title run from 1985-87 as a team from the North because it's in Annapolis, Md.
Granted, the conference is made up of five teams from Virginia, so that tilts the odds in the favor of the state. But the former America East schools -- Delaware, Drexel, Hofstra, Northeastern and Towson -- that arrived to change the demographic of the Colonial in the middle of the past decade haven't been able to crack through and earn a regular-season CAA title or a conference tournament championship.
That has to change for the CAA to truly be looked at as a game-changing conference, not just a collection of strong schools at the top with VCU, George Mason and Old Dominion as the most consistent players.
"It's pretty much been a steady three of late with VCU, Old Dominion and Mason," ODU coach Blaine Taylor said. "We've been more consistent than them, but we just don't have a Final Four run."
And if there is a chance that a Northern team can finally break through this year, the one candidate is Drexel if it can knock off favorite George Mason.
"Northern teams have always been in the mix, but it's been tough to win it," Northeastern coach Bill Coen said. "I think Bruiser [Flint] and Drexel have a chance. Drexel does two things terrific every game. They are outstanding defensively and one of the best teams in the country in rebounding. If you're going to separate yourself, it will come down to someone making a play at the end of the game, and in this league, typically you have to have upperclassmen to win it."
VCU had a strong senior class last season led by Joey Rodriguez and Jamie Skeen. Mason had an upperclassman-dominated team in 2006. ODU, which finished second to Mason last season, had a senior-dominated lineup.
Drexel didn't. The Dragons finished one game behind VCU and lost by two points in the CAA quarterfinals to the Rams.
"If VCU doesn't win that game they probably don't get a bid and ultimately go to the Final Four," Taylor said. "Drexel will be quite good this year. The thing that separates our league from other BCS conferences is that we have a lot of seniors or upperclassmen."
Drexel actually has more of a mix this season, but that could be enough with sophomores Dartaye Ruffin and Frantz Massenat complementing juniors Chris Fouch and Derrick Thomas and senior Samme Givens.
"We were one of the younger teams in the league last season and we won games," Flint said. "But we essentially return everybody."
The problem for the CAA is still a perception-based issue. Drexel won at Louisville last season, won 21 games and lost out to fellow member Hofstra for the College Basketball Invitational bid out of the CAA. James Madison, which finished behind Drexel, also received a CBI bid. The CAA had no NIT teams. Drexel didn't have any other postseason opportunities.
"VCU came in fourth in our league, and people forget that," Flint said. "Our conference doesn't get the respect it deserves. We're good, but we won't surprise anybody."
Flint didn't take any one-way guarantees this season and that will hurt the Dragons. Two seasons ago, the Dragons played at Syracuse and at Louisville last season -- splitting the two games.
Drexel has a soft schedule with games against still-struggling Saint Joseph's, likely second-place Ivy Princeton, Binghamton and St. Francis (Pa). Flint said he didn't want to add more guarantee games like last season because he had only three home games slated originally. A year ago, Drexel played only four nonconference home games. That puts even more pressure on the Dragons to do well in the Paradise Jam, in which the Dragons could get a chance to play upstart Virginia in their bracket, then possibly Marquette on the other side -- two possible NCAA tournament teams. Flint said he's working on a deal to play co-MAAC favorite Fairfield.
"We understand that to win this league you may have to go 16-2, but we're in the same boat as Mason was last year," Flint said. "We'll see. I'm not going to fool myself. The expectations are high for us. We can't let games get away from us. We want to be the first team not from Virginia, not Wilmington, to win a championship."