DeChellis/Navy: Prosser would've loved it
August, 30, 2011
08/30/11
1:35
PM ET
Ed DeChellis and Skip Prosser met in the mid-1980s, a pair of assistant coaches who struck up a friendship, a respect and a mutual admiration for history, politics and the military academies.
"We talked every day," DeChellis said, "and there were a number of times that we talked about coaching at Navy.''
Prosser went to the U.S. Merchant Marine Academy. One of his players from his time coaching in Wheeling, W.Va. -- current Tulsa coach Doug Wojcik -- played at the Naval Academy during its David Robinson-led glory years in the mid-1980s.
[+] Enlarge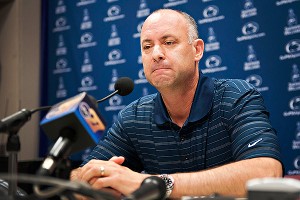 AP Photo/John BealeEd DeChellis was emotional in his departure press conference at Penn State in May.
On the four-year anniversary of Prosser's death on July 26, DeChellis took out Skip's son Mark, an assistant at Wofford and a former assistant at Bucknell, one of Navy's rivals. All of these years later, DeChellis is now head coach of the Midshipmen, a move that sent shock waves around college basketball circles after he resigned from Penn State in late May and took the job at a struggling Patriot League program, just two months after leading PSU to the NCAA tournament.
"We spent a lot of time talking about it,'' Mark Prosser said. "He's genuinely excited about it. My father had great respect for military history, read extensively about the Army and the Navy. He would have been interested in the Navy job some day. He was so proud of Doug Wojcik going to play there with David Robinson. He loved Annapolis. I know he would have loved coaching there. I know [DeChellis] will do well there. His excitement level is very high.''
DeChellis spent Tuesday morning watching his players go through an individual workout early in the morning before they went off to their daily classes and ultimately military responsibilities. He was in his office, watching boats leave out of the Chesapeake Bay. Annapolis, which strangely has had to deal with an earthquake and a hurricane in the past week, is normally a serene spot on the water.
And despite the demands of being a coach at the Naval Academy, the desire to perform, the need to live up to the patriotic values, DeChellis couldn't be more at peace with his surprising decision to leave Penn State for Navy when former Midshipmen head coach Billy Lange left for Villanova to return to Jay Wright's staff.
In March, DeChellis finally got Penn State into the NCAA tournament for the first time in eight seasons at his alma mater. The Nittany Lions lost a tight game to Temple in the first round and were headed for a rebuilding year due to the departure of Talor Battle. But DeChellis had at least finally reached the NCAAs after an erratic tenure, which saw PSU go just 117-139 overall and 41-95 in the Big Ten. The Lions climbed out of the bottom third of the league to tie for fourth and win the postseason NIT in 2009, but then sank back to 11th in 2010 before the run to March Madness in 2011.
"If I wouldn't have made the tournament at Penn State, it would have left me with an empty spot in my belly,'' DeChellis said. "We made the NCAA tournament. We reached the Big Ten tournament finals. We won the NIT. I felt like I was leaving the program in good shape. I'm hoping to come here and do the same thing.''
DeChellis said he had three years left on this contract and insists he felt no pressure to leave, especially at a school where the basketball program is just sort of a holdover until football season begins again. So when he got the call from the Academy, he said he owed it to himself to look at the job. His three daughters are grown and out of the house. Two are back in Johnson City, Tenn., where he got his first head-coaching job at East Tennessee State. A third is still at Penn State. But his wife was willing to move.
"I had never been here, but it had been somewhere in the back of my mind,'' DeChellis said. "This was the job Skip and I would talk about was one of his dream jobs. I didn't really understand it at first. But I came here and fell in love with the institution.''
DeChellis romanticizes about the sounds of the chapel bells, the rhythmic tune of the Midshipmen marching, the sight of them in their dress whites.
"This is what college basketball is supposed to be about -- young men and young women performing academically and trying their best to have balance,'' DeChellis said. "Most people have academics and athletics to balance. Here there is a third part -- the military. There is no downtime. There are no naps. There is no hanging out in the room. There are no third-party people coming on campus, no runners, no street agents. This is what college athletics is supposed to be about.
"I was working our guys out in four-man groups, but I'm not in the gym worrying about the next donor or next development meeting or the next development speech. I love being a part of the campus and community.''
DeChellis said he is preaching patriotism in his recruiting chats, and is up front about the military commitments in Iraq and Afghanistan. He doesn't get into the details about whether there are planned drawdowns in both countries.
"We preach patriotism, since this is a very patriotic time,'' DeChellis said. "We bring up the love of country and the recruiting has gone very well. We're getting commitments.''
Navy won 19 games in 2008-09, but the Middies were well below .500 in each of the past two seasons. The Patriot League has had a number of teams rotate at the top, most recently Bucknell and American, with Lehigh and Holy Cross taking turns competing for a top spot, as well. But Navy? Navy hasn't been in the NCAA tournament since 1998.
[+] Enlarge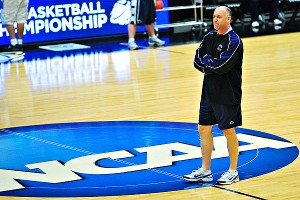 Chris Morrison/US PresswireDeChellis finally guided PSU to the Big Dance last season. Can he eventually do the same in Annapolis?
Could that change under DeChellis?
"I've always felt a guy like Ed DeChellis, his age and experience is really, really good at the Naval Academy,'' Wojcik said. "For me, to have a connection like this through Ed and with Skip, at my alma mater, makes me really proud. I think he'll embrace all of the Academy and any of the restrictions. He'll make it all work. I feel really good about this.
"I tell all my former teammates the same thing. I think it's a very good hire for the Naval Academy.''
Mark Prosser agrees.
"I know he's got a difficult job,'' he said. "But they made an unbelievable hire. I know they'll reap the benefits in the future.''
DeChellis said he has spent considerable time talking to former Navy coaches Paul Evans and Don DeVoe, who both have settled back in Annapolis.
"I've talked to both of them about the challenges of coaching at the Academy, and they all said they enjoyed coaching here the most of anywhere,'' DeChellis said. Evans was once the head coach at Pitt, and DeVoe was once the head coach at Tennessee.
"If I could get Navy to the NCAA tournament, it would be something I would cherish,'' DeChellis said. "My decision wasn't about leaving Penn State but rather coming to the Academy. I got East Tennessee State and Penn State to the NCAA tournament. Now I'm trying to win the Patriot League and go to the NCAAs. That is a very exciting opportunity for me.''
Like DeChellis, Wojcik said he does remember Skip Prosser telling him that coaching Navy always seemed like it would be a dream job.
"Skip realized that this was more than pure coaching,'' Wojcik said. "He knew you could nurture relationships with kids. You have to get there in your career to realize that. We're all chasing the dream of winning the national title. And I think Eddie for all the right reasons is embracing what Skip was preaching 10 years ago.''
Wojcik said the advantages for the Naval Academy in the Patriot League are real, and to beat seven teams instead of a host of at-large candidates each year is something that could work in the new coach's favor.
"It would mean a tremendous amount for them to make the NCAA tournament,'' said Wojcik, who started every game at point guard from 1983-86 for a Navy team that compiled an 82-17 record and went to three straight NCAA tourneys, including the 1986 Elite Eight. He was also an assistant in Annapolis when the Middies played in the Big Dance in 1994, '97 and '98.
"I think he can do it," Wojcik said. "But it will just take time. This is a job that you have to be at the right place and right time in your career. You don't take this to move on.''