Big East's top 25 nonconference games
September, 1, 2011
09/01/11
9:12
PM ET
The Big East released its conference schedule Wednesday, and also snuck in its nonconference television schedule. The reason the Big East tends to get a lot of teams into the NCAA tournament isn't just because of the sheer numbers advantage it holds, but also because of the strength of its teams' nonconference schedules.
Let's look at, perhaps, the 25 most important nonconference games in order of appearance (not including projected matchups in second or third games in tournaments):
(All games are ET)
1. St. John's vs. Arizona, Nov. 17, 9 p.m., ESPN2 (2K Sports Classic Benefiting Coaches vs. Cancer semifinal), Madison Square Garden, NYC: St. John's will have one of its youngest teams in years, but this is a home game. Arizona arrives fresh off an Elite Eight appearance but no longer has Derrick Williams. Still, the Wildcats are a legit contender for the Pac-12 title. An upset here by the Red Storm would provide a shelf-life win for months, and perhaps a crutch as they try to find their way in a crowded middle of the pack in the Big East.
2. Notre Dame vs. Missouri, Nov. 21, 7:30 p.m., ESPN2, (CBE Classic semifinal), Kansas City: The Irish are reloading this season, but it's not necessarily a rebuilding year. Still, Notre Dame can't be counted out for a possible postseason bid. This will be treated as a neutral-site game (technically), but it should be noted as a road game since the Tigers' fans will be a dominant presence in the Sprint Center. The Irish can't afford to, in this particular season, bank on a bid based solely on being in the Big East. This would be a major win to save for March.
3. Georgetown vs. Kansas, Nov. 21, 11:59 p.m., ESPN2 (EA Sports Maui Invitational quarterfinal), Maui, Hawaii: The Hoyas' offseason image is of the brawl in China. But Georgetown still may be better than projected in the Big East, even with a relatively new frontcourt. Kansas, much like Georgetown, will be a work in progress this season. But you can expect the Jayhawks to be a Big 12 title contender by February. That's why getting a win like this early in the season would be a coup for the Hoyas. It would also put Georgetown in the winners' bracket in Maui.
4. Marshall at Cincinnati, Nov. 25, TBD (TV TBD): The Thundering Herd are the top challengers to Memphis in C-USA. The Bearcats needed to upgrade the nonconference slate, and this will turn out to be a quality game. Marshall will make Cincinnati's power rating better come March. Beating Marshall will certainly help.
5. Notre Dame at Gonzaga, Nov. 30, 11:15 p.m., ESPN2: The Irish return the home-and-home series that began last season in South Bend. This will turn out to be a huge get for the Irish in their power rating. The Zags will be one of the best teams in the West and should have one of the top nonconference power ratings of any team in the country. Expecting the Irish to win this game would be wishful thinking. But playing it will be a huge plus.
[+] Enlarge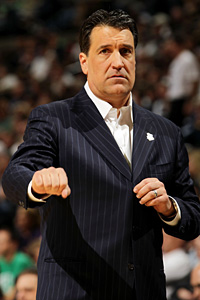 Photo by Doug Pensinger/Getty ImagesSteve Lavin's St. John's team will be tested early in the nonconference schedule this season.
6. St. John's at Kentucky, Dec. 1, 7:30 p.m., ESPN2 (Big East/SEC Challenge): The Red Storm continue a solid schedule that will, at the very least, raise their power rating (St. John's plays at Detroit on Dec. 5, a game in which the Titans will honor Dick Vitale). Don't expect the Red Storm to win at Kentucky, but the game will certainly test Steve Lavin's young crew.
7. Georgetown at Alabama, Dec. 1, 9:30 p.m., ESPN2 (Big East/SEC Challenge): Alabama is a legit top-5 SEC team and desperately needs quality nonconference wins. Georgetown has continued to challenge itself in the nonconference under John Thompson III. The Hoyas will need a number of quality nonconference victories because their conference slate will be rugged for a middling team.
8. Florida at Syracuse, Dec. 2, 6:30 p.m., ESPN (Big East/SEC Challenge): The Gators are one of the top three teams in the SEC. Syracuse is one of the top three in the Big East. This is a big-time game in early December that will certainly test Florida's young frontcourt. The guard play in this game, especially with the return of Rutgers transfer/current Gator Mike Rosario, should be stellar.
9. Vanderbilt at Louisville, Dec. 2, 8:30 p.m., ESPN (Big East/SEC Challenge): Vandy is my trendy pick as a possible Final Four team. The Cardinals are in line with Syracuse and Connecticut for a potential Big East title. Louisville did get challenged early at the KFC Yum! Center a year ago, losing to Drexel last December. Vandy comes in with a ton of experience. This has the look of a last-possession affair that, like the game above, will clearly benefit both teams come March.
10. West Virginia at Mississippi State, Dec. 3, 9 p.m., ESPNU (Big East/SEC Challenge): The Mountaineers aren't as experienced this season, but a win in Starkville will go a long way toward determining what kind of toughness this team has in 2011-12. Mississippi State will have one of the nation's toughest frontcourts to play against in Arnett Moultrie and Renardo Sidney.
11. Pitt at Tennessee, Dec. 3, 5:15 p.m., ESPN (Big East/SEC Challenge): The Panthers have one of their weakest nonconference schedules under Jamie Dixon. That's why this road game against the rebuilding Volunteers is critical to the overall power rating for Pitt. Lose this game and it will hurt Pitt a bit. Win and the Panthers will only enhance their overall position going into Big East play.
12. Villanova vs. Missouri, Dec. 6, 7 p.m., ESPN (Jimmy V Classic), MSG, NYC: The Wildcats are rebuilding on the perimeter, but they have plenty of experience up front. Mizzou will be one of the teams to beat in the Big 12. This is more of a home game for Villanova, unlike the Irish's test with the Tigers in Kansas City. A Wildcats win would do wonders for their confidence going into conference play.
13. Marquette vs. Washington, Dec. 6, 9 p.m., ESPN (Jimmy V Classic), MSG, NYC: The Huskies will be able to run as well as any team out West and can push Cal, Arizona and UCLA for the Pac-12 title. The Golden Eagles should be considered as a team that could sneak into the top three in the Big East, much like Notre Dame did a season ago. This will be a contrast in styles.
14. Harvard at Connecticut, Dec. 8, 7 p.m., ESPN2: The Crimson are the pick in the Ivy and have a legit shot to be a top-30 team this season. UConn is one of the top four teams in the country. The Huskies should win this game. But it could go down as tougher than advertised and will likely help Connecticut's overall nonconference strength of schedule.
15. Cincinnati at Xavier, Dec. 10, noon, ESPN2: This has been, and will continue to be, one of the best rivalries in college basketball. Both programs are NCAA tournament worthy again. The Bearcats are a top-six potential Big East team. Xavier is the favorite in the A-10 and a sleeper Final Four team.
16. Memphis at Louisville, Dec. 17, 4 p.m., CBS: The Tigers are the pick in C-USA. Louisville, as previously mentioned, is one of the best in the Big East. This is an old C-USA rivalry and one that Memphis needs to keep renewing. The Tigers will need plenty of quality nonconference wins, especially with a watered-down bottom of C-USA.
17. Notre Dame vs. Indiana, Dec. 17, 4:30 p.m., ESPN2 (Conseco Fieldhouse), Indianapolis: This is a critical game for both schools. Indiana is desperately trying to reassert itself in the mainstream of college basketball. For Notre Dame, it might be a must-win contest before the heart of its Big East schedule begins.
18. Syracuse at NC State, Dec. 17, 6:30 p.m., ESPN2: NC State is expected to be somewhere in the middle to lower half of the ACC, while Syracuse is a Big East title challenger. But this is still a true road game and will give the Orange a good test to see where they're at before the Big East season starts.
19. Memphis at Georgetown, Dec. 22, 7 p.m., ESPN2: Once again the Hoyas are showing the difference in nonconference scheduling philosophy. A win at home here would be a great get for the Hoyas. Memphis will prove to be one of the country's best teams outside a power-six conference.
20. West Virginia vs. Baylor, Dec. 23, 9 p.m., ESPN2 (IBN Sports Las Vegas Classic): The Mountaineers aren't expected to challenge for the Big East title, but it would be a mistake to count them out of the NCAA tournament discussion prior to the season. Bob Huggins' crew always finds a way into the mix and picking off one of the Big 12 favorites on a neutral court could prove vital to differentiating the Mountaineers from the rest of the field.
21. Florida at Rutgers, Dec. 29, 7 p.m., ESPN2: Doesn't it always work out like this? Rosario comes back to Rutgers during the season after he's eligible to play again? Rutgers isn't likely going to be an NCAA tournament team. But a road win in what should be a hostile environment certainly helps the Gators. Expect this to be a tough test.
22. Vanderbilt at Marquette, Dec. 29, 9 p.m., ESPN2: The Commodores and Golden Eagles put together a high-quality home-and-home series. This will turn out to be one of the better games for Marquette. Vandy has the experience to weather a road contest and will have already played at Louisville.
23. Louisville at Kentucky, Dec. 31, noon, CBS: The Cardinals and Wildcats always provide one of the best environments in college basketball. This shouldn't be any different. Both teams are expected to challenge for their respective conference championships. The game will have the usual venom spewed on both sides. On the court, expect this game to be testy, maybe not as much as two seasons ago in Lexington, but it will still have high intensity.
24. St. John's at Duke, Jan. 28, noon, ESPN: The annual series returns to Cameron Indoor Stadium. St. John's humbled the Blue Devils last season. The Red Storm will be a much improved team to handle this type of game at this point in the season. Duke will be even stronger by late January, too. Playing Duke is always a plus for your power rating.
25. UCLA at St. John's, Feb. 18, 1 p.m., CBS: The Bruins return the home-and-home series after Lavin and the Red Storm went to Los Angeles last season. This is a perfect time to play the game. UCLA will likely be clicking at a high level after the Wear twins become comfortable playing next to Josh Smith. Sneaking in a road test like this toward the end of the Pac-12 season will only make the Bruins stronger. And this could turn out to be a quality W for whomever can grab it.