Uncertain Aggies hit the road recruiting
September, 9, 2011
09/09/11
3:19
PM ET
Friday morning, Texas A&M coach Billy Kennedy spent the first day of the four-week contact period watching junior forward Julius Randle at Prestonwood Christian Academy in Dallas.
Baylor, Oklahoma and Texas were also in the gym to watch the No. 3 player in the ESPNU 100.
Randle might end up at one of those four programs, but who knows where those four programs will be by the time he arrives in 2013? The likelihood that all four will be in the same conference is remote. The Aggies have announced their intention to leave the Big 12, and the SEC voted them in with the condition that all nine remaining Big 12 schools waive their right to sue the SEC or A&M. Four have done so (Texas, Texas Tech, Oklahoma, Oklahoma State), three have not (Baylor, Kansas, Iowa State) and two aren't saying (Missouri, Kansas State).
It's possible that Oklahoma could pursue Pac-12 membership. Texas would like to stay put but could opt to choose a similar path to the Sooners or become an independent in football and find its other sports another home. Baylor may be in the Big 12, the Big East, the MWC or Conference USA. Who really knows?
The coaching staffs at OU, TUT and BUD certainly don't, but they will get questions about conference affiliation out on the recruiting road. They can easily put off the discussion at this point, though. The coaches at Texas A&M cannot. The Aggies have made their intentions known and plan on being in the SEC.
[+] Enlarge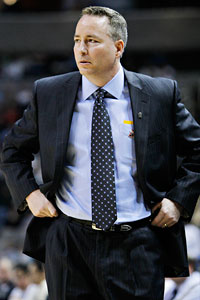 AP Photo/Paul SakumaBilly Kennedy is off to a hot start in recruiting at Texas A&M.
So how does Kennedy plan on selling the Aggies this month without knowing for certain what conference they will be playing in next season?
"I'm just emphasizing what a great school Texas A&M is and how we'll be in one of two great leagues," Kennedy said Friday. "Hopefully we'll have something defined in the next two weeks. Right now we have no clue."
Kennedy said he will stress to recruits and their families that the decision-making is way above him, but that the Aggies will be set with big-time opponents no matter where they end up.
"We'll be playing great schools whether it's Kansas or Kentucky or Florida," said Kennedy, who has already secured a commitment from 2012's seventh-ranked point guard, J-Mychal Reese of Bryan, Texas. "We're just selling the university and hope the kid looks at the whole program and that a game here or there doesn't make a difference."
Kennedy said he's not naive about scheduling former Big 12 rivals, but he wants to continue to schedule in-state games -- at least two or three a season, he said. Does that mean Texas A&M would go on the road to SMU or Rice or UTEP or TCU if it can't get home-and-home series with its former Big 12 opponents? Time will tell, but for now, Kennedy is saying the right things in regard to his desire to schedule games that players' families from Texas could drive to in order to watch their son play.
"I'm not sure how this is going to play out and if we'll continue to play some of the games that have good rivalries," said Kennedy, who realizes the ancient rivalry with Texas could be in danger.
But Kennedy doesn't think the instability of the Aggies' situation in the short term is a problem solely for Texas A&M.
"Nobody knows what league they're going to be in," Kennedy said. "It's not just us anymore."
Kennedy arrived in the spring from Murray State, where he had led the Racers to a successful run atop the Ohio Valley Conference in the regular season and an NCAA tournament win two seasons ago before giving eventual runner-up Butler its toughest games during that memorable run in 2010. Kennedy is a Louisiana native who has had a wide variety of coaching jobs at all levels of the game.
Mark Turgeon, who left A&M for Maryland after Gary Williams retired, left a program that should be a Big 12 contender this season. If the projections hold true, the Aggies will be in contention with Baylor, Missouri and Kansas for the league title.
The Aggies have a potential Big 12 player of the year candidate in junior forward Khris Middleton, a solid interior player in senior David Loubeau, a steady point guard in senior Dash Harris, a wing in Washington transfer Elston Turner who is ready for a breakout season, and rotation forwards in Kourtney Roberson and Ray Turner who should be solid, as well as two potential impact freshman guards in Jordan Green and Jamal Branch.
Kennedy was able to take his team on a trip to Switzerland and France this summer, and he liked what he saw.
"We found that we have really good character," he said. "This team has been well-coached and has good depth at every position. Middleton showed he could do some special things. He's worked really hard and should have a special year. Elston Turner played really well. Roberson and Loubeau allow our inside group to be really balanced."
Kennedy wants to push tempo and said Harris should be able to accomplish that change.
"The style may be different than what Mark played, but everyone is receptive to it and buying into it," Kennedy said. "This will help Dash, but figuring it out in the summer is different than in the fall. These guys can do it. I know Mark said this was going to be the best team he ever had here. I don't have a feel for that yet. He had a good situation when he got here -- they've had good players. This has been built over the last seven years.
"We've got a good situation here, and it should be a smooth transition."