Mark Gottfried will make the leap for Pack
September, 12, 2011
09/12/11
8:35
PM ET
North Carolina State hasn't been able to draw attention away from Duke and North Carolina in its backyard, let alone the ACC, since the vocal and theatrical Jim Valvano was on the sideline in Raleigh.
Sure, there were moderate success stories in the past two decades, maybe none more than Herb Sendek going to five straight NCAA tournaments. But Sendek was understated and a bit bland. Alum Sidney Lowe was a home run hire in name, but the results didn't pan out on the court.
So this spring, Mark Gottfried was tabbed to be the program's next coach, plucked from the ESPNU/ESPN studios and SEC game sites after two years out of the coaching business following his stint at his alma mater, Alabama. The Wolfpack were initially looking for the hot name, testing the waters with coaches such as Shaka Smart (VCU) and Chris Mack (Xavier).
It's hard to say what Smart or Mack would have done to get noticed, but neither would have probably gone to the extreme Gottfried is this weekend.
[+] Enlarge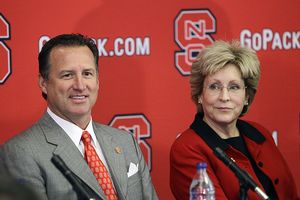 AP Photo/Gerry BroomeMark Gottfried, seen here with AD Debbie Yow, will take to the air for NC State on Saturday.
He's jumping out of an airplane.
The plan is for Gottfried to latch onto a trusted tandem jumper and land at the 50-yard line before kickoff of Wolfpack's home football game against South Alabama. The person who will be guiding Gottfried to land is the same man who helped former President George H.W. Bush jump on his 80th birthday.
"I figured if he could survive it, I could survive it,'' Gottfried said. "The No. 1 reason is to bring attention to our military, since it's military appreciation week. I want to say thank you to them. But we're also trying to get attention for NC State basketball.''
Would Duke's Mike Krzyzewski or North Carolina's Roy Williams do something like this?
"They don't have to,'' Gottfried said. "We're at a different point with our program. We have a long, long, long way to go, about as long as that fall out of the plane.''
Gottfried is afraid of heights, too.
"I'm the guy that when I went to the top of the Empire State Building, I hugged the interior wall,'' Gottfried said. "This will be interesting.''
Gottfried was on the road recruiting Monday. Thursday, he is supposed to have a 30-minute prep class on the jump. He said he has already signed a waiver to ensure that his wife won't sue if he perishes on the fall. He said his wife and children are OK with the jump, but his mother is nervous.
"My anxiety is pretty low, but it's Monday,'' Gottfried said. "By Saturday, it's going to be a little higher.''
NC State athletic director Debbie Yow said in a text, "I am worried about his safety … but he is not!''
Gottfried is doing plenty to get attention. The Wolfpack finished in 10th in the ACC last season (5-11, 15-16 overall) and don't have a squad ready to compete for a top-four finish in the league. But that didn't stop Gottfried from loading up the schedule.
He went for solid low-major programs (such as tournament teams Morehead State and Princeton), latched onto the Legends Classic (will play Vanderbilt and either Texas or Oregon State in the Meadowlands), drew upstart Indiana in the ACC-Big Ten Challenge, honored a return game with one of the Big East favorites Syracuse and has a cross-country road game at Stanford.
The most perplexing addition to the schedule was a road game at St. Bonaventure. The Bonnies, which a number of A-10 coaches have said will be sleepers in the league, have a hard time getting any major-conference team of note to come up their way. Well, here come the Pack on Dec. 20 at a "neutral-site" game in Rochester -- right when the weather should be Rockwellian in western New York.
NC State does get a bit of a lucky break in the ACC by playing Duke just once (on the road) and Florida State just once (at home). The Wolfpack always play a home-and-home with North Carolina.
"We've definitely amped up the schedule,'' Gottfried said. "We'll play anybody. This group finished 10th in the ACC and we were very aggressive with where we are.''
Gottfried said he has already decided he will put the ball in point guard Lorenzo Brown's hands from the outset of the season after Brown shared the position with Ryan Harrow last year (he's off to Kentucky). According to Gottfried, junior forward Richard Howell has seen his weight come down from 271 to 245 since the new staff arrived. And guard Scott Wood has been shooting the ball well, as usual. Then there's the extremely talented C.J. Leslie.
This team still has some players. And Gottfried said he feels as if he's close to picking up a breakthrough recruiting class for 2012 as he makes his rounds this week on the road. The Pack have a commitment from Oak Hill Academy (Va.) point guard Tyler Lewis (ranked eighth among point guards by ESPN.com) and are involved with a number of high-level players, according to ESPN's recruiting analysts.
"We're making a lot of progress,'' Gottfried said. "We're close.''