Bucks shouldn't get lost in title discussion
September, 13, 2011
09/13/11
2:14
PM ET
Ohio State lost three games last season.
One to Wisconsin on the road. One to Purdue on the road. One to Kentucky on the final possession in the Sweet 16.
"We won 34 games, were the No. 1 overall seed, and we had the No. 51 player drafted in the NBA, and that was it," Ohio State coach Thad Matta said of the team he has returning.
The reference is to Jon Diebler, the sharpshooting 3-point specialist whom the Portland Trail Blazers selected late in the second round.
The Buckeyes also lost big man Dallas Lauderdale and lanky, all-purpose veteran defender David Lighty. But there's no denying the talent remaining in Columbus. With all the talk and debate surrounding mega-talented teams at North Carolina and Kentucky, and with serious repeat chatter at UConn after the late addition of Andre Drummond, it's easy to forget about Ohio State.
[+] Enlarge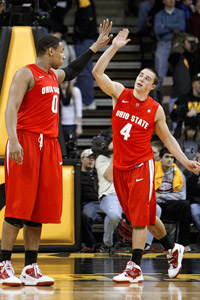 AP Photo/Charlie NeibergallSophomores Jared Sullinger and Aaron Craft have Buckeyes fans thinking big things for 2012.
That's not advisable.
The Bucks return the best big man in the country in sophomore Jared Sullinger, one of the top scoring wings in senior William Buford, a heady point guard in sophomore Aaron Craft, a rising talent in sophomore Deshaun Thomas and a stellar group of newcomers led by McDonald's All-Americans point guard Shannon Scott, center Amir Williams, small forwards Sam Thompson and LaQuinton Ross and Boston College transfer Evan Ravenel. That is without question a preseason top-five team.
Ohio State won't even start school until Sept. 21 under the quarter system but can start to work out with the coaching staff Thursday. So as other title contenders are already nearly a month into their pre-preseason grind, the Buckeyes haven't begun.
"What's funny is that in late August, we had a team meeting and we were saying goodbye, while other teams were saying hello," Matta said. "We're going to semesters next year, but the one thing we haven't done [in the quarter system] is wear down. We start a month before the season, and that's enough."
Matta isn't dismissing the importance of losing Diebler and Lighty. The Buckeyes had a phenomenal 2010-11 season, and those two played a large part in their success.
"The intangibles will be missed, and those two were phenomenal practice players," Matta said. "They brought energy every single day. They were upbeat and always smiling and always wanting to give more."
Nevertheless, the Buckeyes will be the overwhelming favorite in the Big Ten and more than likely a top-four team nationally when the preseason polls come out. The reason won't be just Sullinger, who honored his initial declaration that he would return for his sophomore season. There are also Craft and Buford, who realize they will need to be stars for the Buckeyes to reach their full potential, a trip to New Orleans for the Final Four.
Craft said that studying the three losses last season showed that the Buckeyes weren't always on the same page defensively. He said he needs to make smarter decisions with the ball and cut down on his turnovers. He and Sullinger need to lead as sophomores even more.
Craft also said he still thinks about the shot made by Kentucky's Brandon Knight that ended OSU's season earlier than expected -- the second straight season the Buckeyes lost a Sweet 16 game in the final seconds as a top-two seed. Sixth-seeded Tennessee knocked them out in 2010.
"I should have kept Brandon to his left hand," Craft said. "He hit the game winner to his right before in the tournament [against Princeton]. I need to make more shots and see where I can attack more. I'm learning."
Craft also said he wasn't surprised that Sullinger honored his commitment and stuck around Columbus.
"He's been awesome," Craft said. "He loves being at Ohio State. Jared jokes around a lot, but that's one of the topics he wasn't going to joke around about."
Craft, who said it's still surreal to see what occurred after that infamous cookout he attended at Bruce Pearl's house, said he will need to take advantage of the open looks he can get resulting from Sullinger's double-teams.
So will Buford.
"This is what I've been working for," Buford said. "I'm the only senior on the team. I've talked to Lighty about this and know that a lot of what we need to do comes down to defense."
[+] Enlarge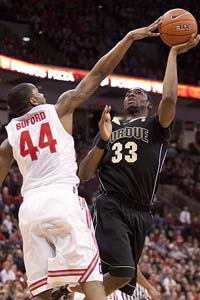 Greg Bartram/US PresswireAs a senior, William Buford will stress defense to his teammates.
Buford said he knew after last season that he wasn't going to leave early for the NBA.
"We all have high expectations, and losing in the Sweet 16 has made us hungrier," Buford said. "We want to make it farther after the last two Sweet 16s. It came down to defense and toughness and certainly if I played better, too."
Buford echoed Craft's thoughts on Sullinger, saying that his work ethic has been tremendous and his post moves have been unstoppable.
Matta said that the staff is expecting Buford to have a major breakout year and that most people don't realize he's within 672 points of becoming the all-time leading scorer at Ohio State.
"He's had a great offseason and worked really, really hard," Matta said. "We're expecting big things. At the end of his sophomore year, he was playing some of the best basketball defensively. He wants to be more well-rounded. And he's a winner."
Matta said Craft has been motivated by the recruiting services that didn't rate him highly. But he calls Craft, like Buford, a winner. "He wants to win for all the right reasons," Matta said of Craft. "I think we saw signs last season when he could score the ball. He does a great job of setting up everybody."
Matta hasn't seen Sullinger work out because the Buckeyes aren't in school, but the sophomore's body has improved. Matta said he fully expects a slimmed-down Sullinger to be even more nimble on his feet.
As far as the schedule goes, Ohio State will be challenged with home games against Florida (Nov. 15) and Duke (Nov. 29), then a trip to Kansas (Dec. 10). But the Buckeyes are the easy choice in the Big Ten, even with a tough conference draw that includes two games apiece against Wisconsin, Michigan and Michigan State in the unbalanced scheduling of a 12-team league.
Still, the team returns quite a bit from a 34-3 squad.
"I looked back at our season last year and realized we had an incredible run," Matta said. "I'm very, very proud of what they did and the togetherness we had."
So why isn't there more national buzz about the Buckeyes? Well, perhaps it's because OSU has fallen short of expectations in the Big Dance lately, possibly leading to skepticism.
On paper, Ohio State has what it takes to win it all.
Now for the hard part -- going out and getting it done.