Joe Jones a perfect fit for Terriers
September, 14, 2011
09/14/11
12:39
PM ET
Patrick Chambers signed a contract extension on May 5 that was supposed to take him through the next five seasons at Boston University.
A little over three weeks later he was the head coach at Penn State.
And the timing couldn't have worked out any better for Boston College associate head coach Joe Jones.
The best job in the America East was open.
Boston University may face plenty of apathy in a pro sports-dominated city, and it lacks a rousing atmosphere for anything save an America East tournament title game. And yes, the Terriers did lose the league's top player, John Holland. But the rest of the roster is intact to make BU (along with Stony Brook) the favorite to represent the America East again in the NCAA tournament next March.
[+] Enlarge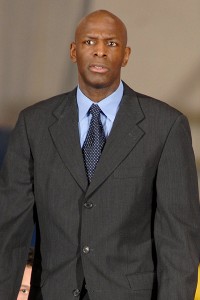 Mitchell Layton/Getty ImagesThe best job in the America East now belongs to Joe Jones.
"I spent five years as an assistant there,'' said New Hampshire coach Bill Herrion. "It was before they dropped football, before the Agganis Center was built, but I know that it is a very, very good job and has been for a long time. From Rick Pitino to Mike Jarvis to Dennis Wolff to Pat Chambers, year in and year out it's a job that should compete for the title."
Jones was about to fall into one of the more fortunate situations in college basketball. Few coaches -- if any -- have ever been able to land a job at a new school without having to move. Mike Montgomery did it when he was the head coach of the Golden State Warriors; after two years, he got the Cal job. Montgomery was already in the Bay Area at Stanford before his Warriors gig. And while he did get closer to his new job, he didn't have to do anything substantial, save change traffic patterns.
"I could not have imagined that this would happen,'' said Jones. "You really have to count your blessings and be fortunate. My first thought was my family. I wasn't going to put them through this again and move my [two] kids and my wife in a year. It was an unbelievable opportunity to stay in the same household and not disrupt my family.''
The Terriers didn't want to mess with a crazed head-coaching search that would stretch too far into June.
Boston University athletic director Mike Lynch was deciding between Butler associate head coach Matthew Graves and Jones. Graves had never been to Boston, but he had coached in consecutive national title games. Jones knew the area and had experience as a head coach.
He got the nod on June 23 and now has the most desirable job in the league -- and a second chance at success as a head coach.
"People don't think about your family, but to get a job and not have to move your family …'' said Joe's brother James Jones, the head coach at Yale. "He didn't anticipate this job opening. But it was the perfect storm for him. He did a tremendous job at Columbia but everyone wants to win a championship, and he's in a situation where he's got the best job in that league.''
Chambers' Terriers team had one senior last March but still won the league. And the Terriers gave Kansas fits in the first half of the NCAA tournament as a 16-seed; they were down only four at the half before losing by 19 to the top-seeded Jayhawks in the second round of the Southwest Region in Tulsa.
Now the pressure is on Jones to continue the upward climb. Sure, this is BU. The only pressure is self-imposed. But it exists, even if there isn't anyone flocking to picket the school if the Terriers don't win the America East, where BU's home attendance averaged 979 in 14 games last season.
"I think it can happen, but it's not an easy thing to win 20 games back-to-back. And with everybody back except one guy from the championship game, hopefully we'll have the same success and build on what Pat did in the past,'' said Jones.
There is a familiarity with Chambers, who was a Villanova assistant. So, too, was Jones. So the transition shouldn't be too difficult to navigate.
"It's good to have that expectation,'' Jones said. "I think they have an idea of what they want to be here. They have shown the commitment to be successful, and I love that. I've enjoyed getting to know everyone here. They know the budget and the travel, and that we need the money to go where we need to go to be successful. Now it's up to me and my staff to perform.''
Jones never finished above fourth in his seven seasons at Columbia. But that was Columbia, in a conference where Penn and Princeton dominated for so long -- and then toward the end of Jones' tenure, Cornell made a nice three-year run. Now it's Harvard's turn at the top of the Ivy League. Columbia hasn't made its mark in quite some time.
At one point, Boston University had visions of being in the Atlantic 10. Maybe it still does, and with the changing landscape in college sports there is no way to discern what direction any of these schools -- even those at this level that don't play football -- will land within 10 years. But the Terriers have plenty going for them, with strong finances, a tremendous city to attract recruits, and a destination that would be appealing to a potential conference looking to expand. Still, BU has to maintain competitive excellence to even be palatable, and that's where Jones has to take advantage of the roster.
He lost senior Jake O'Brien for this season with a broken foot. O'Brien had surgery on the foot again after he first injured it against UMass on Dec. 31, 2010. But Jones said he wasn't sure when he took job if O'Brien would have been available anyway this season. O'Brien was the team's top rebounder and third-leading scorer when he went down. But the Terriers still won the league behind Holland's 19.2 points a game. The Terriers have five seniors and will lean heavily on returnees Darryl Partin, Matt Griffin, Patrick Hazel and Jeff Pelage; all played double-figure minutes last season, with Partin the only double-figure scorer in the bunch.
"We've had three workouts so far, and this group really enjoys itself,'' Jones said. "They understand the level of intensity needed to be successful. Coach Wolff and Chambers set the tone on how it needs to be done here.''
It's all set up for Jones: the roster, the league, the city, the support. Now he just has to win -- even in Year 1, when the team is set for an America East championship run.