Deacons have suffered on and off the court
September, 15, 2011
09/15/11
5:59
PM ET
Wake Forest's free fall from one of the top teams in the country to a complete embarrassment on and off the court is hard to fathom.
In mid-January 2009 -- not exactly ages ago -- the Demon Deacons were undefeated and No. 1 in the national polls. Now? Now the Deacons are coming off an 8-24 season and are reeling after a series of arrests, suspensions and transfers.
"I'm not going to say we've hit rock bottom," second-year coach Jeff Bzdelik said. "We haven't. All I can tell you is that we've made great strides and have a foundation for the future."
That's what a coach is supposed to say. And with three commitments so far, Wake Forest does indeed have a top-25 recruiting class for 2012.
But that doesn't mask the problems. Fast-tracking to the 2012-13 season probably doesn't seem too inviting for a passionate fan base that has constantly wanted to be considered one of the class programs in the ACC. There was a time -- just a few seasons ago -- when the noise level in Lawrence Joel Coliseum was so loud after the Deacon mascot entrance on a motorcycle that it seemed to lower one's hearing a bit. Beating Duke or North Carolina at home wasn't farfetched. It could and did happen.
[+] Enlarge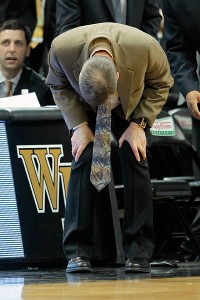 AP PhotoIf Jeff Bzdelik could barely watch last season, you can imagine how tough it was for Wake fans.
That must seem like another time and place, when college players wore high socks and short shorts. But it wasn't. Even during previous coach Dino Gaudio's final season, the Demon Deacons beat Texas in the first round of the NCAA tournament. That was 2010.
But you can excuse Wake fans if that seems to them like a long time ago. The Deacons won just one ACC game a season ago and were one of the worst power-six conference schools in the country (if not the worst), losing at home to Winthrop and Presbyterian and finishing with 24 losses.
"In my 30-something years of coaching, 34, whatever it is, personally it was the most difficult for me," Bzdelik said. "I spent 90 percent of my time with 10 percent of the players who, to be quite frank, dealt with issues that had nothing to do with being on the court."
Those issues were and are many.
Center Tony Woods was supposed to be on last season's team, but was dismissed from school in October after an assault charge (he's now at Oregon). Ari Stewart (8.5 points per game) was suspended for the 2011 ACC tournament for academic issues and was then granted his release from the program following the season (he's now at USC). Forward Melvin Tabb had multiple run-ins and was dismissed by the university in August. He was arrested on three charges: felony breaking and entering, possession of stolen goods and obtaining property by false pretense.
And that's not all.
Second-leading scorer J.T. Terrell (11.1 ppg), a promising sophomore-to-be, withdrew from school earlier this month to seek medical help following a DUI arrest. And senior big man Ty Walker, once a highly touted prospect, is suspended for the fall semester after violating the university's student code of conduct. Until Walker returns, the Deacons will be playing with just eight scholarship players (and four walk-ons).
WFU athletic director Ron Wellman said the university did its due diligence and checked out the players in advance. They were cleared academically and admissible.
"The behavioral expectations at Wake Forest are high," Wellman said. "We're doing exactly what I think you have to do. It's a process and when you lose a number of players like we have, you're starting over and now we're bringing in young players. It's beyond basketball. I'm excited about where we're going. There's no reason we can't get to that level again and be in the top four or five in the conference to where we were even before that. We were ranked No. 1 a couple of times. And there's no reason Wake shouldn't be at that level. We have had a consistent, outstanding, championship program and that's where Jeff is taking us."
Added Bzdelik: "I know what I'm doing is right. We're making young men mature. We're teaching them how to be men."
It is true that Bzdelik isn't taking any crap and isn't afraid to cut a player loose. But there clearly is a disturbing trend that can't go on.
The feeling from Wellman and Bzdelik is that this should be the end in terms of off-court problems. They'd like us to believe it was a "weeding out" sort of process.
"Jeff didn't recruit any of them," said Wellman, sticking true to his longtime friend and hand-picked successor to Gaudio. "Jeff has certain expectations, the right expectations with conduct off the floor and academic responsibilities, and all I'm saying is that Jeff is doing the right thing. It's not an indictment of anyone else. I'm just pleased with how Jeff is handling the direction of the program."
Whether it was intended or not, that statement by Wellman is a zing at Gaudio and his staff. Yet the aforementioned players recruited to Wake by the previous staff were highly coveted by schools all around the country. Passing on Walker, Woods, Stewart or Terrell was not much of an option in a big-time program.
And this was, not long ago, a big-time program.
Prior to his sudden death four years ago, Skip Prosser had the Demon Deacons in a position to be a regular atop the ACC. Sure, they were fortunate that Chris Paul grew up in the area. The recruiting of Paul and his play during his tenure was no doubt an enticement for ensuing NBA talents Jeff Teague, James Johnson and Al-Farouq Aminu.
Wake Forest won 27 games in 2004-05 and was No. 1 in the country early in the 2005-06 season. The Deacons were a bit of a disappointment in Prosser's final two seasons, but somehow Gaudio, Jeff Battle and Pat Kelsey held the program together, keeping a much-hyped recruiting class of Aminu, Walker and Woods intact.
The job those three coaches did to offset a major implosion after Prosser's stunning death can't be understated. Wellman did give Gaudio a chance. He probably had no choice at the time.
Gaudio led the Demon Deacons to a 24-win season in 2009 before being upset by Cleveland State in the first round of the NCAA tournament. The following season they won 20 before getting blown out by Kentucky in the second round of the tournament.
[+] Enlarge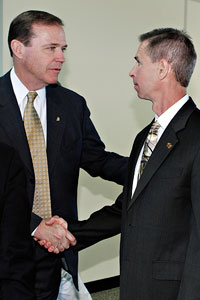 AP Photo/Chuck BurtonAD Ron Wellman (left) has known Bzdelik for decades. In April 2010, he hired him to lead WFU's men's basketball program.
After that, Gaudio was fired by Wellman, who then hired his pal Bzdelik from the University of Colorado. (He'd also coached Air Force and the Denver Nuggets.)
Everything that could go wrong has gone wrong since Bzdelik arrived.
But don't tell that to Wellman.
"I'm thrilled with the direction," Wellman said. "[Bzdelik] has made every decision that is in the best interest of the future success of our program. I could not be happier with the direction of our program.
"I've never seen a coach handle situations as well as Jeff. He has counseled and verbalized his expectations and followed them up. He's done a superb job of being in front of them and outlining expectations. He is going the extra mile to counsel them of what is expected and he understands the way they should live their lives and represent the university."
What about on the court, though? Wake Forest isn't Duke and it isn't North Carolina. Sure, there is a history of moderate success in previous decades with stars like Tim Duncan, Randolph Childress and Rodney Rogers during the Dave Odom era.
But Wake has never been able to deal well with NBA departures and it certainly hasn't been easy adjusting to this latest talent drain.
North Carolina and Duke are still and will likely always be the class of the league and in the top five in the country on a consistent basis. If the ACC stays as is with its current 12-team makeup -- a big if based on the current climate in college sports -- then Wake Forest has a chore ahead of itself.
Florida State has emerged as a top-four ACC program under Leonard Hamilton. Virginia Tech can't seem to quite break through to the Big Dance, but continues to be very competitive in conference. First-year coaches Mark Turgeon (Maryland), Mark Gottfried (NC State) and Brian Gregory (Georgia Tech) have already made their marks in recruiting before even coaching a game. It seems apparent Virginia is primed for a breakout season under Tony Bennett. It also seems apparent second-year coaches Brad Brownell and Steve Donahue were the right choices at Clemson and Boston College, respectively.
So where does that leave Wake? Will the talent level rise again? Bzdelik is confident it will.
He clearly has unquestioned support from Wellman, so the onus is now on Bzdelik and his staff to be right about the remaining players, the upcoming recruits and the ability to continue an upward trend.
Terrell's departure and Walker's fall semester suspension have to be the last black marks for a while. If there are more, climbing out of a massive sinkhole will be even more daunting. If the worst is over, there's no reason the Demon Deacons can't start to move up in an ACC that consistently has teams rotating in and out of that tier just behind Duke and Carolina.
That upward momentum might not be represented in the win column for at least two seasons, but Bzdelik is confident it will come.
"We're positive right now, everything is positive," he said. "We're moving forward now. We are moving forward. There is no doubt in my mind. This group is extremely competitive and hungry and humble and it's unified and determined to get Wake Forest to where it's always been, where it should be."