Newcomers make Ducks a prime sleeper
September, 16, 2011
09/16/11
12:27
PM ET
Dana Altman wasn't the first choice for Oregon.
He might not have been the fourth.
But no one ever questioned if he could coach or whether he was savvy enough to figure out how to win at an elite level.
Altman had the Arkansas job at one point but got cold feet after finishing the news conference and quickly went back to Creighton. He didn't feel then that he was ready to move on.
You can't dismiss the pressure to win at Creighton, where the Bluejays are the No. 1 attraction in Omaha during the winter and spring. The fan base is passionate and the demand to win is real.
[+] Enlarge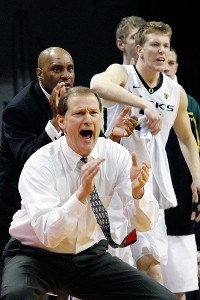 AP Photo/Don RyanMost predicted the Ducks were a lock for last in Dana Altman's first season. That didn't happen.
So Altman shouldn't be surprised that patience at a school like Oregon doesn't last long. Not with all the money that's poured in. Not with all the shiny new facilities that dot the campus.
So Altman was willing to take chances. And if he's right, the gambles will pay off with an NCAA tournament berth in March and a top-five finish in the Pac-12.
If he's wrong about choosing experience over youth, the plan will have backfired and might slow the rebuilding job.
Altman took on former Wake Forest center Tony Woods, dismissed by the Demon Deacons for an assault charge last year. Woods was at one point heading to Louisville and there were plenty of takers for a 6-foot-11 center who has potential but hasn't reached it. But not everyone was willing to push the envelope with their administration for a player who had such a public fall.
"I talked with all his former coaches, his AAU coach, and they were all unanimous that they thought he was someone we should take," Altman said of Woods, who averaged eight points and 5.4 boards on UO's recent five-game trip to Italy. "I've only had the opportunity to coach him for 10 days prior to the trip and then the 12 days on the trip, and during those first impressions he was really easy to work with and got along great with his teammates. He has tremendous upside as a player."
Why?
"He's athletic, has good hands and runs pretty good," Altman said. "He was rusty and not in very good shape, but we can correct those things."
The second gamble wasn't much of a risk at all. The Ducks took on Olu Ashaolu, a Louisiana Tech graduate who declared for the NBA draft, withdrew his name and is now at Oregon with a waiver to play immediately as he takes a graduate school class. Ashaolu averaged 14.2 points and 9.4 rebounds a game last season for the Bulldogs. He averaged 7.0 points and 6.4 rebounds during the foreign trip.
"He's interesting, an awfully good rebounder and a good defender," Altman said. "Our challenge is to help him develop more skill on the perimeter to make him more versatile. We don't want him to go away from what he does best and that's rebound the basketball. He's tough around the basket. He's going to be a good player for us and, if he's patient as he tries to develop and he plays to his strength, then he's going to help us."
The Ducks did lose inside player and leading scorer Joevan Catron, along with steady guard Jay-R Strowbridge, but everyone else is back from a team that defied expectations last season and ended up winning 21 games and the CBI postseason championship over Creighton in a best-of-three series.
But if Oregon was to be taken seriously as a contender this season, it had to get stronger and more productive in the post. When the season ended, the chances of adding players like Woods and Ashaolu were nonexistent and it seemed like there was no way the Ducks could be taken seriously as a legitimate Pac-12 player.
Now they are.
"Obviously college basketball has changed a little bit now," said the mild-mannered Altman, who rarely changes his tone. He's about as even-keeled as coaches can be during this high-pressured era, with his folksy Midwestern accent making it seem like everything is always going to be OK. "Not everybody stays four or five years anymore. You have to have program guys, but we also realize you need help. Tony will be here for two years. Olu for just one. It gives a chance for guys like [freshman] Austin Kuemper a chance to develop and go against those guys in practice and then maybe down the road he can do some things."
[+] Enlarge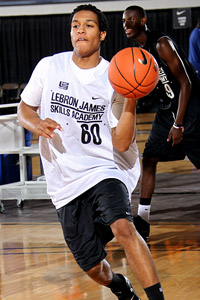 Kelly KlineJabari Brown was No. 26 nationally in ESPN's Class of 2011 rankings.
The Ducks have a stellar group of freshmen, led by Jabari Brown and Brett Kingma. Yes, they are freshmen, but the stats don't lie. Brown led the Ducks on the Italy trip with 15.4 ppg and Kingma tied junior wing E.J. Singler with 9.2 ppg on the tour. Toss in redshirt senior Jeremy Jacob and the Ducks have a top six that can match up with most of the Pac-12. Inexperience on the perimeter will be an issue with the potential for plenty of turnovers.
But the talent is in place for the Ducks to be a factor. Especially if a top-30 recruit like Brown can live up to expectations.
"Jabari scored baskets on the trip and he challenged himself defensively," Altman said. "The scouting report was out on him and teams tried to take him out of his rhythm. He's talented young man. As he develops and continues to push himself, he's got a chance to be a good player."
Ernie Kent had plenty of success during his tenure at Oregon. He took the Ducks to two Elite Eights and brought in NBA-level talent. But then there was a drain in talent as the Ducks slumped after a 2007 regional final appearance. Oregon made the NCAAs in 2008, but was a miserable 2-16 in the Pac-10 in 2009 (8-23 overall) and again failed to make the postseason in Kent's final hurrah.
As mentioned, last season's Ducks not only made the postseason but actually won a postseason tournament, albeit a relatively weak one.
Not every Pac-12 team trying to catch up with the establishment is building the same way. Rival Oregon State is going with freshmen and foreign players over a four-year period under Craig Robinson. Arizona State is more apt to do the same under Herb Sendek. Same with Stanford's Johnny Dawkins and Washington State's Ken Bone. USC always has the luxury of being in L.A., so recruiting is never as much of a chore as it is for the Northwest schools. Utah and Colorado are still figuring out what will work.
Oregon can be less patient because it has the lure of being the ultimate Nike school with recruiting attractions that most can't offer when they get on campus and see all Nike's money has to offer with state-of-the-art facilities -- the beautiful Matthew Knight Arena chief among them. Maybe that's what made getting Woods and Ashaolu easier. Perhaps it was Altman or engaging assistant Tony Stubblefield. Regardless, they are in Eugene, and they could be the difference in the Ducks speeding back their rivals in the rebuilding process. Or …
… it could blow up on Oregon and set the program back.
We'll know just how much a difference they'll make early, with the Ducks opening the season at top-10 Vanderbilt on Nov. 11 and following up with road games at Nebraska (Nov. 23) and BYU (in Salt Lake City on Dec. 3) in the season's first month. Then there's a home game against fellow sleeper Virginia on Dec. 18.
"We've got balanced classes now, with 13 scholarships, after going through with nine guys last year," Altman said. "We're building a base now. We're much further along in 16 or 17 months than we thought. We're in a much better position now. We feel much more comfortable and are going in the right direction."