How future ACC scheduling might look
September, 22, 2011
09/22/11
5:10
PM ET
The ACC's decision to add Pitt and Syracuse will undoubtedly strengthen men's basketball more than its last round of expansion (Boston College, Virginia Tech and Miami).
But it will create more controversy given how a potential 14-team league might be divided.
The Panthers and Orange may come in 2012 if they can buy their way out of the Big East's exit demands of 27 months and a $5 million departure fee. The Big East has publicly stated that it wants the two schools in for the duration and for BCS purposes it may need them to ensure that the league still has the necessary amount of teams. The ACC is in no rush to add Pitt and Syracuse, but those two schools would rather not go through more than one lame-duck season.
Nevertheless, there is already discussion about how the two will be incorporated into the ACC. Formal talks on the matter won't occur until the annual meetings later in the academic year. But if the league goes to divisions, or at the very least goes to a divisional-style scheduling format, there still might be at least one team in a difficult spot: Wake Forest.
Virginia Tech coach Seth Greenberg looks at the divisional setup along regional lines -- and it makes some sense. ACC associate commissioner Karl Hicks agrees, and he acknowledged that's the way it might turn out.
If that were to happen, the North would have to be Virginia Tech, Virginia, Maryland, Pitt, Syracuse, Boston College and one more team.
The South would be Georgia Tech, Clemson, Florida State and Miami, and then there are the three schools in the Research Triangle (Duke, UNC and NC State) that would likely demand to be in the same division together.
[+] Enlarge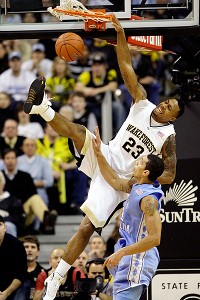 AP Photo/Chuck BurtonThroughout the years, Wake has savored its home games against powerhouses like North Carolina.
That leaves the Demon Deacons as the odd team out. Would Wake have to be put in the North, separated from its three in-state rivals?
The current 12-team divisional alignment in football isn't set up in a North-South split. Wake Forest is in the Atlantic and at least has NC State on its side with Maryland, Clemson, Florida State and Boston College. But the Demon Deacons' two in-state rivals that it would rather play more -- UNC and Duke -- are in the Coastal with Georgia Tech, Virginia Tech, Virginia and Miami.
Wake will make it clear that it doesn't want to be shipped away from the three other North Carolina schools if the league goes to two seven-team divisions. The Demon Deacons want in some form two games against the three in-state schools if there are divisions or if it's one 14-team league.
"If you do it North-South, then one North Carolina team has to be in the North,'' Wake Forest athletic director Ron Wellman said. "We want to play North Carolina more than we do. It's been four years since we played them at home in football, so we are interested in a concept where we play the North Carolina schools. That's a point of emphasis for us. As soon as we announce our schedule, our fans are disappointed that we don't play every North Carolina school in football or [twice in] basketball. Those rivalries were established before the league was in 1953.''
Wellman said when the ACC gets together next month, the topic of how to align a 14-team league will likely be discussed. Wake Forest is nearly two hours away from the Raleigh-Durham-Chapel Hill area, but Deacons fans clearly want to feel attached to the state's other ACC teams.
The other option for the conference would be to keep Wake Forest in the South and ship Miami to the North with the rationale that the Hurricanes would have to fly to every ACC school anyway due to its location (technically, the Hurricanes could drive to Tallahassee for FSU, but even that is a lengthy drive on a school night).
If the ACC were to go to 16 (which is the preferred number by Duke coach Mike Krzyzewski and North Carolina's Roy Williams, among others) and the additions were two more Big East schools (say, UConn and Rutgers), then geography naturally would put both in the North. That would be the easiest solution for the ACC, allowing Wake Forest to compete in the South.
Of course, there will be some other issues here, too. Maryland will demand that it still has its rivalry games with Duke and North Carolina. The Terps would still get to be paired with the two Virginia schools, but losing a Duke home game would seriously dampen the spirits in College Park.
In the end, Hicks said the league doesn't have to go to divisions.
"Ultimately, it will come down to a vote of the ADs and they'll decide what they'll want to do,'' Hicks said. "It will be hard to take those North Carolina schools and separate them. Rivalries and geography will be in play. The good news is that we have time to work through it. We do have permanent partners in our scheduling now. It's the same issue we have now in scheduling, but we added two more teams.''
• If Big 12 commissioner Dan Beebe is officially out of a job, then the NCAA tournament selection committee will have two of its 10 members not working while serving on the committee. The other is Jeff Hathaway, who was forced to retire at Connecticut as athletic director.
WAC commissioner Karl Benson, a former committee member, said that the personnel on the committee has always been overrated and that the committee will be fine since the system itself is all that really matters.
Hathaway's term as chair of the committee started on Sept. 1 (replacing the outgoing chair, Ohio State AD Gene Smith) and NCAA men's basketball tournament spokesperson David Worlock said there has been no change in his position. The same may be true of Beebe if he's officially out. The committee won't meet again until November, and the heart of their work doesn't really begin until January and February, anyway. Hathaway and Beebe certainly would have more time to focus on the national landscape.
The only issue that will be in play for the selection committee: Would Hathaway have to leave the room when UConn is discussed and would the same apply to Beebe when Big 12 teams are talked about, since neither would be employed by either entity?
The consensus from former committee members is that bringing in two more new members to go along with the two regularly scheduled new members to the committee wouldn't be prudent. No one wants to see a committee that has four of its 10 members doing the selections and seeding for the first time. So if Hathaway and Beebe both stay, then the only hiccup will be their role when the teams that they formerly served are being discussed.