As lockout continues, Luke Walton works
September, 26, 2011
09/26/11
7:04
PM ET
The NBA has canceled the opening of training camp and the start of preseason games -- and regular-season games could be next if the players and owners can't come to an agreement fairly soon.
The more the NBA season looks in peril, the smarter Memphis coach Josh Pastner appears for adding Memphis Grizzlies assistant coach Damon Stoudamire and Los Angeles Lakers forward Luke Walton to his staff.
Stoudamire is a full-time employee regardless of when the lockout ends. And while Walton is with the Tigers almost as a temp, he certainly brings a wealth of pro experience that is enticing to both the current Memphis players and the ones he is trying to woo to the program.
Regardless, it seems obvious both are thrilled with their new gigs, especially in light of the alternative.
[+] Enlarge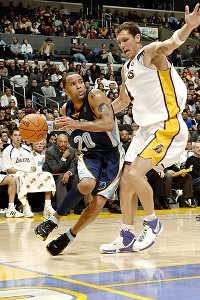 Andrew D. Bernstein/NBAE/Getty ImagesArizona alums Damon Stoudamire and Luke Walton used to compete against each other in the NBA. Now they're on the same team.
Stoudamire wouldn't be doing much of anything if he were with the Grizzlies. Now he's coaching and recruiting, and he said he's even working out the Griz players at the Larry Finch practice facility on campus.
"I don't know what I'd be doing, to be honest with you," Stoudamire said. "I've been through a lockout before [in 1998] and it was boring. There wasn't anything to do. Right now [the Grizzlies] aren't doing much, and what I've been doing is working out the pro guys for them to stay sharp. They can't use their facility so we opened up ours. If I were still with the team, I couldn't do that."
If Walton were still in Los Angeles, he would have no access to the Lakers' facilities, either. So here he is -- 1,800 miles away -- coaching, recruiting and working out daily with full access to a training staff as he rehabs from a back injury that nearly forced him to retire during the 2009-10 season.
"I've got a bunch of Grizzlies players I'm working out with, my shooting coach is coming this week, and I've got a training staff and strength coach here at my disposal," Walton said. "I can do all of this during my time off when we're not practicing [during individual workouts], coaching or recruiting, so I make sure to stay ready for when the lockout ends."
How long does Walton think he's going to be at Memphis?
"If I had to guess right now, at least until the end of December and even into January. But I'm also hearing that the season might not happen at all this year," said Walton, who added that he talks frequently to players' association rep and Lakers teammate Derek Fisher. "It's crazy to think about it. But the deeper we get into this -- into November and actual games are missed and both sides are missing paychecks -- that's when the negotiations will really heat up. It will come down to who is willing to give in. After listening for six hours [during a recent players rep meeting], neither side wants to fold. I think the pressure will pick up in November and we'll have a clearer idea if and when the season will start."
Stoudamire won't be shocked if Walton is on staff longer than anticipated. He said he's waiting to see if the players really do take a stand and sacrifice the whole season.
"I don't think they'll ever get what they want out of it," Stoudamire said. "It's millionaires battling billionaires, and you know who's going to win that battle."
Regardless, the decision by Walton and Pastner to take this gamble has paid off for both, even with less than two weeks to go before the official start of practice on Oct. 14.
"If the lockout ended tomorrow, even having Luke Walton for this amount of time was worth it," Pastner said. "I know when the lockout ends he's going to go back to being a Laker. But this has outweighed the risks."
Pastner said the reason is Walton's on-court experience at the highest level of basketball. It also doesn't hurt that he has a tremendous relationship with fellow Arizona alums Stoudamire, Pastner and assistant Jack Murphy, who moved to San Diego to work out Walton in preparation for the 2003 NBA draft.
"Part of the reason I took this job was because I know what Coach P and Coach Murph have to offer, and they were with me at Arizona and helped me improve as a player," Walton said. "I know that if you come here that you'll improve."
Walton recently went with Pastner and Murphy on a recruiting visit to the Clarksville, Tenn., home of Alex Poythress, the No. 17 player in the ESPNU 100 who has narrowed his choices to Kentucky, Florida, Vanderbilt and Memphis. Walton said he can't promise a player he will be coaching him, but he is selling the program and the current staff. He's also not doing too much evaluating for the same reason -- he simply doesn't how long he'll be at Memphis.
Regardless of their roles, Walton and Stoudamire love the chemistry on this staff.
"We are supposed to meet for 20 minutes and it turns into two-and-a-half hours," Walton said.
Stoudamire did admit he's having a hard time grasping the reality of recruiting. The talent isn't NBA-level and the people you are dealing with aren't just parents.
"I have to taper my expectations a bit," Stoudamire said. "It's not what I'm used to seeing. I'm not evaluating pro players. I think I've seen maybe four players that I can say, 'Yeah, he's a pro.' And the landscape in recruiting is different since you're dealing with so many people as opposed to what I was dealing with.
"The unwritten rule is that there are people who represent these kids. You've got to be able to win over the kid and win over the handlers too. That's just as important as the kid, and in some instances I've found out that no matter what the kid thinks, it's more about the handler. Sometimes you're trying to impress the handler more than the kid."
Stoudamire said Walton has grasped that coaching is a full-time gig -- mostly, at least. Walton said he's still in player's mode when it comes to the alarm clock. In general, coaches rise early. Players do not.
[+] Enlarge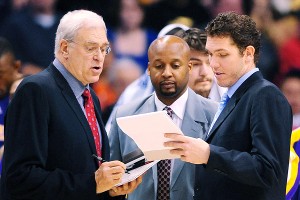 Mark J. Rebilas/US PresswireDuring the 2009-10 season, an injured Walton spent plenty of time around the Lakers coaches.
"You've got to be here early and leave late," Stoudamire said. "He's getting the time commitment now. Luke is going to be a head coach. He's got the demeanor. He knows what he's talking about and he commands respect. He's a very cerebral player and he maximized his ability as a player. [Memphis forward] Tarik Black is already benefiting in a short period of time."
Walton, 31, has two years remaining on his existing contract, and due to the back injury -- which was concentrated in his spine and vertebrae -- it might be his last deal. He said that's another reason why he has jumped into the coaching world.
"It nearly took me out of the entire season," said Walton, who played in 29 games in 2009-10. "It was pretty scary. I was in a dark place and I was off to myself. Coach [Phil] Jackson invited me to be a part of the staff and sit in the coaches meetings. I had a really good time doing that. I was meeting with doctors and there were some who said I shouldn't play again. I had to think for the first time what I would do without basketball."
Walton has quite a mentor in this regard. His father, Bill, has had to battle ankle, foot and back problems for years.
"It was a scary time for him to see his son go through it," Luke Walton said of his dad, known best in Memphis as the UCLA redhead who went 21-of-22 against the Tigers in the 1973 national title game. "I love coaching now and working with this staff and players and can't wait for the season to get started. But I love playing, and when this contract is up, it will be more of a health-related issue. If at any point I have to live with anti-inflammatory to play, well, I've had a long career."
For now, Walton said his mindset is in Memphis, where he has moved for the time being.
"But I'm aware that if the lockout ends, I'm going back to L.A. and rooting for the Tigers," Walton said.
Until that happens, Walton is banking on coaching Tigers headliners Black, Joe Jackson and Will Barton in a season in which the Tigers are the unquestioned Conference USA favorite and will likely start the season in the top 15 nationally.
And Walton knows he could be in Memphis to see the whole season through.
"There is a really good chance that does happen," he said. "Obviously, as a player I want to play basketball. But I'm in a situation that I enjoy in Memphis and I feel we can have an extremely successful season. I see this team making a Final Four run. And that would be so much fun to be a part of. This is a good situation. I'm not sitting around thinking about the lockout."