How will the SEC schedule handle 13?
September, 27, 2011
09/27/11
7:42
PM ET
Connecticut is putting on the full-court press to join the ACC in case the league decides to expand again. And Duke coach Mike Krzyzewski and North Carolina coach Roy Williams both told ESPN.com they would like to see the league eventually go to 16 teams, with two eight-team divisions.
But there is no sense of urgency in the ACC, especially since the Big East for the moment is making Pitt and Syracuse stay for 27 months per the league's bylaws. The conference has plenty of time to figure out how to schedule its 14-team league.
So the attention now returns to the SEC with Monday's official announcement that Texas A&M will join the conference for the 2012-13 season. That gives the league 13 teams.
Should there be more?
Like Krzyzewski and Williams, Kentucky coach John Calipari would eventually like to see his conference get to 16.
"I don't think this stuff is done yet," Calipari said. "I've said for months that there may be four conferences with 16 or 18 teams each. But I can tell you that the SEC at 13, 14 or 16 is going to be stable. We're fine. If they're going to add, I'd like us to go and get Virginia Tech, Maryland and Missouri to go along with Texas A&M. We're not going to do anything at the expense of academics. You're also going to see basketball step up in the next five years in the SEC."
[+] Enlarge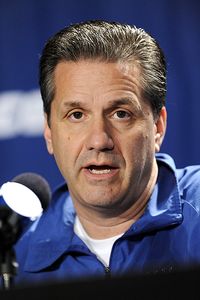 Howard Smith/US PresswireJohn Calipari would like to see the SEC add Missouri, Virginia Tech and Maryland.
Calipari tweeted Monday that he thought the move to add the Aggies was tremendous for the league and new coach Billy Kennedy, a native of SEC country (Louisiana).
"Texas A&M is a great school academically, has a well-run athletic department and will fit well," Calipari said. "Their fan base is ridiculous, just like all of us. The SEC is different. The SEC is about schools with strong fan bases and geography. We want the markets. There is no buyout in the SEC because no one wants to leave."
Vanderbilt coach Kevin Stallings said he would have been fine with the SEC staying put at 12 teams, but he's not against the expansion.
"I like the simplicity of an even number and I'm not sure it was completely necessary," Stallings said. "I don't think we're finished seeing movement and if so, if we end up at 14 or 16, if that's what the commissioner's office said we need, then I'm fine with it. Our league isn't going anywhere. We're as stable as any league in college athletics and we have visionaries who run our league. If they think we're better suited to be at 14 or 16, then I'm OK with that."
The SEC will run into issues on further expansion since it would be hard to take a team from a state where there is already a conference member. The new ACC buyout of up to $20 million poses a problem, too. But the new markets in new states is what Calipari was talking about when he rattled off Missouri, Maryland and Virginia Tech. Still, it would be extremely difficult to pry the Terrapins away from playing Duke and North Carolina every year or the Hokies from rival Virginia after Tech expended a lot of political capital with the Cavaliers to not block the school's move from the Big East to the ACC eight years ago.
The SEC's current number of 13 will be a scheduling issue for football and basketball. Football still has divisions, which is a matter unto itself as the league decides what to do with the Aggies and how to handle an unbalanced schedule.
The SEC got rid of divisions for men's basketball for this season, but the scheduling format still mirrors the football East-West split with each team playing its old side twice and the other once for the 2011-12 season.
Stallings was on an SEC committee to determine a 12-team, no-division schedule for 2012-13. The consensus was to have everyone play each other once (11 games), with seven more games coming from doubling up against league opponents to get to 18 league games. The SEC currently plays 16. The same formula is expected to be applied to a 13-team, no-division SEC next season. The Atlantic 10, which has 14 teams, has a format of playing only 16 league games with every team playing each other at least once, three teams twice.
The question for the SEC will be which rivalries are protected in a doubling-up scenario. There are a few natural ones to protect like Alabama-Auburn, Ole Miss-Mississippi State and Vanderbilt-Tennessee with newer ones like Kentucky-Florida and maybe more traditional ones like Tennessee-Kentucky or Florida-Georgia kept, as well. There could be a need to ensure Texas A&M plays LSU twice as well, or perhaps twice with Arkansas, a former rival from the Southwest Conference.
Whatever the case, Stallings doesn't seem all that worried.
"I think we just have to have an open mind going forward," he said. "We'll come to the best concept relative to 13."