Frank Martin feeling good at Kansas State
September, 28, 2011
09/28/11
9:00
PM ET
Kansas State coach Frank Martin said he was never overly worried about the Wildcats' future when the fall of the Big 12 seemed imminent, but he did admit to feelings of uneasiness about KSU's place on the college sports landscape if a massive realignment had taken place.
How could he not have been when the very real possibility of a temporarily homeless K-State loomed like a black cloud? Would the Cats and Kansas remain in the Big 12? Would they be the backup plan in the Pac-12 if Texas and Texas Tech didn't want to join Oklahoma and Oklahoma State? Would they end up in the Big East? Would KU dump Kansas State if the ACC called?
In the end, though, only Texas A&M left. And while there's still a chance Missouri bolts to the SEC, the Big 12 is now revisiting expanding beyond nine rather than an every-man-for-himself scramble to find a new home.
[+] Enlarge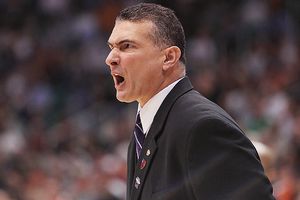 Jed Jacobsohn/Getty ImagesFrank Martin is ready to start a new season at K-State, where he's won 95 games in four years.
"It was frustrating at times -- the uncertainty,'' Martin said of conference affiliation. "But I thought we'd be OK.
"Our league is sticking together. We're in the middle of the country and it's easy to see why all these other leagues would be interested. But contrary to popular belief, I think our league now is so much stronger than five years ago. It's making our league leaders sit down and figure this out. We're going to be making more money than five years ago. Our presidents now have to engage with each other and move forward as a league.''
Conversations at the athletic director level occurred Tuesday in Grapevine, Texas, among the nine remaining Big 12 ADs. There is an expansion committee that will resume talking in the coming weeks with the likely targets coming from its original list of BYU, Louisville and West Virginia. Whether the Big 12 and/or those schools have mutual interest is still to be determined.
Martin said he'd like to see the Big 12 return to 12, even though this season the league will have a true round-robin schedule in its only season with 10 teams. Nebraska (Big Ten) and Colorado (Pac-12) split after last season.
"Ten is the perfect scheduling scenario and when our league season ends we'll have the truest winner of any conference in America since we'll play everybody twice,'' Martin said. "I came from the Big East (where he was an assistant at Cincinnati under Bob Huggins) and I'm not saying we're better than the Big East, but every fan base at every school is absolutely nuts about their school. You don't have a game where you go into someone's arena and it's half full. It's a hard, hard league.''
Martin said he'd like to see the expansion turn to teams with similar traits. BYU, Louisville and West Virginia would certainly qualify. Brigham Young traditionally has had one of the most loyal followings in the West, and Louisville and West Virginia have two of the most devoted fan bases in the Big East.
"I want to make sure if we do grow that, whoever comes in, that school adds value,'' Martin said. "I want the schools the bring long-term credibility and substance. We want this league to continue to be bigger and stronger, because that's what makes this league so much fun. We don't play in empty arenas in men's basketball. If the Big 12 went in that direction [BYU, Louisville and West Virginia], then I don't care what anybody else says, you can't come close to the strength of that basketball league.''
Like some of the schools in the Big 12, it appeared Martin himself might be headed to the ACC this offseason. When Frank Haith left Miami to take the Missouri job, the hometown Hurricanes were looking for a coach and it seemed natural that Martin would be the leading candidate. He never publicly said he wanted the job, but he was the clear front-runner in the minds of many.
And he didn't exactly defuse those rumors with these comments to the Associated Press back in April:
"Everyone's reporting that my salary is $1.55 million. Actually, my salary is $1.1 million," he said. "Now, I'm an old high school teacher who was making 32 grand when I moved to Boston, and I'm extremely grateful and thankful for the salary I make right now. If I stayed the length of the [five-year] contract and I collect every bonus on the contract, it will average out to $1.55 [million]. And you know what? There is a chance that the University of Miami never called because they think I make 1.5. There's a chance just because it was released at 1.55 the University of Miami said, 'We can't call him. Why waste our time? We can't pay him.'"
Miami hired George Mason's Jim Larranaga.
And that's why it was surreal that a communication error with a security detail led to Martin not being allowed on the field last Saturday for an ESPNU on-camera interview during Kansas State's football win at Miami. UM associate athletic director Chris Freet said Tuesday that Martin was denied field access because of a new university policy that won't allow anyone but Miami players, staff and essential personnel to be on the Hurricanes' sideline. The policy was put in place in response to the scandal that rocked the university after an extensive investigation by Yahoo! Sports.
No harm, no foul ... right? Martin is still in a good spot, even without the Miami offer. He can probably win at a higher level by staying in Manhattan. The Wildcats were in the Elite Eight two seasons ago, and while last season was a bit of a disappointment, they still rallied in time to make another NCAA tourney appearance. KSU did lose its leader in Jacob Pullen, as well as recruiting ace Dalonte Hill, who left to become an assistant on Mark Turgeron's new staff at Maryland.
Kansas State won't be picked in the first tier with Baylor, Missouri, Texas A&M and Kansas. But the Wildcats will still be a pest in the Big 12, with a chance at a tournament bid.
"This may be the most athletic team we've had here,'' Martin said. "We are fast. When Denis Clemente was here we were fast, but now we're fast at all five positions. We've got guys who were complementary that now can accept frontline positions.''
Rodney McGruder tops that list -- one that includes Shane Southwell, Will Spradling and Jamar Samuels.
"We've got a nucleus of guys,'' Martin said. "We've got guys who have played big-time minutes. We don't have a guy who could do what [Pullen] did right now. We're not there yet, but we've got a chance.''