Lessons learned from Tennessee fallout
September, 30, 2011
09/30/11
12:53
PM ET
A suspension, a financial hit and a firing would seem to be a pretty effective deterrent to misleading the NCAA enforcement staff and department superiors.
But the fallout that occurs when a staff is collectively penalized -- as was the case with Bruce Pearl and his assistants at Tennessee -- should be a major wake-up call, too. In a recent story on CBSSports.com, Gary Parrish detailed the bitterness and hard feelings that have developed among a group of Vols coaches that used to be considered tight-knit.
[+] Enlarge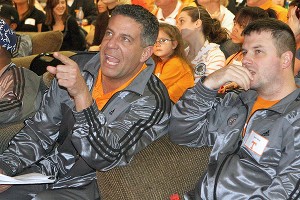 AP Photo/Lisa Norman-HudsonBruce Pearl and longtime assistant Jason Shay (right) have grown apart in the ugly aftermath of Tennessee's turmoil with the NCAA.
So as a loss of friendship is added to the list of consequences of breaking the rules, the law firm that represented former UT assistants Jason Shay, Steve Forbes and Tony Jones is using the Tennessee case as a course study on what not to do, given how the Committee on Infractions is now handling cases.
The summary of the case came down to a 2008 photo from a cookout at Pearl's house that involved a few prospective student-athletes (one of whom was Ohio State point guard Aaron Craft), which was a violation since juniors aren't allowed to have visits off campus. A photo of the event surfaced nearly two years later, and when initially questioned about the photo and the cookout, the coaches didn't answer truthfully. There were impermissible calls as well, and the end result was a three-year show-cause penalty for Pearl and one year each for the three assistants.
It was a devastating blow to all of their careers. Forbes is coaching junior college at Northwest Florida State and Shay is his assistant, making $20,000 a year. Jones, the interim coach at UT during Pearl's suspension last season, is coaching high school basketball in the Knoxville area. And while he is doing just fine financially, Pearl has essentially been banned from coaching in college for three years.
These were serious consequences. So with that in mind, the Indianapolis-based Ice Miller legal team sent a memo to its clients in September with some lessons to take away from this fiasco. They may seem like basic lessons, but clearly coaches need to be reminded. Here is the text of the memo, with my take on each item:
1) Handling even a minor violation "unofficially" without proper reporting can lead to a secondary infraction becoming a major infractions case. The Committee stated that on its own the underlying basketball cookout violation most likely was a secondary violation. If properly reported, the violation would have been resolved with relatively minor penalties, and the devastating consequences for the university, its basketball program, and the basketball coaches would have been avoided.
My take: Coaches have for years taken what appears to be a minor violation and turned it into something major by the way they have handled themselves upon being interviewed. The Tennessee case is another example of the initial violation not being a major deal, but how it was handled ensured that it would be treated as a significant case. Lying is never the answer in any of these cases.
2) Providing false, misleading, or incomplete information to the enforcement staff is an extremely serious violation, even when an interviewee subsequently corrects the record. For a head coach, such conduct very likely leads to the Committee finding unethical conduct and failure to promote rules compliance in the coach's program. In this case, the Committee imposed a three-year show-cause penalty on the head basketball coach despite the facts that (A.) he provided misinformation regarding only one subject during his initial interview; (B.) he personally initiated a follow-up interview in which he corrected the record; (C.) he publicly acknowledged and accepted responsibility for his mistake; and (D.) Tennessee and the Southeastern Conference previously imposed significant professional and financial restrictions upon him. Individuals need to provide the enforcement staff with truthful and complete information from the beginning of any infractions investigation.
My take: Pearl always contested that he told the truth once he called the NCAA back to explain himself. That was never a good enough answer, and shouldn't have been. He knew where the cookout was and who was in the picture he was shown. An honest answer would have led to a secondary violation and some more restrictions, but he would still have his job. Calling Craft's father to "get the story straight" on what was being told to the NCAA was another major mistake that contributed to the problems for Pearl, and ultimately his staff.
3) The popularity of digital cameras, Internet blogs, and social media significantly increases the likelihood of questionable recruiting conduct being revealed. A number of recent major infractions cases in addition to the Tennessee case have developed from information posted on blogs or social media websites. The variety and number of individuals who monitor, photograph, record, write about, or otherwise reveal recruiting related activities is immense and includes recruits and their "advisors," current and former student-athletes, opposing coaches, and fans of rival schools. Additionally, the NCAA enforcement staff regularly monitors on-line activity, including "friending" top prospective student-athletes in order to have access to their individual web postings.
My take: We are living in a new world. Everything is essentially on the record. Recruits now tweet when a coach has visited their home or when they've made a decision. Andre Drummond caught UConn off guard when he announced he was going to the Huskies before they had time to figure out who was going to give up a scholarship for him to come. If a coach expects secrecy when he's recruiting and doesn't expect some form of social media or digital form of recording to occur, then he's not clued into the world in which we live.
4) Individuals facing enforcement staff interviews should retain personal legal counsel experienced in NCAA matters prior to their initial interviews -- and their institution are well served when those individuals retain such counsel. Several recent infractions cases involve coaches, administrators, or student-athletes who, in the absence of counsel, made poor decisions early in NCAA compliance related matters, making situations much worse than necessary for themselves and their schools. In this case, none of the basketball coaches retained counsel prior to their initial interviews. As often happens, under stress, during the back-and-forth of the interviews, and without anyone to assist them, they provided either incomplete or misleading answers to a few questions. The involvement of personal legal counsel almost certainly would have prevented or immediately remedied these errors -- avoiding the devastating consequences that resulted for the coaches and the university.
My take: Of course, this is Ice Miller trying to prove its value. And the legal team may be right here, but the NCAA enforcement still has the hammer that each of these coaches work for a member institution, and failing to talk always leads to worse circumstances. I'd like to see the NCAA's response if every time an enforcement staffer questioned a coach or a player, those being questioned demanded they have an attorney with them before answering a single question.
5) The Committee does not "rubber stamp" the enforcement staff's allegations. Individuals and schools can successfully challenge alleged violations that lack sufficient factual support. As noted above, in both the basketball and football aspects of this case, the Committee disagreed with the enforcement staff regarding highly publicized issues which the enforcement staff alleged as major violations. The ability to successfully contest alleged major violations demonstrates the value of retaining counsel with NCAA experience to help analyze the enforcement staff's allegations and present appropriate defenses.
My take: This is becoming more apparent. The notice of allegations has tended to be more inflammatory than the final Committee on Infractions report. The stories of misdeeds tend to sound even worse when the first notice comes out. Legal teams have time to mount a counter before the COI hearings. The self-imposed sanctions also help lessen the penalties by the time the COI delivers its punishments.