No Kemba Walker, but Huskies are loaded
October, 6, 2011
10/06/11
6:36
PM ET
STORRS, Conn. -- If you walked into Gampel Pavilion on Wednesday and watched Connecticut play multiple pickup games, you might have revised your top 25 and put the Huskies at No. 1 instead of No. 3 or 4.
The Final Four's Most Outstanding Player was on the court. Kemba Walker, locked out like every other NBA player, was running the point for one team. Freshman Ryan Boatright, a jet-quick point guard, was on the other side. Co-captain Shabazz Napier was sick and had to sit out, but Jeremy Lamb, one of the best wings in the country, was on the floor.
So, too, was probably one of the better unheralded rebounders in co-captain Alex Oriakhi. Freshman forward DeAndre Daniels, one of the best gets in the spring signing period, and returning forwards Roscoe Smith and Niels Giffey were playing, too.
[+] Enlarge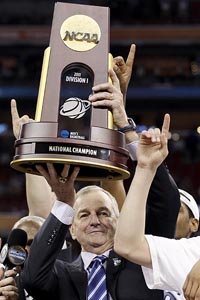 AP Photo/David J. PhillipJim Calhoun has a team that's poised to make another championship run this season.
Oh, and so was freshman center Andre Drummond. He's only one of the top players in the country. If the NBA doesn't change the draft rule whenever the players' association and the owners reach a new collective bargaining agreement, he could be the overall top pick in next June's draft.
Yes, Walker isn't eligible anymore for the Huskies. But even without him, it's clear that UConn is a legit top-five squad and every bit as much of a national championship contender as North Carolina, Kentucky and Ohio State.
Remember, Connecticut missed the NCAA tournament in 2010. Last season, it enjoyed a tremendous early-season run after winning the Maui Invitational and upsetting Texas on the road. But the Huskies finished 9-9 in the Big East before the magical 11-game stretch that led to the Big East tournament title and the NCAA tournament championship.
UConn coach Jim Calhoun said it's weird to see Walker as much as he has this semester, but the coach knows he's got something special again. Calhoun admits he might not have a player who can change the game like Walker did. Walker took the winning shot, but he also extended a two-point game to four or five points with his clutch shooting.
Calhoun said this season's team won't start out 11-0 and earn credit for those games. They get a clean slate. But there is one piece of business that needs to be taken care of so they can put last season behind them. On Thursday night, the Huskies -- and, of course, Walker -- are expected to receive their championship rings at a dinner.
Walker will be a presence on the court until practice starts next Friday, but he has been around long enough to get a read on this team.
"These guys are very talented," Walker said, "and they have a lot of depth, more than we had last year. I think it's very possible for a repeat. I'm looking forward to it. I can't wait. If this lockout continues, you'll find me in Storrs, Conn.''
Walker has relocated to Connecticut for the time being. His parents moved from the Bronx into a home in Charlotte, N.C., and are waiting for him to start his NBA career with the Charlotte Bobcats. Walker said he's being financially supported through his Under Armor sponsor deal, his agent and camp money.
But his presence in the weeks before the start of official practice is immeasurable, especially for a player like Boatright. Napier is a much more methodical point guard, whom Calhoun said may end up being one of the team's most improved shooters. But Boatright has serious hops. He is listed as 6 feet tall, but he can dunk with as much ease as someone who's 6 inches taller. He doesn't hesitate to pull up from 15 feet and bury a midrange jumper, either.
"When [Kemba] comes, the intensity picks up,'' Boatright said. "It's real good to play against a guard like that. I'm feeling real comfortable now after being a little shaky at first. The game was faster and physical.''
"

These guys are very talented, and they have a lot of depth, more than we had last year. I think it's very possible for a repeat. I'm looking forward to it. I can't wait.

"

-- Kemba Walker on the 2011-12 Huskies
The Huskies relied too much on Walker last season. He had his poor shooting nights and games when he was a high-volume shooter. While the Huskies may not have one player to bail them out every time this season, they will have more options to prevent the game from getting into that situation.
"We can all score,'' Boatright said. "You can't focus on any one person.''
Adding Drummond made that even more apparent.
Drummond will down as one of the best late additions in 2011-12. He was scooped up in late August when he decided to go to college instead of attending a postgrad prep year, which was the original plan. Drummond said he is eligible to play and has been cleared by the NCAA.
"It hasn't been as much of a whirlwind,'' said Drummond. "It was a big transition from what I originally planned on doing. But everything has been going smoothly.''
Having Oriakhi to bang against, as was the case Wednesday, will be perfect for Drummond.
"It's a gift,'' Calhoun said. "Alex has tremendous experience, and he can pass it on to Andre. Andre is one of the best players in the country. Jeremy is one of the top three [at his position]. Andre won't be the only guy who is expected to be good. Playing against Alex every day is going to help him. Andre is an incredible talent. He's one of the nicest kids we've had. He's really gifted.''
Drummond and Oriakhi were banging against each other in the post. That will continue throughout practices.
"There are already players on this team [who] won a national championship,'' Drummond said. "A lot of times when guys go from high school to college they have to be that guy right away. There won't be as much pressure on me. There are guys on this team [who] have already been on the big stage. They know how it is and how to get better. We've got a whole collective group that can make a run for the 'ship."
Calhoun will enjoy putting these pieces together. He has to manage only 11 players with the scholarship reductions. He has fouls to work with if he uses Tyler Olander, Enosch Wolf and Michael Bradley as rotation players behind Drummond and Oriakhi. Smith and Daniels pose matchup problems. They are also so long that defensively they can be stoppers. Giffey is a bit of a utility player. Lamb, Napier and Boatright can all shoot. Napier is clearly more of a playmaker, and Boatright is more of a guard who can get into the lane with his speed and create for himself.
The Huskies' schedule is soft prior to Big East play. So don't be surprised to see them rolling into January with quite a gaudy record -- possible an unbeaten one.
"We're young and untested, but we have interesting talent, and as we start we're more talented than we were last year,'' Calhoun said. "I'm excited by the fact that we have more depth and we're more athletic. ... We'll just have to find ourselves and establish roles. We have the people. But it will be different not having that little guy running the team, as everyone could see how good he was.''
That little guy is Walker, who is turning into UConn's No. 1 promoter.
"They're deeper, and it will be more spread out this year,'' Walker said. "Jeremy will lead the charge offensively. His confidence is on another level right now. He's working hard. He'll have an unbelievable year. Ryan can jump out of the gym. He's a really good freshman. He can use his floater and pull-up. Shabazz and Ryan in the backcourt will cause a lot of trouble. [Oriakhi and Drummond] love being around the ball and will fight for rebounds.
"Andre is a freak of nature. He's athletic. He runs the floor and he's lanky. He's just a beast, and it's going to be scary with him and Alex down there. Maybe they can push Alex to the 4 now, too. They're going to have an unbelievable year. I'm looking forward to seeing these guys play. I can't wait, to tell you the truth.''