Can Marshall challenge Memphis in C-USA?
October, 10, 2011
10/10/11
4:04
PM ET
Memphis will be ranked somewhere in the top 15, possibly in the top 10.
Marshall won't be in the top 25. The Thundering Herd probably won't be even close to the top 30.
Is the difference that wide between the projected top two teams in Conference USA?
"I think Marshall is really, really good. I think Marshall could easily win the conference and are worthy of [being] a top 25 team,'' Memphis coach Josh Pastner said. "Just look at [its] roster. I wouldn't be surprised if the rest of the league picked them as the favorite to win the league title. The perception on Marshall hasn't caught up to the reality.''
[+] Enlarge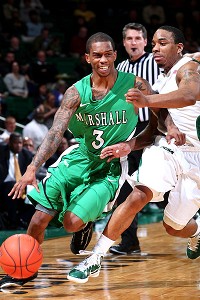 Marvin Gentry/US PresswireDamier Pitts and Marshall have the potential to challenge Memphis in Conference USA.
This is called spin. This is called deflection. Or is it? Could Marshall really be a serious challenger to Memphis with the Tigers' loaded roster of Tarik Black, Joe Jackson, Will Barton and Wesley Witherspoon, and the addition of Adonis Thomas?
Marshall does return its top scorers in Damier Pitts and DeAndre Kane, but the Herd may not have the depth.
One Conference USA coach was quick to point out that Marshall is getting an awful lot of publicity for a team that hasn't even made it to the conference championship game.
"Marshall is really strong in the backcourt and [it] can match Memphis in the backcourt, and that alone is a big statement,'' Tulsa coach Doug Wojcik said. "But I still say Tarik Black isn't getting enough credit. To me Memphis has the better combination of inside and out, and no one has someone like Wesley Witherspoon.''
The Herd finished 9-7 in the league last season (22-12 overall) and were tied for fifth with Southern Miss -- another team which is supposed to be a challenger, according to its coach, Larry Eustachy.
Marshall coach Tom Herrion playfully said that Kane should have been on my Wooden Award snub list. He wasn't. Maybe he should have been.
"He had great numbers last year,'' Herrion said of Kane (15.2 ppg, 5.5 rpg and 3.4 apg). "We're perceived to be a better team than last year. We had the rookie of the year last year and with what we have coming back we're not going to be worse. We're only going to get better.''
Herrion said he's not grandstanding about the Herd's potential. Marshall split the two games with Memphis last season, with each team winning its game at home. But Herrion is not going to dismiss the obvious: This Herd team hasn't won anything substantial so far.
"We haven't done anything yet,'' Herrion said. "I feel good about our personnel, and it's nice that other coaches in the league think our team is good, but we haven't proven anything yet.''
The Herd have had a relatively quiet summer, save for the addition of former Miami assistant Jorge Fernandez. Former Miami booster Nevin Shapiro said in a Yahoo! Sports report that he witnessed Fernandez having impermissible contact with Miami football players in 2008 and entertaining then-AAU coach Moe Hicks (now on St. John's staff). Herrion said Fernandez talked to the NCAA enforcement staff, but he was given no indication that Fernandez would be in any trouble.
"It won't be a distraction at all,'' Herrion said.
A new assistant can't be trouble at any time, let alone with a team that is poised for a breakout season. Herrion has scheduled as if he is confident this team will be a threat.
[+] Enlarge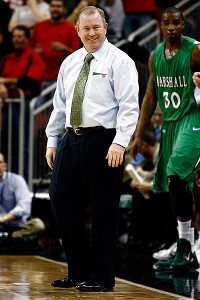 Icon SMIThanks to a solid foundation and an experienced staff, Herd coach Tom Herrion feels good about his team's prospects for the season.
Marshall is playing at a top-25 team in Cincinnati, at Big East tri-favorite Syracuse and the annual series against West Virginia in Charleston, W.Va. But Herrion found three games versus teams that don't get the publicity, and they should be just as tough as playing any other contender in C-USA, save Memphis. The Herd will have a home-and-home series with Belmont and a home game against MAAC co-favorite Iona.
Herrion, who had an 80-38 record at College of Charleston in his only other head-coaching stint, has Marshall in line to be a contender just as quickly as he did when he was in the Southern Conference. The difference, of course, is that there was never a team in the SoCon quite like Memphis. "I feel much better in Year 2 here,'' Herrion said. "We've got a very good foundation on how to build this thing. We've got a much more experienced staff here.''
The experience up front isn't the same as it is in the backcourt. And that will be the difference against the higher-level teams. If Herrion can play to the perimeter strengths, he has a chance to have sustained success this season. But the Herd will know early and often if they are contenders or pretenders.
Doing well in C-USA won't be enough to warrant an NCAA at-large berth. They have to do something significant with this nonconference slate -- like win a few of the key games -- or at least one against one of the three Big East teams.
"I know we scheduled aggressively,'' Herrion said. "Now we have to go out and win games. We've got great opportunities and have a tremendous challenge. We're playing three Big East teams but none are in our building.
As for Pastner, he won't quit on his pumping of the Herd.
"People just don't give them credit,'' he said. "Marshall could compete in the top three or four in a number of leagues. Marshall is totally underrated nationally.''
OK, well let's see if that's the case. The onus is on the Herd now to prove it, and not just to their fan base and to Herrion for putting together the schedule. Marshall needs to back up Pastner's claim that it can be a legitimate top-25 squad this season.
We'll find out soon enough.