Don't discount Indiana State in MVC race
October, 12, 2011
10/12/11
11:07
AM ET
Winning three games in a conference tournament is a productive run for a team, especially when it's capped off by an NCAA tournament berth.
Winning a regular-season title the next season and getting a berth again, and you've got yourself a program with staying power.
That's what Indiana State is attempting to do under coach Greg Lansing.
[+] Enlarge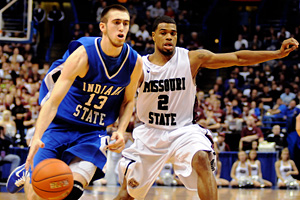 Tim Vizer/Icon SMIHometown kid Jake Odum led Indiana State to a surprise NCAA tourney appearance in 2011.
And it's going to be quite a chore.
Lansing is in his second season with the Sycamores, returning a team that has a legit shot to compete for the Missouri Valley Conference title. But in the eyes of most, Indiana State starts the season in third position. You won't find anyone picking ISU over Creighton or Wichita State. At the moment, the Sycamores' talent simply doesn't match up with those two programs.
But it might not matter. Indiana State has the experience of winning last season's tourney in St. Louis; Jake Odum is as savvy a point guard as there is in the league; and a confidence runs deep throughout the program that the Sycamores can duplicate what occurred last season.
"The goal isn't to just get lucky at the end of the year and win the conference," Lansing said. "We should be right there. We still won 12 league games last season, and that means we won on the road. We might not have the same talent as Creighton and Wichita, and they'll be 1-2 in some order, but we'll certainly be in the conversation. Our goal is to win the regular-season championship."
The Valley has been one of the best and most competitive conferences outside the traditional big six leagues for quite some time. But the MVC hasn't had that breakthrough team get to the Final Four like the Horizon or Colonial. And the depth hasn't really been there. Rather than having a 1-10 lineup of teams that is daunting, the Valley has had plenty of programs that take turns at the top, only to slide down to the bottom.
Northern Iowa, Southern Illinois, Bradley and Drake all have had their turns with Wichita State and Creighton.
Now it may be Indiana State's chance.
We'll know early if Indiana State is worth tracking throughout the season. The Sycamores have a golden shot to matter by performing well at the Old Spice Classic in Orlando. They open with the Big 12's Texas Tech in the first round. The Red Raiders are rebuilding under Billy Gillispie. If ISU beats TTU, Minnesota would be the likely semifinal opponent. The other side of the bracket should be won by Fairfield, but Dayton or Arizona State are legit possibilities.
Bottom line: This field offers Indiana State a real shot to do something special and be relevant early in the season.
Blue Ribbon Previews
Take an Inside look at the MVC with Blue Ribbon's 2012-13 team reports:

No one should expect ISU to win at Vanderbilt on Dec. 17. But road games against Louisiana-Monroe in mid-November and at Boise State in early December are winnable and will give us further indication as to whether this team is a contender or pretender.
The makeup of the roster is odd; most of the players are either seniors or sophomores. But that mix allows for an experienced crew that should be able to handle adverse situations.
Indiana State was hardly a model of consistency last season. ISU was 6-7 through 13 games, and 7-6 in the Valley after a five-game losing streak. But Odum led the turnaround for the Sycamores as they won their final five MVC games and then made the run in St. Louis, before losing to Syracuse in their opening game of the NCAA tournament.
"Jake Odum is terrific," Lansing said of the 6-foot-4 sophomore from Terre Haute, Ind., who led the Valley in steals last season and was second in assists. "I finally wised up and let him take over the leadership of the team. He has an uncanny ability to lead this team. He's so competitive and so tough to go along with that. We've got a nice nucleus, for sure."
So now the onus is on Lansing, Odum and Indiana State to challenge for the Valley regular-season title. It is doable. Yes, Creighton and Wichita State are the favorites, but Indiana State is a viable dark-horse challenger.
Even if it was for just three days, this group knows what it takes to win a championship. Can the Sycamores do it over a two-month period?
"We'd love to be in that position," Lansing said. "But we've got a long, long way to go. We can't sit back and talk about how good we are. This is a new team, a new season and we have to prove ourselves again."