Huskies expect a lot out of Tony Wroten Jr.
October, 17, 2011
10/17/11
10:22
AM ET
NEW YORK -- Washington, under coach Lorenzo Romar, has been defined by its guard play, which includes undersized players with games that seem larger than life.
Sure, there was the Jon Brockman era, when he was the dominant persona with his board work and gritty play at both ends of the court.
But if you think Washington and Romar, you immediately consider the names of Brandon Roy, Will Conroy, Nate Robinson and Isaiah Thomas.
Now you can add Tony Wroten Jr. to that list, as the next Romar disciple.
Three days into fall practice and Romar couldn't be more pleased. The early indication is that Wroten Jr. will take his turn as the next Husky who brings brashness, moxie and an overall presence to the game.
"Tony is very unique,'' said Romar, who was in New York this past Thursday with Marquette coach Buzz Williams, whose team will play the Huskies in the Jimmy V Classic on Dec. 6. Villanova's Jay Wright and Missouri's Frank Haith were also in NYC, and their teams will also face each other that night.
"[Wroten Jr.] has great size for a point guard, and he's an exceptional passer," Romar said. "His athleticism allows him to be a real terror on the defensive end. He's trying to pick up our concepts now, and he's learning where he needs to be. But sometimes while he's making mistakes, he makes a play. He's just very, very unique with a unique skill set."
[+] Enlarge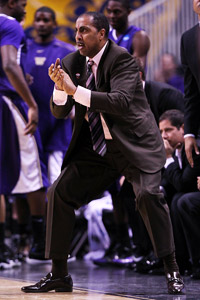 Jed Jacobsohn/Getty ImagesIf Lorenzo Romar's Huskies are to contend in the Pac-12, they will rely on some young and new faces.
The NBA lockout has had some Huskies alumni, including Thomas and Roy, involved in pickup games throughout the early fall. Thomas and Wroten Jr. are both Seattle-area products and have gone against each other quite a bit.
The Huskies have not stood out during the regular season the past two seasons. However, they have shined when it counts, winning the Pac-10 tournament last season and then beating Georgia in the second round of the NCAA tournament before falling in the final possessions to North Carolina in the third round.
If this team is to be different during the regular season, then it will have to manage quite a challenging nonconference schedule by Husky standards. Washington is playing at Romar's old coaching gig in Saint Louis, the third pick in the A-10, on Nov. 20, and then it has consecutive games in New York's Madison Square Garden against Marquette on Dec. 6 and Duke on Dec. 10. One thing that may help the Huskies in their quest to challenge for the Pac-12 title is playing Cal -- one of the favorites -- only once. And that's at home in the Pac-12's new unbalanced schedule. Of course, you could turn that around and note that the Huskies still play home-and-home series with Arizona and UCLA, two fellow contenders.
To get through this schedule, the Huskies will need Wroten Jr. to be a lot like Thomas or Robinson or Roy. "And people forget about Will Conroy. He shared it with Nate Robinson, and Conroy was our all-time assist leader," Romar said. "He was very charismatic and had a lot of personality. He played with that chip on the shoulder. Tony is playing the same way."
Romar also returns Abdul Gaddy, who has had an enigmatic career the past two seasons as he dealt with too much hype as a freshman and then tore his ACL midseason last year. Still, Romar was quick to say that Gaddy's assist-to-turnover ratio was 3-to-1 (49 assists to 16 turnovers) before his injury last season. "He dunked the ball off that same leg he repaired so he's fine," Romar said. "You wouldn't think he's ever been hurt."
The Huskies start the season, though, depleted after guard Scott Suggs broke a bone in his right foot, which will keep him out for up to two months and possibly more.
"He had the most experience of any guard on the roster and [was] our leading 3-point shooter and was playing his best basketball," Romar said. "It hurts to lose him."
Romar said a best-case scenario is for Suggs to be back in time for the trip to New York in early December.
All of this puts even more emphasis on the impact of the 6-foot-5 Wroten Jr., who will be asked to lead a team that has plenty of new faces and young ones like sophomore Terrence Ross. "We have seven new faces," Romar said. "We have six who have played in a championship situation [in the Pac-10], on the road and in NCAA tournament games. It's a unique mix, and it's a matter of them coming together."