Expectations rise for Crimson this season
October, 18, 2011
10/18/11
9:00
AM ET
BOSTON -- Harvard will hang its Ivy League championship banner at Lavietes Pavilion.
According to the Ivy League, this is completely legitimate. The Crimson did share the Ivy League regular-season championship with Princeton, which matched Harvard with a 12-2 conference mark last season. The Crimson get rings if they want -- just like Princeton. The league doesn't issue co-champs on the banner, so both programs are Ivy League champions.
But Princeton won a one-game playoff between the teams, earning the NCAA tournament automatic bid on a shot at the buzzer by Douglas Davis that denied the Crimson their first NCAA tournament berth since 1946.
Harvard coach Tommy Amaker celebrated the title. He's making sure that everyone knows the Ivy League championship is a big deal in Cambridge. But the problem is that the rest of the world and even his own players know the NCAA tournament berth is what matters most.
"For our school, winning the Ivy is, in some ways, maybe as big as going to the tournament,'' said Amaker, who has transformed the Crimson into legit Ivy title contenders the past four seasons with players like former standout Jeremy Lin to current preseason Wooden All-America candidate, senior forward Keith Wright. "We have been to the tournament in 1946 but never had a chance to put up an Ivy League banner. There was a hollow feeling at Harvard, and they don't have to feel that way anymore.''
[+] Enlarge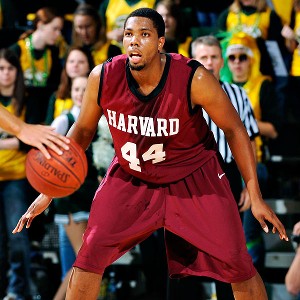 Rafael Suanes/US PresswireForward Keith Wright thinks Harvard has all the pieces in place to make an NCAA tournament run this season.
But the Ivy League championship didn't turn into an NCAA berth. Like it or not, that's the barometer for all Division I programs.
"I'm very thankful this is my senior year, and Coach Amaker is here for another chance to win an Ivy League title since that one [last season] wasn't a legit one,'' said senior co-captain (along with Wright) Oliver McNally. "We want to make the tournament. It's all about that. We're fortunate to come back after a brutal way to end the season. Our No. 1 goal is to make the tournament. This thing really doesn't go away. You'd like to say it does. But until we do something this year, it's not going to go away.''
Harvard had a 62-61 lead before Davis hit the leaning jumper. The Crimson went to Oklahoma State in the NIT and got smacked 71-54, while Princeton nearly knocked off Kentucky in the NCAA tournament's second round.
"Everybody talks about it, from the grocery store, to Target, to the airport, it's tough,'' said Wright. "It was 2.8 seconds from us going to the Dance, going to the tournament. It's a tough loss, but it's motivating us. We lost at the buzzer to Yale. If we take care of our business against Yale, then maybe this playoff game wouldn't have happened.''
And the Crimson have a window to win it this season with Wright anchoring a balanced team.
"Everybody will be disappointed if we fall short,'' Wright said last week during a Boston-area media day, where the total number of media members in attendance far surpassed the other five Division I schools in the state of Massachusetts. Harvard is the only school in the state, save Boston University out of the America East, that even has a chance to make the NCAAs this season, as Boston College (ACC), Holy Cross (Patriot), UMass (A-10) and Northeastern (CAA) are all rebuilding.
"I'm not going to be happy if we fall short,'' said Wright. "No one will be happy.''
Wright said the Crimson have all the pieces to make a run this season. He went on and on about the impact of newcomers Wesley Saunders , Jonah Travis and Corbin Miller. He said Christian Webster and Kyle Casey have shot exceptionally well and called Brandyn Curry the best point guard he has ever played with at Harvard.
"Jeremy was an all-guard; I'm saying the best point guard,'' Wright said of the Curry-Lin comparison. "The targets are on our back. Princeton was expected to win it last year and Cornell the year before. Now everyone will want to beat Harvard.''
Former Ivy League coaches Fran Dunphy, formerly of Penn and now at Temple, and Boston College's Steve Donahue, a three-time Ivy winner at Cornell, said they aren't surprised by Harvard's ascension because of its rich academic history, the brand and the new desire to be competitive. Dunphy was extremely close with former Harvard coach Frank Sullivan and was convinced at the time that if given the chance, Sullivan could have succeeded. But he was out and Amaker has taken the talent to another level.
But now what?
Losing to Princeton will be a huge motivation for the Crimson, according to Donahue.
"It's the best motivation for them since they've got them all back,'' Donahue said. "As a coach, you've got their attention as opposed to if they had won it. I think they have a chance to be really good because of it.''
Dunphy said that the Ivy League schedule, though, will create tension every weekend because there is little room for error. That's what Harvard found out in losing to Yale, which helped force the one-game playoff with Princeton.
"That means every one of the 14 games is critical,'' Dunphy said. "There is no more fair league in the country than the Ivy, and it's not easy. Tommy is now on the doorstep.''
A year ago, Harvard flirted with an at-large berth with an RPI below 40 and wins over Colorado and Boston College -- two bubble teams that didn't get bids last season. The Crimson have an interesting schedule in 2011-12. The road game at Loyola Marymount (Nov. 19) is certainly winnable and would help, while a road loss to a bottom-level WCC team could do some damage to the perception. Harvard has a chance to face Florida State or Connecticut in the Battle 4 Atlantis in the Bahamas Nov. 24-26. Leaving the Bahamas at 2-1 (the Crimson open against Utah) is probably critical.
A road game at Connecticut (Dec. 8) will help the RPI and even road games against Vermont (Dec. 1), Boston University (Dec. 10), Boston College (Dec. 29) and Fordham (Jan. 3) are winnable and will go a long way to determining how serious Harvard should be taken as a possible at-large. At-large teams from a power-six league would be given demerits for losing these type of games (save UConn), so Harvard should too if it can't win against rebuilding teams.
Amaker said the Crimson will have their hands full with the schedule. And they will. But if they are to be treated like the big boys, winning these games is a must before the Ivy League schedule begins with Princeton and Yale nipping at them once again.
"We've earned being selected to win,'' said McNally. "But we can't take it too seriously. We've put ourselves in this position. We experienced a lot of success, some that the program had never had. But if we needed any motivation to do things, then the last two games of last season gave us that.''