Big East should eye Memphis and Temple
October, 19, 2011
10/19/11
4:15
PM ET
Expansion moves are made for football purposes these days, but the ACC has made it clear -- with the pending additions of Pittsburgh and Syracuse -- that it wants to dominate the East Coast in basketball.
What does the Big East want to do with its next move?
It's hard to assume that the league will stay intact with the possibility of Louisville and/or West Virginia moving to the Big 12 at some point in the near future. And Connecticut would love to head to the ACC if an offer came (of course, it might get an invite to the ACC only if Notre Dame decides that it needs to join a conference and that the ACC is the perfect fit).
But let's assume, for argument's sake, that the Big East stays relatively close to the same as it is now. Big East commissioner John Marinatto said on a conference call Tuesday that there are many factors in adding a school, including market and academics as well as Olympic sports programs.
The last time the Big East had to react to an ACC raid was after the departures of Virginia Tech, Miami and Boston College. The league made a strong countermove and improved basketball with its additions from Conference USA: Marquette, Louisville, Cincinnati, DePaul and South Florida.
At the time of the move, Louisville and Cincinnati didn't have football programs that were locks for major bowls. Yet, since then, those two football teams have made runs. Marquette has been a consistent winner in the Big East as a basketball member. Of course, the addition of Louisville in hoops has been a home run, and Cincy has a chance to reach consecutive NCAA tournaments.
Marinatto was quick to say on the Tuesday call that the basketball conference is still strong, as nine of the NCAA-record 11 schools that received bids in 2011 are still in the league (no Pitt and Syracuse). And that includes Notre Dame, which, according to Marinatto, is on board with the move to add six more football-playing members and have a trigger exit fee of $10 million (up from $5 million) if one of the invitees accepts. Three of the potential additions wouldn't be for basketball but rather for football only, if the Big East could get its dream trio of Boise State, Navy and Air Force.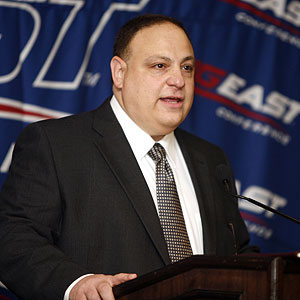 AP Photo/Joe GiblinIn contemplating his next expansion move, Big East commissioner John Marinatto needs to make sure basketball isn't dismissed.
But Marinatto acknowledged that the Big East was founded on hoops.
And that's why, if the Big East were to expand, it should stop romanticizing about Houston and SMU joining for all sports and instead look at the potential of Memphis and Temple. Central Florida has been this hidden gem for years, and maybe it will come to fruition in basketball finally. Getting a Florida school to complement South Florida in football works just as well if you look to add Memphis and Temple instead of Houston and SMU for the Big East's other all-sport additions.
Memphis' football program is horrible at this juncture, but were not that far removed from a stretch of five bowl bids in six years (2003-08) -- and the potential has always been there with the funding, fan base and locale. Temple, booted out of the Big East and reportedly blocked by rival Villanova, is now on the rise in football.
As for the comparison between SMU/Houston/UCF and Memphis/Temple in basketball, it isn't even close.
The Big East is losing Pitt and Syracuse (not counting TCU because the Horned Frogs never were in the league). Credit ESPN researcher Mark Malzewski with this: Since 2006-07, Pitt is 140-38 and Syracuse 130-48, with each winning a regular-season conference title. Pitt won a Big East tournament title. Each program has had five 20-win seasons in that time span. Pitt made five NCAA tournament appearances, Syracuse three -- and was in the NIT the other two seasons.
Now, digest those statistics with what could come to the Big East as replacements in basketball.
Since 2006-07: Memphis Record: 153-30 Conference titles: 3 Tourney titles: 4 20-win seasons: 5 NCAAs: 4 NIT: 1
Temple Record: 110-57 Conference titles: 1 Tourney titles: 3 20-win seasons: 4 NCAAs: 4 NIT: 0
SMU Record: 67-90 Conference titles: 0 Tourney titles: 0 20-win seasons: 1 NCAAs: 0 NIT: 0
Houston Record: 94-71 Conference titles: 0 Tourney titles: 1 20-win seasons: 2 NCAAs: 1 NIT:0
Central Florida Record: 91-67 Conference titles: 0 Tourney titles: 0 20-win seasons: 2 NCAAs: 0 NIT: 0
Memphis has unbelievable fan support and plenty of corporate and booster cash on hand, and reside in as fertile a recruiting ground as any other city school in the sport. Temple has the recruiting area and continues to build on its history. Plus, as long as Fran Dunphy is with the Owls, they will be a conference contender.
Matt Doherty is trying to make SMU relevant, but that's an annual chore no matter who's the coach. Houston is under James Dickey now, and, although the '80s were historically successful for the Cougars, not much has been since then. UCF was a major disappointment in C-USA after sneaking into the top 25 early last season. Will that sleeping giant ever wake up?
Marinatto said the basketball schools are on board with the moves made for football reasons. He said there never has been talk of giving up on the football quotient. But the league has a chance to make a move that shows foresight in grabbing two programs that make more sense for its major sport yet still have the potential to help in football in the long term.
If Louisville or West Virginia were to leave, the Big East would take another body blow in basketball. And that would be hard to recover from unless the conference added basketball-rich schools. Of course, if one or both schools leave, the Big East would be forced to add more than three all-sport schools and three football-only. And if that happens, all of this might be moot. But the first option shouldn't be to dismiss basketball. The Big East didn't the last time it expanded. It can't do it this time, either.